by
posted on August 18, 2020
Support NRA American Hunter
DONATE
Even if you haven't experienced the culture of Spain firsthand, you've likely held and shot a product from the Bergara barrel-production facility in Spain. Many of the most respected rifle companies, American and European, purchase Bergara barrels to mate with their actions to garner top accuracy. Nondisclosure agreements won't allow a list, but it's lengthy, so consider yourself cultured without the risk of picking up the COVID-19 bug.


In October 2012, Bergara took the leap from barrel maker to rifle manufacturer with the help of a unique team of former service members from the U.S. Marine Corps, including the former production chief and chief instructor for the precision weapons section. That move gave Bergara a solid jump-start in producing accurate rifles that could handle the ruggedness of any theater of battle or hunt. The B-14 Wilderness Terrain, one of Bergara's new Wilderness series offerings for 2020, reflects the exacting demands these professionals command in a precision rifle.
As you inspect the Wilderness Terrain you will quickly determine the rifle is a Stanley hammer, not a Perazzi shotgun, in nature. With the reality you're handling a rifle ready for work, your next focus will be on Bergara's distinguished trademark: the barrel.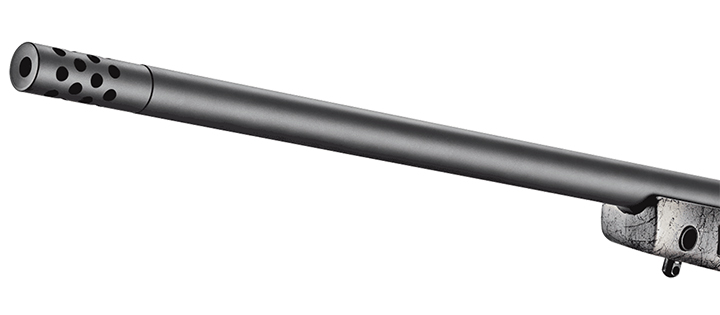 Barrels are inspected for straightness to meet a deviation of less than .004 inch. From there the barrel is drilled with a four-spindle, deep-hole process. To increase accuracy the barrel then receives attention from three distinct, diamond-tipped honing spindles to smooth away nearly every tooling mark from prior processes. Rifling is carried out via a carbide rifling button. For the 300 PRC tested, a 1:9-inch twist rate was cut with a groove deviation of less than .002 inch through the No. 5.5, 26-inch barrel, perfect for ideal velocity.
Before assembly, a tech takes one last look through the bore with a scope. If any blemishes are noticed they are smoothed by hand. It's this time-consuming and complex manufacturing process that makes Bergara barrels a sought-after commodity by other firearm manufacturers. A blessing for you and me with the firing of a larger caliber is the addition of a multi-ported muzzle brake. Its seamless addition is barely noticeable, but the omnidirectional release of gas reduces felt recoil by up to 35 percent, according to Bergara. According to my shoulder, it was noticeable when compared to shooting my non-braked rifles in .300 Win. Mag.
If you decide to suppress your rifle, the ⅝-24-inch threaded brake allows for an easy swap. To complete the barrel, Bergara wraps it in Sniper Grey Cerakote for armor-like protection from weather extremes.
Bergara's B-14 action is your next hardware focus. With a few strokes the smoothness is evident in a design that summons the finesse of the Remington 700 action. One difference though: It's beefed up throughout, including a solid bolt stop. The beefiness of the B-14 action continues to the two-lug arrangement teamed with a sliding plate extractor. A coned bolt nose and breech feed the chamber, and eject with forceful exactness. Stroke the bolt with authority and it will continue to feed until it empties the AICS-style, detachable magazine. All calibers include magazines that hold five cartridges, except for the 6.5 PRC, which holds three. I'm a big fan of detachable magazines. They allow you to empty a rifle quickly for safety, plus you can carry a second or third magazine to feed your rifle if the prairie dogs are thick.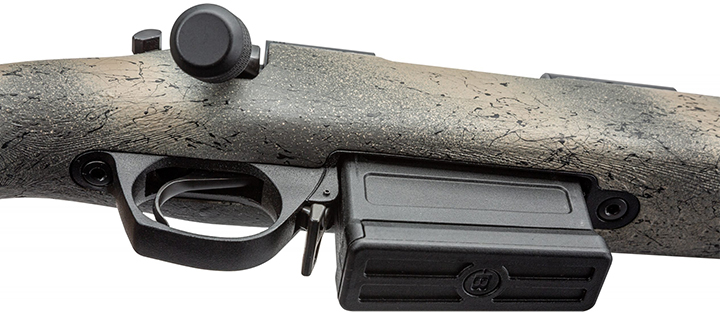 You can detach the Magpul magazine easily by pushing forward on the paddle to release. Slam another into the well and it locks soundly. And in ongoing Remington influence, the Terrain is drilled and tapped for Remington 700-style rings and bases. To complete its rugged appeal, the entire action is coated in Sniper Grey Cerakote to extend protection from bore to bolt.
Over the years I've become frustrated with factory triggers, but again, Bergara delivers in two ways. First, the Performance trigger is adjustable from 2.8 pounds to 4.4 pounds. Bergara advises you to have the factory or a qualified gunsmith do the adjustment, but it does allow you to set it light for tapping steel or select an appropriate setting for hunting. According to Bergara, that appropriate setting is a factory-set 3.7 pounds.
Second, the curved, hunting-style trigger breaks clean with no hint of creep. It gives you enough element of surprise to avoid the dreaded flinch or jerking of the trigger, especially when stoking cartridges through a whopper like the 300 PRC.
Functional describes the molded stock that complements the Terrain. Hidden within it is a robust aluminum chassis that's molded into the proprietary composite stock. This, teamed with a free-floated barrel, adds to the other Terrain elements for consistent accuracy. The stock includes an adjustable cheek rest that allows you precise aiming alignment. The stock is hand-painted with webbing added for extra grip when the Cerakote is called upon. Two QD flush cups are located fore and aft for quick detachment of the sling of your choosing.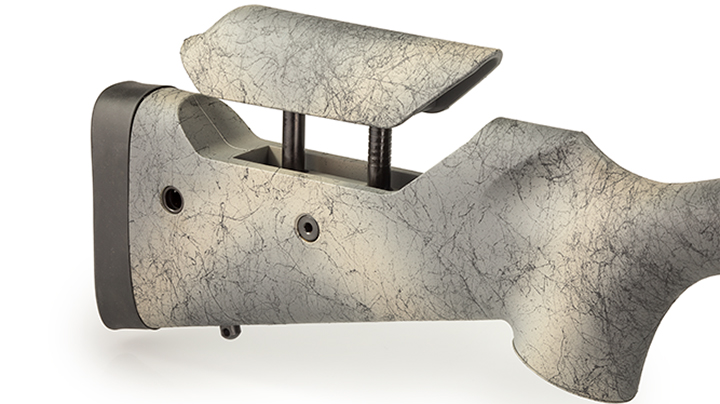 If you decide upon this rifle for backcountry hunting, you may consider its weight of 10.1 pounds in 300 PRC a tad intimidating. The smaller 6.5 Creedmoor weighs 9.3 pounds. I tested the Terrain with a SIG Sauer Sierra3BDX riflescope in 6.5X-20x-52mm. The setup weighed 11.7 pounds without ammunition, a bipod or sling. The rifle fed smoothly even during speedy cycling.
I chose the more powerful 300 PRC to accommodate a future elk hunt. My DIY, public-land hunts typically find me solo in punishing, steep canyons. When I target a bull, I want him to drop as close to on-the-spot as possible. The sub-MOA Terrain teamed with a Hornady ELD-X bullet is as close as it comes to me for elk-caliber perfection.


Technical Specifications
• Type: bolt-action centerfire rifle
• Caliber: 6.5 Creedmoor, .308 Win., 6.5 PRC, 7mm Rem. Mag., 28 Nosler, .300 Win. Mag., 300 PRC (tested)
• Barrel: 26", No. 5.5 contour, 4140 chrome-moly steel, button rifling 1:9" RH twist; ⅝-24" threaded muzzle with Omni muzzle brake
• Magazine: AICS-pattern detachable box; 5-rnd. capacity
• Trigger: single-stage; 3.7-lb. pull weight
• Safety: two-position toggle
• Sights: none; receiver drilled and tapped for Remington Model 700 bases
• Stock: molded, composite w/internal aluminum chassis; adjustable comb
• Metal Finish: Sniper Grey Cerakote
• Overall Length: 48"
• Weight: 10.1 lbs.
• MSRP: $1,279; bergarausa.com