by
posted on January 24, 2016
Support NRA American Hunter
DONATE
Bergara burst into full gear in 2008, just when AR-15 sales were skyrocketing and manufacturers couldn't buy enough barrels. The Dikar cooperative that also owns CVA muzzleloaders, PowerBelt Bullets and other American sporting brands under the BPI Outdoors umbrella had invested millions in its manufacturing facility in Bergara, Spain. It soon found Bergara's triple-honed, button-rifled barrels were not only priced right and selling like ice cream in summer, they also were outperforming the competition. That's when America-based company executives decided Bergara should make custom rifles to showcase them.
After a couple years of producing sniper-accurate, high-end custom guns in the states, Bergara figured out how to make quality production rifles at its Spanish factory to lower costs. One key was to produce its own actions to go with its barrels. Currently Bergara offers fully custom rifles, a mid-priced line it calls the Premium series ($2,200), and the value-priced Performance series that contains two rifles, the B-14 Hunter (synthetic stock) and B-14 Timber (wood).
While the B-14 is made in Spain, that's where its European influence ends. You see, BPI Outdoors CEO Dudley McGarity, President Nate Treadaway, Vice President of Technical Development Mark Hendricks and the majority of the staff are good ole Georgia boys who hunt and shoot like the rest of us. They designed the B-14 series rifles from the barrel back, and they got it right.
Most noticeable about the B-14 Hunter is its green, speckled, straight-line stock. (If it resembles the shape of the noted lightweight rifle builder Ed Brown's design, it's no coincidence.) Its comb line is straight so it pushes recoil to the shoulder and not to the face; its pistol grip radius is wide; it's trim in every dimension—all qualities that make the Hunter conducive to quick handling.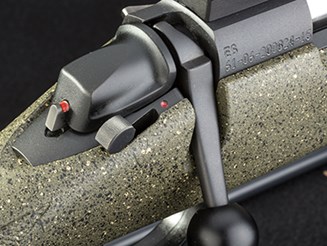 Most synthetic stock makers either go with cheap and flimsy plastic if they want an inexpensive gun, or use sturdy Kevlar or fiberglass if cost is of little concern. Several years ago, however, CVA and Browning independently developed formulas for making molded polymer stocks that are rigid but also pleasurable to touch. (Browning calls its stock finish Dura-Touch, while CVA's treatment is named SoftTouch.) The Hunter's stock feels similar. I think it's superior for the field because it's stiff and therefore aids accuracy, it's quiet, and it grips like Stickum on a wet day. A no-nonsense recoil pad is firm enough that it won't snag, but spongy enough to be effective. Length of pull is 13.75 inches.
The Bergara name is engraved on the left side of the rifle's receiver because it's Bergara's proprietary action. It borrows elements of the venerable Remington Model 700—like a robust, two-lug bolt and a plunger ejector—yet adds a few that hunters will appreciate. First, the breech and the front of the bolt are coned to make feeding and lockup smoother—something you can feel when you chamber a round. The right/bottom bolt lug features a sliding plate-style extractor for optimal alignment with the case groove, which promotes reliable extraction.
Rather than being one machined piece, the bolt handle is brazed to the bolt body and the handle's round knob is screwed to the end. No doubt this saved costs over a one-piece bolt and handle, but what matters most is that the bolt and receiver are made of beefy 4140 chrome-moly steel. The bolt rides on two rails within the receiver and it's incredibly slick, a quality that many new value-priced rifles can't claim.
A red cocking indicator becomes visible from the back of the bolt assembly when cocked. The bolt release button is on the left side of the receiver. Although my test rifle came with a Picatinny rail mounted to the receiver, the B-14 ships from the factory without scope bases. The arrangement of the mounting holes follows the Remington 700 pattern, meaning it's easy to find bases that will fit.
The action is attached to a 22-inch (24-inch for long-action calibers), target-crowned barrel of Bergara's own. After testing many of the company's barrels over the years, I can say Bergara's reputation for accuracy is earned. In fact, when I toured BPI's manufacturing facility in Duluth, Ga., where imported Bergara blanks are finished, I was surprised to see several big-time gun manufacturers having their rifles fitted with these barrels.
The B-14's barreled action is matte blue and mates to the stock by way of a precisely molded slot for the single steel recoil lug. In addition, two steel pillars molded into the stock support the receiver and promote consistent accuracy. The hinged floorplate, magazine box and trigger guard assembly are all made of metal—not plastic like many other companies place on their economy rifles.
Perhaps most notable is the B-14's trigger. It's clean and crisp with zero creep. My test gun's trigger broke at 3.5 pounds from the box, but I adjusted it to 3 because I could. The safety is 700-like: straightforward and simple.
I fired more than 300 rounds with a B-14 Hunter in .308 Win., both in the field and on the American Sportsman Shooting Center's cutting-edge, electronic indoor range in Dallas, Texas. Firing at game animals that moved in real time on a giant theatre screen, I saw after each shot a computer-generated dot that showed me where my bullet struck. I shot running animals as fast as I could rack the B-14's bolt and reload. (See americanhunter.org for a video.) I had no failures to feed or fire.
I was impressed with how well this 7-pound rifle handled, the smoothness of its bolt, its grip- and recoil-friendly stock, and its wonderful trigger. Later on I electronically measured its 100-yard groups and came up with an average of .99 inch. Before long some other guys, who were shooting Blaser rifles costing thousands more, stopped to ask what new rifle I was using. They were even more impressed, perhaps even a little embarrassed, when I told them it was a Bergara—for around $800.
Technical Specifications:
• Type: bolt-action centerfire rifle
• Caliber: .22-250 Rem., 6.5 Creedmoor, .270 Win., 7mm Rem. Mag., .308 Win. (tested), .30-06, .300 Win. Mag.
• Barrel: 22"; button-rifled, 4140 chrome-moly steel, No. 3 contour; 6 grooves, 1:10" RH twist
• Trigger: single stage, adjustable; 3.5-lb. pull weight
• Magazine: internal box w/hinged floorplate; 4+1 rnd. capacity
• Sights: none; drilled and tapped for optics
• Safety: two-position toggle
• Stock: straight-comb synthetic; green flecked, SoftTouch finish; LOP 13.75"
• Metal Finish: matte blue
• Overall Length: 41.25"
• Weight: 7.05 lbs.
• MSRP: $825