Every October, a group of hard-core revolver nuts travels to Hondo, Texas, to hunt with Action Outdoor Adventures and puts theory, revolvers and bullets to the test on live targets. The Annual JRH Holiday Bovine Bash is an opportunity to test bullets and loads on bovines ranging in weight from 1,000 pounds on up to more than a ton in live weight. African watusi, Asian water buffalo, bison, longhorn cattle—all are on the menu and provide real-world data on bullet performance in some of the toughest media available. I submit to you this: There is no more credible test than putting bullet to flesh, particularly that of large, heavy-boned animals. (Before you plunk down five figures for the hunt of a lifetime in Africa, don't you want to know if your chosen gun/bullet/load combination is up to the task? I do.)
I know what you're thinking: What is sporting about shooting "domestic" cattle in a fenced pasture? Let me start out by saying Action Outdoor Adventures is a big enough outfit to get lost on, so you won't find yourself straddling a fence to get off a shot. Secondly, you're there to test bullets, not debate the ethics of fair chase. Thirdly (and this is where things can get a bit dicey), you are on the ground, facing these bovines bad-breath close.
Strike up a conversation with anyone who has worked a cattle ranch and you will likely get an earful of anecdotes about tangling with cantankerous slabs of beef. So what, they're domestic, right? Wrong. Two years in a row we've had situations with watusi that were not happy with two-legged simians invading their space, not to mention the close call with the water buffalo at the outset of this article.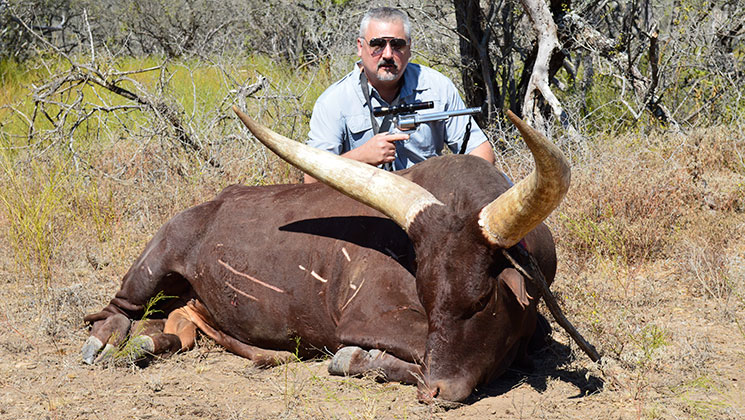 Another example: My friend Jason Menefee shot a watusi (above) at a paced-off 50 yards with his .41 Magnum. The 265-grain pill connected with the high shoulder and dropped the animal like it had been struck by lightning. A more decisive result I cannot remember, but the incident was far from over.
Had we left the half-ton bull to expire on its own, the next sequence of events may not have transpired, but I was the designated agitator. The watusi was down in a segment of tall grass, clearly visible and not moving. I un-holstered my .500 Maximum as I slowly and quite deliberately made my way toward the downed animal. My hunting partners, revolvers at the ready, approached some ways behind me in a line.
When I got within a dozen or so feet of the bull, two things happened simultaneously. Our guide, with his voice unexpectedly rising a couple of octaves, loudly and with some urgency proclaimed that the bull was getting up. At the same time, the watusi sprung to its feet, looking for a fight, clearly unhappy with us. As it stood, it whipped around (wow, these things are pretty agile!) to find its first target (me). The bull dropped its head and took a step forward, and I let fly 525 grains of lead, followed by yet another. My bullets plowed into the point of the watusi's shoulder, visibly rocking the half ton of beef and driving it back to the dry Texas dirt. Chalk up another one for the .500 Maximum!
Next year I will again head back to Hondo to test loads and bullets in preparation for a trip to the Dark Continent, where bullet failure is undesirable for a number of obvious reasons, to include self-preservation. The Kodiak Punch bullet keeps coming out on top and looks like it will get the nod. The practice of getting on- the-ground-close to large bovines is a good dry run for future African endeavors. Outfits like Action Outdoor Adventures provide a valuable service for the discerning hunter: the opportunity to find out if chosen equipment is up to the task of reliably performing in the field. Having witnessed what I have, rest assured that when big bovines are on the menu, I will be carrying a big hammer.
■ ■ ■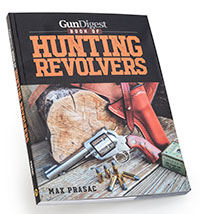 Max Prasac is the author of the Gun Digest Book of Hunting Revolvers. It's a fresh take on a pastime that has been practiced for generations, and it's organized into three main concepts: the principles of handgun hunting, the equipment necessary and the capabilities of several caliber offerings among the selection of hunting handguns available today. Anecdotes and pictures throughout the work detail the use of revolvers in hunting camps around the globe from North America to South America and Africa. $25.49; gundigeststore.com.