by
posted on March 18, 2018
Support NRA American Hunter
DONATE
Editor's Note: Executive Editor Adam Heggenstaller recently had the chance to put the following gear to use on an ocellated turkey hunt in Mexico. You can catch up on that story here.

Mossberg 535 ATS
The ocellated turkey, or pavo as he's known on the Yucatán Peninsula, is a much smaller bird than the toms hunters target in the United States. For that reason, I took a shotgun I could aim precisely—the Mossberg 535 ATS equipped with Bullseye fiber-optic sights from Marble Arms. The Bullseye rear sight is essentially two concentric steel rings mounted atop the vent rib of the 535 ATS. Centering the front fiber-optic element in the rear sight forces the shooter to keep his head down and focus on aiming—the key to shooting a turkey, especially a small one, in the face.
Beneath the sights, the 535 ATS has a 22-inch barrel with a 31/2-inch chamber, so it will handle any load you want to shoot at an ocellated. It comes with an XX-Full choke tube. The tang safety is easy and quiet to operate, and twin action bars, dual extractors and an anti-jam elevator keep the shotgun running smoothly. The 535 ATS weighs 6.5 pounds and is covered in a Mossy Oak Obsession finish. MSRP: $542; mossberg.com.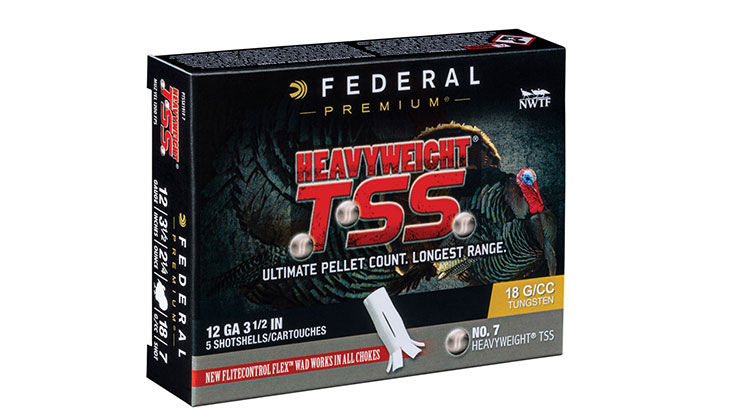 Federal Premium Heavyweight TSS
I've been a huge fan of Federal Premium Mag-Shok Heavyweight turkey loads, especially those containing No. 7 shot, for a decade. The dense, tungsten alloy gives a No. 7 Heavyweight pellet the approximate energy of a No. 5 lead pellet. Two other advantages: More No. 7 pellets fit into a wad than No. 5 pellets, resulting in a more consistent pattern; and the smaller diameter of the No. 7 pellet facilitates greater penetration. Considering Heavyweight No. 7 dumps big Eastern birds with no problem, it was more than adequate for 10- to 12-pound ocellated turkeys.
For 2018, Federal Premium upgrades its Heavyweight pellets to Heavyweight Tungsten Super Shot (TSS), which is even more dense. Loads include 12- and 20-gauge, as well as .410-bore, offerings with No. 7 or No. 9 TSS and the new FlightControl Flex wad. Look for a full report in an upcoming issue. MSRP: $29.95-$49.95 per five-round box; federalpremium.com.
Tall Tine Outitters
My group booked our five-day hunt with Jorge Sansores through Ted Jaycox of Tall Tine Outfitters. Camp had all the comforts of home, including air conditioning, plus a shady patio complete with hammocks for midday siestas. Meals were outstanding, with the main course often consisting of fresh, local seafood. Tip: Arrange shipping your ocellated turkey to a taxidermist approved by the United States Department of Agriculture before your trip, as it's a requirement for importation into the U.S. MSRP: $3,480 per hunter, second bird $700; talltine.com.