by
posted on October 3, 2016
Support NRA American Hunter
DONATE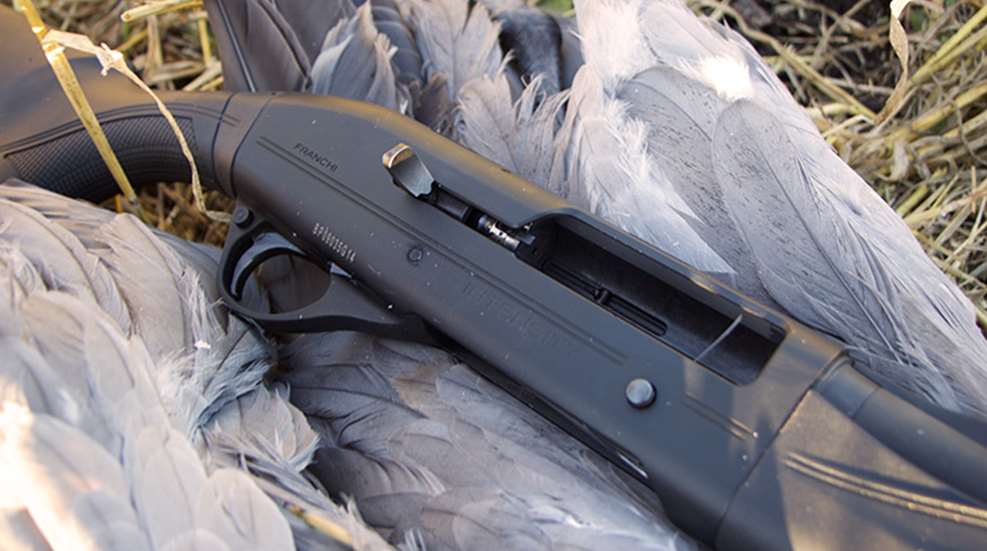 Editor's Note: The author recently put the following gear to use on a sandhill crane hunt in Saskatchewan, which he covered recently in "Crane Games." Read that story here.
At the end of the day, you hunt sandhill cranes the same way you hunt just about any waterfowl. That's no reason to slack off, though. Consider adding some of the following gear to your collection before you tackle this prehistoric-looking bird.
A few years back, Franchi introduced the Affinity, an inertia-operated, semi-automatic lightweight shotgun chambered for 2¾- and 3-inch shells. With a look and feel not at all unlike the semi-auto scatterguns produced by Franchi's parent company, Benelli—hence the inertia action—the Affinity was warmly received by wingshooters. The only thing the Affinity couldn't do was run the 12-gauge, 3½-inch super-magnum loads used by waterfowlers. That's where the company's Intensity comes in. I put each model through its paces in Saskatchewan, and left impressed. They ran smooth, swung easily and brought an end to more than a few birds. The hunting party as a whole experienced no hiccups on our trip, during which shooting was fast and furious.
One of the more experienced sandhill hunters on my trip told me it doesn't much matter what you're wearing unless you can blend into natural cover. Cranes are just that much more wary. So you'd best be selective when it comes to your gear. I wore the meticulously designed Optifade Marsh pattern from Sitka on my trip, and it proved effective. We were able to blend seamlessly into the natural cover that adorned our A-frame, which was often backed up to a hedgerow. Given that temperatures remained mild for our September hunt, I favored the Sitka Dakota vest and Grinder pants, which provided just enough warmth to cut the early-morning chill without getting too cozy later. That said, you'll find no shortage of variety among the company's many offerings.
A lot of folks pass-shoot cranes, but it's a heck of a lot more fun to get them to decoy. If that's what you're hoping to do, I'd recommend checking out Deception Decoys. Though a couple of companies now produce sandhill crane decoys, it's actually how Deception got its start. Its sandhill crane dekes offer a one-piece design built with a flexible elastomer material that's meant to take a beating.