by
posted on September 17, 2015
Support NRA American Hunter
DONATE
Just like its neighboring provinces, Saskatchewan serves as a Mecca of sorts for waterfowl hunters. Bag limits are generous, because the bird populations are sky high (pardon the pun). The sheer volume of fowl—and the diversity, at that—is more difficult to describe to the uninitiated than you might expect. I got my first taste of chasing birds in the Great White North a couple years ago, and was ecstatic to return this week to hunt with the fine folks at Habitat Flats. What awaited me was something that I hadn't expected, and certainly hadn't hunted before.
Sandhill cranes.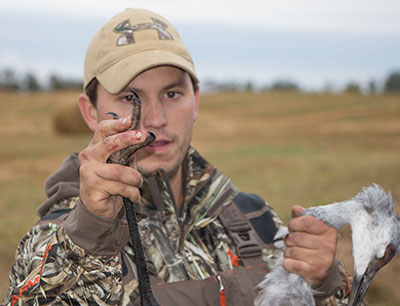 The huge, prehistoric looking birds are legal to hunt in a small handful of states in the Lower 48, but are tightly managed. Here in Saskatchewan, the limit's an impressive five per licensed hunter. On the first morning of our hunt, we put the Franchi shotguns we were armed with to work, and finished just shy of that limit. One of the other guys in the blind described the action as "shooting pterodactyls," and I can't disagree. The large, lanky bodies come at you like no other fowl, and their call can be haunting. I've no doubts I'll be hearing it in my sleep in a few hours.
The whole thing made for a surreal first day, and we hadn't even had breakfast yet. The afternoon hours were reserved for a just as successful duck shoot, which starred mallards, teal and pintails. Throw in a couple lesser Canada geese that we tagged in the morning alongside the cranes, and you've got a hint of the variety I mentioned earlier. Suffice to say, the entirety of camp is looking forward to day two.
More coverage to come—including maybe a crane recipe or three. They don't call 'em the ribeye of the sky for nothing. Here's to tomorrow.