by
posted on July 2, 2015
Support NRA American Hunter
DONATE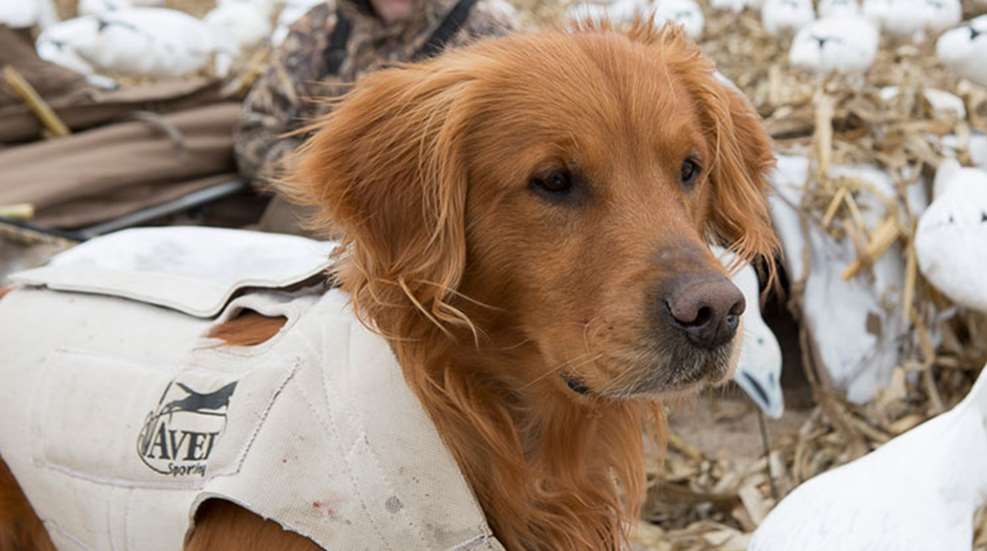 At the risk of being called a New Age charlatan, I recommend you give your hunting dog massage therapy.
Hey, you already give him aromatherapy with those bacon and burger scents you send through the kitchen. Why not extend the good vibrations via a bit of massage?
Okay, I admit the massage idea raised an eyebrow on my increasingly wrinkled forehead, but after listening to Dr. Jennell Appel, certified canine rehabilitation therapist, I calmed down. Dr. Appel's hands-on approach to hunting-dog health really works.
She's in big demand on the competition circuit, so much so that she built a special mobile dog-rehab clinic complete with a hot tub. Well, I think she called it a therapeutic whirlpool, but it looked like a doggy luxury spa to me. Appel is a common and welcomed sight at dozens of top-end field trials around the country.
"Lameness in a working dog is nothing to brush off," Appel said. "Something as apparently simple as a little limp or favoring one leg slightly could mask a serious problem that could become chronic if not treated." Examples of scary soft-tissue injuries in dogs include such tongue twisters as Achilles tendinopathy, iliopsoas strain and bicep tenosynovitis.
"Soft-tissue injury in canine athletes is not well understood and often misdiagnosed," Appel noted. "So it's important to learn to recognize it and guard against it."
This is a multi-pronged approach that starts with proper nutrition and conditioning—without overdoing it. Pushing a dog too hard in an attempt to make it "tougher" can lead to injuries. Start gradually. Here are some exercises Appel recommends, best done after field activity or at least a 15-minute warm-up walk/jog. The end of a short hunt is the perfect time.
Strength Training
Run Dog uphill, both straight up and at an angle. Have him pull a cart with a bit of weight in it. Make him lift his legs high to trot over obstacles like a series of horizontal bars (like football players stepping through tires.) Make him lie down, stand and repeat several times in a sequence. Make him crawl like a well-trained stalking dog creeping up on a flock of geese. All of these routines increase muscle strength and reduce stress on joints.
Endurance Training
Most hunting dogs get plenty of this. It's just an ornate way to describe prolonged running or swimming. This improves overall cardiovascular health and increases lactate-acid threshold in muscles, which minimizes cramping.
Balance
An unbalanced dog isn't just one that bites the delivery man. Good overall body balance increases a dog's core strength, which prevents soft-tissue tears and injury during sudden, aggressive moves, like lunging for an escaping cripple or leaping across a ravine.
To improve balance, walk Dog across a partially inflated air mattress. Teach him to walk figure 8's through your legs. Stand him on a big balance ball. Lift one front leg and the opposite back leg to make him stand/balance on the other two.
Flexibility
Increasing muscle and joint reach and flexibility minimizes muscle tears and tendon rips. Here's where the massage comes into play.
Get your hands on Dog and work those muscles and joints. Forget deep tissue massage. Don't be ham-fisted about this. Just feel how the dog responds, and work out those muscle kinks. This is as much about stretching as massaging. Learn to gently pull Dog's front leg back and up for a shoulder stretch, forward and out to extend it. Stretch the back legs out fully. A great neck and back stretch is to hold Dog in place while leading his nose back toward his rump for a treat. Pull your hands under the belly and back to encourage Dog to arch its back. Run a Google search of "dog stretches" and you'll find short how-to videos.
The ideal place to do these massages is on the tailgate after the hunt. Water Dog and then stand him where you can conduct a thorough visual and tactile check for injuries. No blood, burs, rips or tears? Good. Now gently squeeze all muscles and joints, stretching them as you do. Any yipes and winces? Note those and see a vet if necessary. Command Dog to sit and watch how he does it. Is he square and symmetrical, or sloppy and favoring one side? If this isn't normal, have a vet check it.
Appel pointed out the importance of regularly observing your dog's stance and gait so you can spot any small inconsistencies should there be an injury later. Some dogs naturally stand, sit or run a bit "off," but changes are what you heed. It takes a trained eye to spot small, soft-tissue injuries, but if you don't they could be exacerbated if not treated.
So get to know your pup with lots of hands-on stretching and massage. It will strengthen your bond, strengthen his limbs, prevent injuries and keep both of you afield for more hours and more years. Not a bad trade for being a New Age dog whisperer, er, manipulator.