by
posted on January 14, 2016
Support NRA American Hunter
DONATE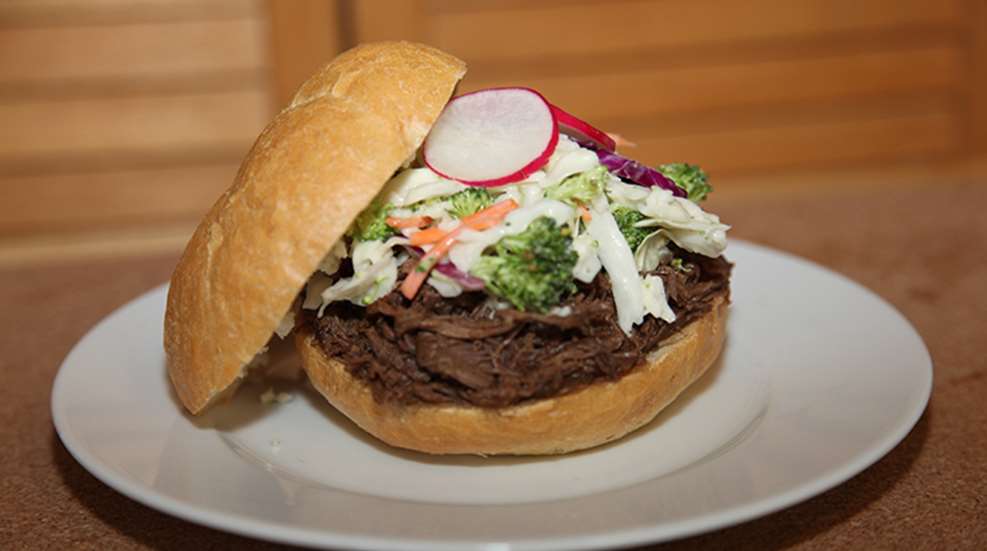 The sun just started to peak over the eastern horizon and lit up the sky in vibrant colors of orange, purple and yellow. It was the perfect backdrop for the strings of geese coming off a distant lake, silhouetted against the fall sky. As the birds closed the distance to our field we huddled deeper into our blinds and started calling. A pair of small Canada geese zeroed in on our decoys and started to honk excitedly as they quickly descended into the spread. Our blazing shotguns echoed off the barren aspen trees along the field and we ran out to collect our first double of the day.
My hunting buddy and I got back to the blind and slapped our right hands together high in the air. The high-five was followed by us both exclaiming we now had hors d'oeuvres for the evening. With any luck the birds would continue to decoy well and we could fill our daily bag for a full meal planning session with waterfowl as the main course.
I'm a goose hunting fanatic and talk bird hunting whenever given the chance. I've put on numerous seminars expounding the virtues of waterfowl hunting and its rewards. However, it doesn't seem to matter where I discuss goose hunting, the first question I always get is "what do you do with the birds?"
When I try to explain how delicious goose can be I'm usually confronted with a contorted face of disbelief. In order to change opinions I've often cooked up birds when giving talks about waterfowl hunting. It immediately changes personal values for the birds and creates new enthusiasm to get out hunting.
Below are some of my favorite recipes sure to make you a goose convert if you presently don't enjoy eating them. They aren't hard to make and don't take any special ingredients you likely wouldn't have at home. And hey, if you already like geese then good for you.
Rib-like Goose Legs
If you like chicken wings or ribs you're going to love this goose hunter's finger food. It will also give you a good reason to save all the legs and thighs off your birds this coming season.
The legs and thighs tend to be juicy and tender and worth taking the time to remove. When taking the legs/thighs off the birds, you've got to pull the skin far enough back to get the whole "flap" of meat on either side of the thigh.
Start by boiling a large pot with 4-quarts of water:
• Stir in 2 packages of dry onion soup mix
• Add 20 goose legs and thighs, attached
Simmer for about 2 hours, checking the meat regularly, as the meat will start falling off the bones making them difficult to barbecue. Once the meat is done simply pop them on the grill and brush them with a generous coating of your favorite barbecue sauce.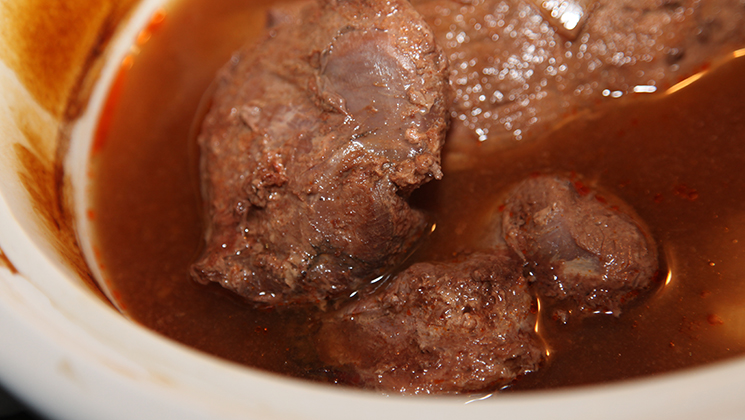 Slow Cooker Barbeque Pulled Goose Sandwich
Pulled pork sandwiches are hard to beat and I'm guessing most of your guests wouldn't even realize you made this recipe with goose if you didn't tell them.
• 2 tbsp butter
• 4 cloves garlic minced
• 1 medium onion thinly sliced
• Breasts from 3 or 4 geese (6 to 8 halves)
• 2 tbsp Worcestershire sauce
• 2 cups chicken broth (approximately)
• 1 tsp chilli powder
• ¼ cup molasses (optional)
• ¾ cup barbecue sauce                                                                                                                                                                                                                                                                                   
Melt butter then add onion and garlic and sauté for 5 minutes. Remove from pan, add breasts and lightly brown on both sides. Place all in slow cooker, add Worcestershire sauce, chilli powder and chicken broth to cover. Cook on high 6-8 hours until meat is tender. Remove breast from slow cooker, place on a cutting board, and shred breasts by pulling them apart with two forks.  You will need to remove liquid from the slow cooker, retaining ¾ cup to pour back onto shredded meat. Put shredded meat back in slow cooker and add barbecue sauce and if you want a thicker, richer sauce add molasses. Stir completely and leave in cooker to stay warm. Serve on a fresh bun with coleslaw or hot peppers.
Goose Jerky
Making jerky from geese is a favorite around our house. The dense meat is ideal for taking a brine and smoking, and once you try it you'll never have enough birds in the freezer to satisfy the jerky cravings. There are three easy ways to make goose jerky. Take goose breasts to your local butcher shop and ask them to make it, or easily make it yourself with a packaged kit or homemade brine. Once you start you'll want to experiment with flavors.
Place breast flat on a cutting board and use a fillet or boning knife to slice pieces off about ¼-inch thick.
The Hi Mountain seasonings are by far the easiest way to brine your birds successfully. I've made their Original Blend, Cracked Pepper and Garlic, Cajun and Hunter's Blend. Cut goose into strips or the full length of the breast, with the grain of the meat. Sprinkle with brine as directed on package and smoke at home the next day.
For those wanting to be more adventuresome, you can brine your birds and make everything from scratch. Basic brine is ¾ cup of pickling salt and ¾ cup of brown sugar. Mix the ingredients with 5 or 6 quarts of water and soak your goose strips overnight. Take them out of brine, and set up on smoker racks to air dry. It is important to let the meat dry until it develops a shine before smoking. If they are still wet the smoke won't be able to penetrate the meat. 
Smoke with alder, apple or cherry wood chips, which are mild and produce the best flavors. Smoking time will depend on the type of smoker you have and temperature settings. Follow manufacturer's instructions to prevent over drying. If you don't have a smoker you can dry the jerky in your oven by placing on racks and heating at 200 degrees. Turn jerky once or twice to ensure even drying. Jerky is done when it is dry on the edges and takes on a dark smoked color. When you squeeze the jerky it will have the consistency of licorice, firm but still pliable.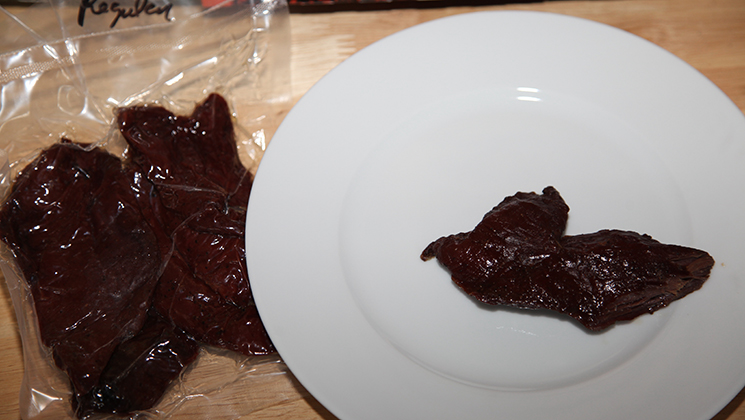 Korean Goose Fingers
Recipes don't get any easier than this. The marinade makes goose meat extremely tender and flavorful. It works extremely well on all wild game, so if you're looking for something to spice up your venison, duck, or other harvested game, you're going to love this one. You can make extra marinade and leave it in the fridge or use it as a sauce.
• 3 lbs breast fillets or game meat (Sliced into thin strips approximately ¼-inch thick)
• ½  cup sesame oil
• 1 tbsp chili garlic sauce
• ½ cup white sugar
• ½ cup soya sauce
• 3 cloves crushed garlic
Mix ingredients in a sealable plastic container, place sliced goose in marinade and leave overnight in refrigerator. Heat your barbecue to high and sear the fingers hot and fast for 2 to 4 minutes each side. They'll melt in your mouth and are super easy to make.
The recipe is ideal for hors d'oeuvres or you can make it as a meal with rice and Asian coleslaw. You'll be amazed at how quickly a limit of geese will disappear.
If you don't like goose after trying these recipes chances are you're a vegetarian. One of the biggest factors for good table fare is taking proper care of the birds from the field to the freezer. Clean them quickly and trim off anything you wouldn't want to eat. When it's time to use your bounty it will be ready for preparation with any recipe and nobody will have to look at feathers or fat, which might turn them off.
Be sure never to overcook waterfowl, as it dries quickly and becomes tough to chew. If you have problems with the thought of cooking fowl the same as beef, medium rare to medium, make sure you watch it closely and take it off just before it is well done.
Whether you're preparing these dishes with snows, specs, or Canada geese they will all turn out the same. The big Canada geese often draw the most attention but they tend to be the toughest and driest when it comes to eating. No matter what you bring home, you'll be wishing you had more of these favorites to share with your friends.