by
posted on June 24, 2015
Support NRA American Hunter
DONATE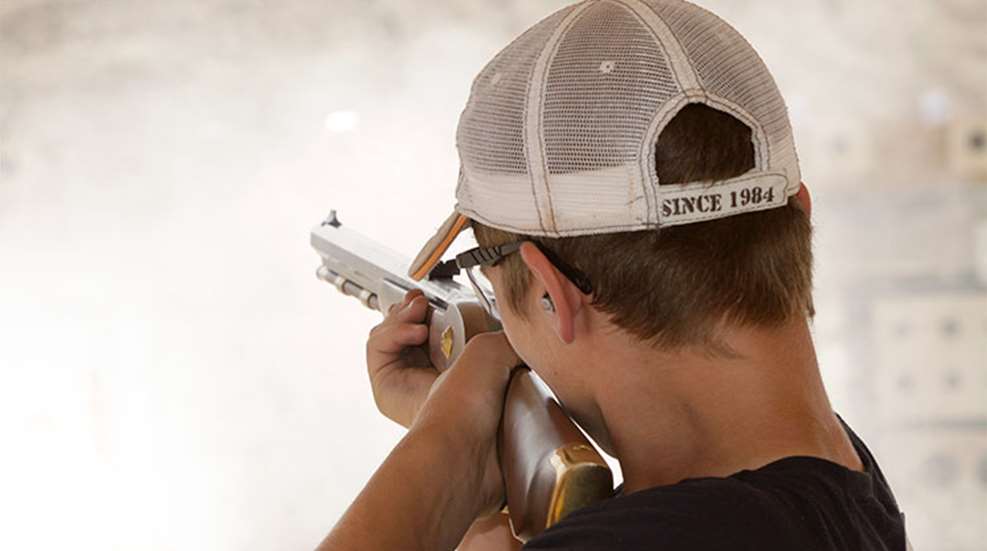 Put down that handheld portal to the digital world. Forget about soccer weekend. Take a break from the never-ending chore of yard maintenance. If you hunger for a surefire way to bring the family together in a setting that is guaranteed to generate a grin then plan a family day at your local shooting range. 
Smartphones, video games, careers, volunteer projects and the ever-present flat screen streaming endless hours of somewhat questionable entertainment fill the days of youth and adults alike. According to the President's Council on Fitness, Sports and Nutrition, children now spend seven and a half hours per day in front of a screen such as a TV, smartphone or computer. And, only one in three children is physically active each day. Get the crew outdoors and do some good for the heritage of hunting, and shooting. 
If you want to instill a shooting and hunting mindset in your family you can't wait until kids are legally able to hunt. Studies vary on when kids embrace a lifetime activity, but data suggest it's best to cement an interest when kids are between 6 and 12 since many children exhibit formed opinions as early as the age of 10. Cornell University researcher Tamar Kushnir's report "Learning How Young Children Learn" reveals that even children as young as 19 to 24 months can learn based on watching other behavior and "can make an inference from one piece of evidence."
"Children form theories," Kushnir says, "based on very little information. It takes a puppet less than a minute to select toys from a box, but that's enough for children to infer a preference." 
Not only do kids form opinions early, but the outdoors is getting edged out by activities noted above and others. Information from the Sports Fitness Industry Association's 2014 Sports, Fitness and Leisure Activities Topline Participation Report and the National Sporting Goods Association's Sports Participation and Purchase Report indicates outdoor recreation is down by 5.3 percent.
Is 6 years old too early to hand a firearm to a youth? Maybe, but even taking kids in this age group to the range or on a hunt without handing them a firearm opens up their minds to a lifetime of shooting. They can man a binocular, hand you ammunition and range your next shot, immersing them totally in the excitement.
According to the American Academy of Pediatrics (AAP), youths between 6 and 9 still have short attention spans and some difficulty in processing information that streams from a variety of sources. This means you need to supply more detailed instruction with simple, illustrated steps.  "Do not expect them to remember long, detailed directions and carry them out completely, or you risk an episode of brain overload," the AAP states. 
This doesn't mean you can't begin teaching them the basics of firearm safety and shooting education. In fact the AAP goes on to promote lessons at this age. It's a jumpstart that likely aids them in becoming better at whatever activity they pursue, the AAP points out. 
"In contrast, there is evidence to suggest that in the 6- to 9-year-old age group, practicing some skills can produce a more positive effect on overall sports improvement, as well as an advantage of ability when compared with kids who do not practice and then attempt the same skills. This information does not apply to every sport and the research is limited, yet it is encouraging that practicing basic skills at this age can be worth the effort." 
Your kids are surrounded by a new, virtual world that tugs at their interests with an unbridled energy slowed only by time to recharge a device. If you hope to compete against this powerhouse don't wait. Putting off an introduction to shooting and hunting too long may create a situation that is impossible to reverse. 
Family Safety Focus
Teaching children firearm respect should begin well before you enroll them in a certified firearm and hunting safety course. The NRA's Eddie Eagle GunSafe Program, which teaches elementary-age children the steps to follow if they find a gun in an unattended situation, is a great place to start.You can then enroll children in more advanced courses when you feel they have the ability to absorb the material and pass the exam since some states don't have a minimum enrollment age. For others you may have to wait until they reach 10 or even 12 years of age. Nevertheless, you can begin instilling firearm respect at home. Continue that lesson plan as they follow you to the range and to the hunting fields. 
Nobody needs to preach to you that children pick up on actions simply by watching. That's obvious when a kid unintentionally lets a curse word slip at an inopportune moment. That said, if Mom and Dad show respect toward firearms, children will mold their attitudes to mimic. That's why it is always important to demonstrate the safe handling of firearms so every child starts down the right path of becoming a responsible firearm owner. 
Once children reach an appropriate age, enroll them in any programs available to further firearm safety and shooting instruction. A good place to start is with your NRA membership. Visit the youth program link on the NRA.org website for information on popular programs like the Youth Hunter Education Challenge, National Junior Shooting Camps, Winchester/NRA Marksmanship Qualification Program, 3-Gun Family Shooting Events and a host of other links to open the door to family shooting. You'll also find information on establishing local shooting programs, competitions, funding, scholarships and partnership opportunities. 
Another great resource is the National Shooting Sports Foundation, which also lays out a host of options for youth education and family shooting opportunities. The NSSF even includes easy links to shooting ranges in your ZIP code. Check out their links to "First Shots" and "Families Afield" for quick paths to family shooting adventures. 
My wife and I enrolled our kids in 4-H Shooting Sports well before they could legally go hunting. This national program caters to youths 8 to 18, and begins with classroom sessions on firearm safety, firearm operation and shooting technique. Children graduate to practice in disciplines for air rifles, air handguns, .22 rimfire rifles, .22 rimfire handguns, shotgun shooting sports, muzzleloaders and archery. County, state and national competitions help boost youth confidence.
You can look to organizations like the Boy Scouts of America that also promote firearm safety and participation in camp settings, and weekly programs. Youths receive badges for their experience and course instruction, all combined with shooting events. 
Conservation organizations like the National Wild Turkey Federation also offer youth firearm programs through their youth arm titled, "JAKES." The "JAKES Takes Aim" program serves youths 17 and younger with firearm education and involves them in shooting sports. Youths can participate in air gun target shooting and clay shooting sports that are oftentimes hosted in conjunction with local shooting facilities.
In brief, you likely have a youth shooting program within driving distance. There's no reason not to get your kids enrolled and ready for the range.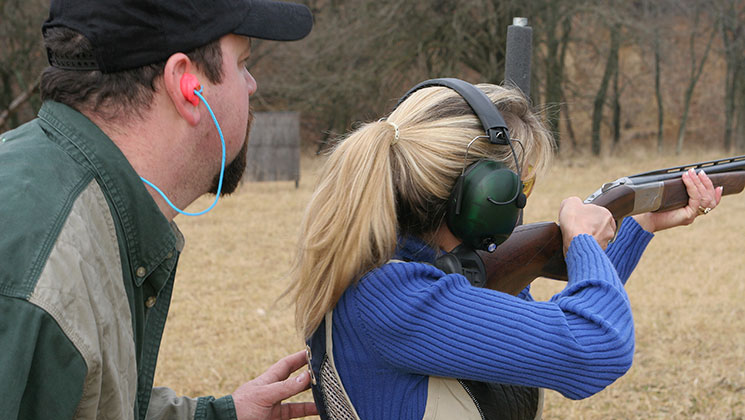 Fit the Family
Shooting a firearm that fits properly leads to a more enjoyable experience for new shooters, young and old alike. Fit includes overall length, weight and length of pull (LOP) as the major players. LOP is where most firearms lack in adjustability, and is noted as the measurement on the firearm that extends from the buttstock with a straight line to the trigger. It's important for control of the firearm and shooting proficiency. If your shooter can't settle the buttstock against their shoulder and reach the trigger, the firearm LOP is too long. Comfort, accuracy and safety are all in jeopardy with an LOP that doesn't match the shooter. 
Shop for firearms that either come in shorter LOPs or have adjustability built in to the buttstock. A fine example is the CVA Scout centerfire. It's economical and standard LOP is 14 inches. Plus, it has a comfortable overall length of 38 inches and weighs just 5.8 pounds. For even smaller shooters, look at the Scout Compact, which is 2 inches shorter in overall length and an inch shorter in LOP. You only get one choice of caliber in the Compact, the versatile .243 Winchester, but you do get a coupon for a discount on a standard-sized stock when your shooter sprouts an extra few inches in size.
AR-15s or AR-22s outfitted with a collapsible stock are another option. The semi-automatic platform requires more instruction, but LOP is easily manipulated and lightweight, collapsible stocks reduce overall weight on the firearm. You can add a collapsible stock by shopping at AR outfitters like nationally known Magpul.  The same is true for shotgun and handgun shooters. If the handgun or shotgun doesn't fit a smaller-framed shooter, it can be unwieldy, and accuracy issues are sure to follow.
If you're starting a new shooter from the ground up, you probably don't want to hand him a .30-06 or 12-gauge; they are loud and the recoil is noteworthy. For beginners, an air rifle makes sense with the intention of working up to the .22 LR. For shotguns, the .410 bore or 20-gauge in compact models fling pellets without flinging shooters backwards. Shotgun target loads also reduce felt recoil. Except for the air rifle, you'll still be dealing with increased noise levels so outfit your new shooter with hearing protection that fits well and doesn't slip smaller frames. 
Lastly, make sure triggers have a crisp, clean pull. Trigger weights that are too light, below 3 pounds, can go off too easily in the hands of novice shooters. Too heavy and beginners may jerk the trigger, causing accuracy issues and possibly safety concerns. Ideal trigger weight sits somewhere between 3½ to 4 pounds. A qualified gunsmith can help you set a trigger to ensure proper adjustments. 
Family Fun at the Range
Once you hand your son, daughter, husband or wife a firearm and they start sending projectiles downrange, you'll soon be told, "Hand me more ammo, please." That may continue forever, but if you see any hesitation, load your range day with fun targets and competitive games. 
Those on a budget may simply look to paper targets for small-caliber plinking and large-caliber contests. Easy-to-see targets are a bonus when determining who's on and who's off. Caldwell's Orange Peel and Cabela's Clear Shot targets include distinctive backgrounds and halo technology to show hits in contrasting colors. Shop around for bullseye or animal target patterns including Caldwell's peeping prairie dog that definitely puts you in the mood for a varmint hunt, range or real.
Zombies are trending and definitely on the minds of our youngsters. Why not boost shooting enthusiasm and prepare for the apocalypse at the same time? Stop by a sporting goods store and check out the wallet-friendly selection of Birchwood Casey splattering zombie targets depicting a variety of dreadful undead.
If you really want to impress your youth shooter, Zombie Industries went all out creating a torso zombie in 3-D. It's life-size, bleeds and looks ready to rumble. It's a bigger-ticket item at approximately $80, but what price can you put on a family day at the range or celebrating a birthday? Who needs a piñata anyway?
Lastly, check into ranges that offer metal silhouettes, gongs or even spinning targets. Nothing gets a young rifle shooter more charged than the sound of metal connecting with distant metal. Birchwood Casey, Caldwell and Do-All offer metal targets in a variety of configurations able to handle most popular calibers. Some even reset themselves after the shot. 
So what if you wish to scatter shot downrange? Fortunately, most shooting ranges are designed with shotgun shooters in mind. Depending on the range, you will likely find areas capable of supplying trap, skeet and the hunt-style sporting clay experience. All offer challenges with handicaps, double clays and awkward angles combined into their designs.
At the conclusion of our county 4-H Shooting Sports competition, youth and adult shooters engage in a friendly game of shotgun "Elimination." Three shooters line up as shooter one, two and three. Shooter one calls "pull" and tries to hit the bird. If that shooter misses, shooter two has a chance at the clay bird and, if shooter two misses, shooter three then gets a final chance. Shooter two can even shoot if the previous shooter one blasts a bird as long as a large enough piece is still in the air as a target. You get "eliminated" if the shooter after you tags a bird you missed or, in the case of shooter two, a piece of remaining bird. Our group gets cutthroat as youths try to eliminate their parents and vice versa. Nevertheless, everyone has a great time.
Whether you bring your own targets or engage in range competitions, understand all rules about range safety, range regulations and range usage. Pick up all used shotgun hulls and brass, and police your shooting area for litter, especially targets, at the end of the day.
A day at the range can lead to a lifetime of family entertainment and memories. Follow the steps to getting new and youth shooters ready for the range and they'll thank you after a day of primer punching. They'll likely thank you someday in the future, too, as they pass down the tradition of shooting to their family.