by
posted on February 3, 2014
Support NRA American Hunter
DONATE
I was night hog hunting in West Texas, sitting in a stand, my ears straining to hear the telltale sounds of wild pigs. Problem was, every noise began to sound like pigs, and the hunting light attached to my shotgun's rail was going to go dead if I kept flicking it on to check the latest noise. So I turned on my FLIR Scout TS 32r Pro65 thermal monocular and held it to my eye. The FLIR has three "palette" settings, so the thermal or heat-generated images can appear white, black or red. Set on red, I spotted a crimson-colored raccoon (maybe a opossum?) at about 120 yards, hanging from the bottom of the deer feeder and helping itself to corn. Then a large object—a deer—slid in from my left.
After a minute of grazing, the deer suddenly spun around. Even in the surreal red imaging of the FLIR, I saw the tension in the deer, the way its back arched, just before it ran away. I swung the FLIR to see what had scared it. The blunt head of a hog poked out of the mesquite.
Pork chop time!
FLIR, a company based in Wilsonville, Ore., takes its name from the technology used to manufacture instruments like the Pro Scout: forward-looking infrared imaging. What the Pro Scout and similar devices do is create images based on emitted heat. All objects have a certain temperature; the hotter an object is compared to its background, the more heat radiation it emanates. A thermal-imaging device spots these heat energy (or thermal) waves and translates them into an image.
I used the FLIR Pro Scout for six months, and found it an extremely useful tool for hunting and scouting at night. While it has a couple ergonomic issues, the biggest stumbling block the average hunter will find is the unit's $8,900 price tag. It's definitely for the well-heeled hunter or guide who needs to scan the dark.
While the FLIR will spot heat sources at incredible distances (up to a half mile in my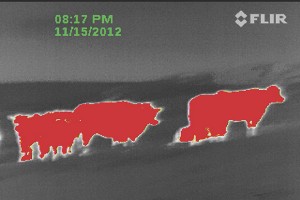 testing), the greater the distance, the more likely you will see tiny white, black or red blobs. On the other hand, at 150 yards or less and with some practice, whole outlines of larger animals are clear enough to identify said animals as deer, hogs, cows … .
The FLIR doesn't simply spot big, warm bodies, though. Last year, I met a hunting guide who used the exact same model during an Alaska brown bear hunt. A client shot a big bear just at dusk, and it fled into thick brush. The guide broke out his FLIR Pro Scout.
"It lit up that bear's blood trail like a flare," he told me. "We waited maybe 10 minutes after the client shot, and we were able to see that the bear took off through some alders and thick brush. That way, we didn't have any surprises!"
Thanks to the FLIR, they found the bear several hundred yards away in the dark, dead, sprawled out in a stand of thick alders.
That story sparked an idea. Back home, one wintry Wisconsin night, I filled a 1-quart plastic squeeze bottle with warm water. To mimic some of that blood stickiness, I mixed in 2 tablespoons of dish soap.
Outside, a dusting of snow on the ground and the temperature right at zero, I squirted out a "blood trail" between trees. I switched on the FLIR, which was set on red, and a blotchy path of scarlet jumped out at me at 30 yards and less, the FLIR held to my eye as if tracking a wounded animal. I scanned again 12 minutes later: Less "blood" was apparent, but there were more than enough spots to follow the trail. After another 16 minutes, the red blotches were spaced even farther apart but were still visible.
So, in such a scenario, I feel I could track a bleeding animal into the night a good 20 to 30 minutes after it is shot—if it was leaking decent amounts of blood. If the temps were in the 20s or 30s, and given the sensitivity of the FLIR, tracking should be possible for up to an hour.
The FLIR Pro Scout takes photos and records video; the images, stored on an SD card, are low-resolution but serviceable. The included rechargeable AA batteries provided power all through a long night of hog spotting, in temperatures as low as 30 degrees, and another three hours the next night. The charger that comes with the unit replenishes batteries in an hour or less. You can also use non-rechargeable batteries.
This Pro Scout FLIR model (there are a half-dozen TS models and now new E-units that start at less than $1,000) also has a handy internal 2X zoom, and a manual focus ring around the 65 mm front lens.
Problems? Well, it's very difficult to switch over batteries in the field. Batteries are held behind a small plastic plate on the bottom of the unit, secured by four tiny Philips head screws. Removing and replacing those diminutive screws in the dark is an invitation to lose a couple. I also wish there was a better way to identify each of the control buttons atop the FLIR. You are, after all, literally in the dark, so you can't see the tiny, slightly raised icons on the rubber buttons. Nor could I feel them well enough to know each button by touch.
That bullet-headed hog that scared away the deer? Once I made it out in the FLIR, I grabbed my shotgun, flicked on my green night-hunting light and anchored 230 pounds of West Texas boar with a 1-ounce slug. He was one of several hogs the FLIR has helped me take. I will certainly miss it on future night hunts.
FLIR TS 32r Pro Scout
Type: forward-looking infrared imaging monocular
Magnification: 2X electronic zoom
Objective Lens Diameter: 65 mm
Maximum Viewing Range: 1,400 yds.
Field of View: 7x5 degrees
Resolution: 320x240 mp
Dimensions: length 10.96"; width 3.33"; height 2.69"; weight 2.17 lbs. w/o lens
Power Source: 4 AA NiMH batteries (included); Li-Ion/alkaline optional
Ambient Operating Temp. Range:  minus 4 -140 degrees
Image Storage: SD/SDHC card; USB2 connection
Accessories: hot shoe charging/video output attachment; AC power adapter/charger; DC adapter/charger; lanyard; video output cable; USB cable; SD card
MSRP: $8,925