by
posted on July 20, 2011
Support NRA American Hunter
DONATE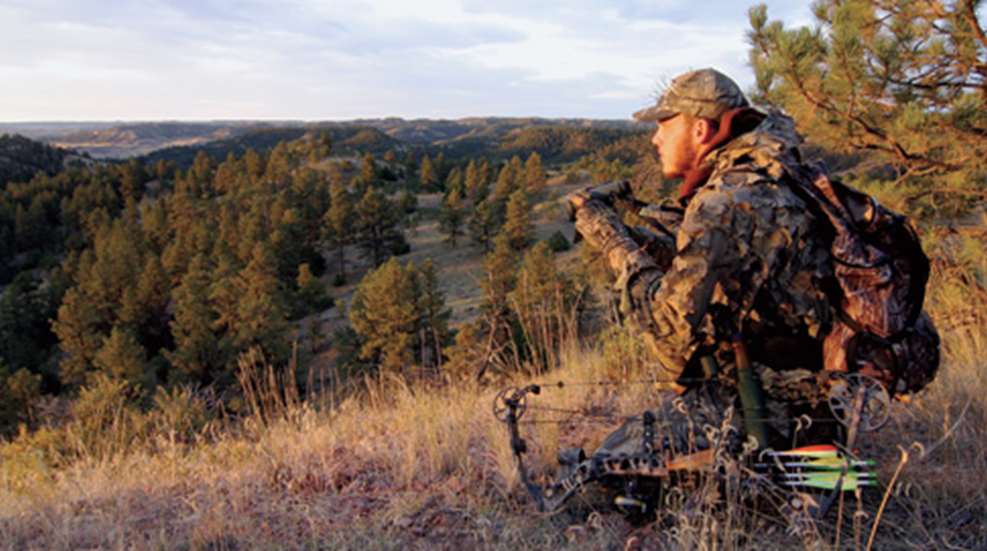 When the buck committed to a drink from the muddy waterhole, I leaned over in the sweltering blind and whispered, "He's 33 yards. Take him now." My son, Cole, drew his bow and touched the trigger. Seconds later we watched his first head of big game tip over on the sun-baked, Wyoming plain.
The next morning a string of thirsty pronghorns lined up in front of us in the same blind. Seven bucks smacked their lips trying to decide whether our blind was a threat. The biggest buck sported mass and sweeping prongs. The adolescents waded into the water. My target followed, and after all the bucks lowered their heads to drink, I drew and settled the pin on its vitals. The waterhole erupted and the leader disappeared in a tumble of dust 80 yards away.
I occasionally get invited to hunts on private properties, but this wasn't one of them. My son and I filled our bow tags on public land using our 20-foot horse trailer as an ATV hauler and camper. If you have the ambition to launch your own bowhunt, the West offers the best in do-it-yourself adventure.
1. Wyoming Pronghorn
Wyoming is currently at a 10-year high for pronghorns and virtually the entire state can produce a good hunt. It uses a draw for all pronghorn tags. The highest draw odds lie in the east, but it has less public land. In the west and southwest public land abounds, but the odds of drawing are low because Wyoming issues a pronghorn tag there good for firearm or archery with stamp validation, so everyone is in the same draw.
Look north, to the prairies east and south of the Bighorn Mountains. Units 17 and 23 are virtually guaranteed and the area has Bureau of Land Management tracts, plus the occasional block of state land. The season runs Aug. 15 through September for units 17 and 23. Adjacent unit 113 has a 50/50 chance to draw with similar scattered public lands in a September season.
The nearby community of Gillette keeps a list of landowners looking for hunters to cull herds or pay a trespass fee. Check state Walk-In Area and Hunter Management programs to see if annual signups are in the neighborhood. Also look into Wyoming's generous quotas of leftover doe/fawn tags at any of the 100 license agents in the state. You can purchase up to four doe/fawn licenses in certain areas.
2. Colorado Elk
Several states have better bulls, but none offer opportunities like Colorado. The state has more elk than any other with an estimated population of 287,270 and an average bull to cow ratio of 30:100. With few exceptions, Colorado elk can be bowhunted with an over-the-counter tag costing you $564 including a required habitat stamp and processing fee. The archery elk season runs Aug. 27-Sept. 25.
Colorado is full of rough country; focus on its southern half including the San Juan, Rio Grande and San Isabel national forests. Elevations vary from 7,000-14,000 feet; weather can change quickly in the high country from the 70s to a white-out. Be prepared.
Public holdings total millions of acres; private holdings make up many valleys and front-range zones. It's best to hunt national forests bordering private lands hoarding herds or to pack into remote, roadless areas. Units 771, 85 and 861 post success rates at 16, 18 and 20 percent respectively, but they also are light on national forest and heavy on deeded property. Units with higher volumes of national forest include 77, 78, 80 and 81, with success rates of 9, 15, 9 and 11 percent respectively, plus lots of national forest.
3. Idaho Whitetails
Idaho has a reputation for muleys, elk and potatoes, but you might want to make room next to the potatoes for whitetail. From the central part of the state north you'll run into whitetails and numerous national forests offering public opportunities for archery whitetail hunts. Giants greater than 170 inches are not uncommon here.
Idaho's archery season runs Aug. 30 through September and the licensing system is simple. In December nonresidents can purchase licenses for the coming year. Once the quota is filled the door is closed. Deer tags are generally still available through spring/early summer, but don't wait—validate your deer tag with a nonresident hunting license and archery permit.
Head north to Unit 1 and base your hunt in the 1-million-acre Kaniksu National Forest encompassing 52 percent of the region. Idaho's Access Yes program also provides lands to hunt here. Scout riparian zones and valleys where public land adjoins private. Priest Lake is a whitetail magnet. September whitetails look for the richest feed available to face the rut and winter to come. Archery success runs approximately 20 percent in the region.
Sandpoint and Bonners Ferry offer base-camp lodging and supplies; primitive camping is allowed in the forest.
4. South Dakota Muleys
South Dakota is where the West and the natural geographic boundary for mule deer habitat begin, and patchwork parcels here offer ample opportunities. The season runs Sept. 24 through December for antlered deer. You can bowhunt during firearm season while wearing one article of hunter orange. My recommendation: Complete your hunt prior to firearm season or return in December when winter weather makes deer more predictable.
Mule deer blossom along the Missouri River and to the west. Since your license is guaranteed and good for every prairie unit west of the river, be nomadic. Check out the 73,000-acre Custer National Forest in the northwest corner consisting of rugged ponderosa pine hills and jagged buttes. Tamer terrain lies to the east in the 155,000-acre Grand River National Grasslands; focus here on public land abutting private agricultural croplands.
Glass from afar and plan a stalk when muleys bed down. Keep an eye out for the popular state Walk-In Program. South Dakota leases approximately 1 million acres of private land each year and the largest contiguous properties lie in the east. Park your truck at the gate and you'll likely be alone. Less than 27,000 licenses are sold annually statewide, and the state posts a high archery success rate of 31 percent. Your tag is good for either species and the entire region posts a 50/50 mix of whitetails and mule deer, so don't be too picky.
5. Montana Black Bear
If your fall is more packed than the cheeks of an autumn chipmunk consider a spring hunt for black bear in Montana. You can't bait there, but the state's black bear density supplies ample opportunity. Head to the northwest corner and concentrate on three national forests: the Lolo, Kaniksu and Kootenai. Opportunities abound and you can make the hunt as easy or as difficult as you want. Concentrate on units 104 and 108, although you can't go wrong with any adjacent units either. Libby and Thompson Falls can supply you with all your needs.
Locate lush grass and be there when it greens, because when a bear emerges from its den in spring it jump-starts its digestive system on the stuff. In northwest Montana south-facing meadows attract spring bears with the green bouquet, as do recently logged areas.
Cover the country quickly using forest service roads. Stop and glass hillsides and across canyons often. Once you spot a bear note the location and stalk or get in position and call. For archery hunting calling is the ultimate adrenaline rush. Any standard prey-in-distress call works, but if you're near an elk calving area switch to high-pitched calf-in-distress calls and have a buddy back you up.
Seasons run April 15-May 15 and licenses are unlimited, but apply at least five days before you hunt. You also need to pass a free, online bear identification test because you're bowhunting in grizzly country.