by
posted on September 1, 2023
Support NRA American Hunter
DONATE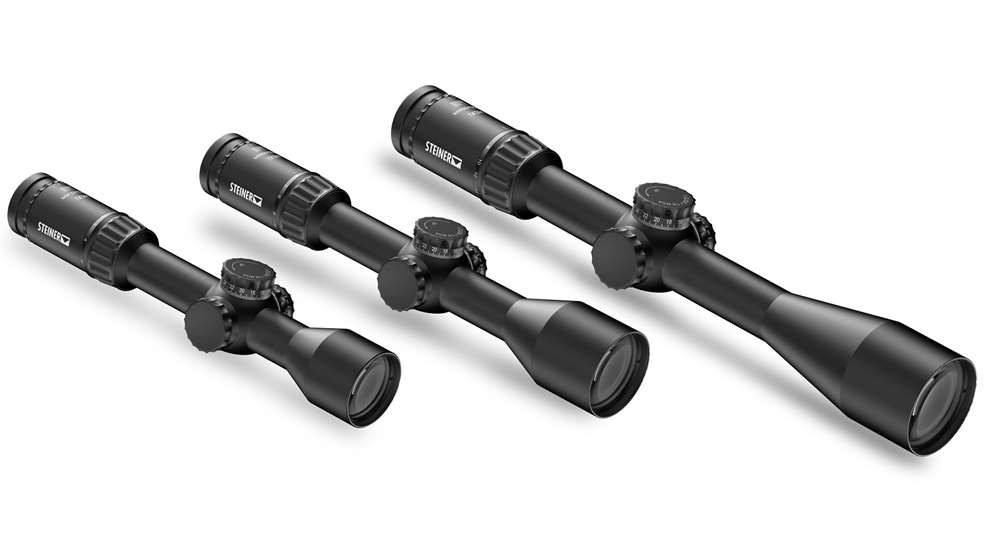 Following last year's release of the T6Xi series of tactical riflescopes, Steiner Optics has released a new lineup of premium optics designed with the modern big-game hunter in mind: the H6Xi.
Boasting similar military and law-enforcement DNA as the T6Xi tactical riflescope series, the all-new H6Xi series is designed for hunters who demand an optic that blends precision, versatility and optical performance in a package designed for hunting environments. The H6Xi series is comprised of three models, for everyone from those who count ounces on the trail, to those looking for extraordinarily  enhanced magnification. The first focal plane (FFP) 6x optical system is offered in 2-12x42mm, 3-16x50mm, and 5-30x50mm zoom ranges.
Milled from aerospace-grade 6061-T6 aluminum, the H6Xi 30mm tube delivers a rugged waterproof, fog proof and shockproof design with weight and compactness in mind. Several additional features have been incorporated for hunters who stand ready for difficult shots. Optical clarity and light transmission come courtesy of Steiner's HD (high-density) lenses. These are backed by the illuminated Steiner MHR FFP reticle. This Modern Hunting Reticle (MHR) presents duplex crosshairs for quick aiming in the lower magnification range, and illuminated denotation for wind drift and bullet drop when zoomed in for distant shots. Matched with 92-percent light transmission and a wide field of view, the H6Xi riflescopes ensure hunters can locate their targets and apply a sighting solution quickly and easily in the most challenging conditions.
A low-profile elevation turret is sized to reduce the snag-and-bump potential common to hunting scopes with tall target-style turrets. Easy-to-read numbers, tactile detents with audible clicks, and a zero click stop help hunters make precise adjustments even in low-light conditions. A capped windage knob ensures piece of mind when trudging through brush or bumping against rocks. Further adding to its capabilities in changing environmental and shooting conditions, the H6Xi offers 11 illumination settings. Two night vision settings, four night settings, and five day settings ensure shooters can always find the right illumination regardless of the scene. Backing the illumination dial is the focus adjustment knob. Tuned for the broadest shooting range spectrum, the fine parallax adjustment extends from 25 yards to infinity so you can always be confident of point-of-aim, point-of-impact performance. To accommodate gloved and wet hands, all knobs and the power-adjustment ring feature aggressive knurling for no-slip operation. The diopter also comes with a locking ring, meaning there is no chance of accidentally moving the eyepiece out of focus.
For more information about Steiner Optics visit steiner-optics.com. MSRP: $2299-$2874
Specifications:
Steiner H6Xi 2-12x42mm
Magnification: 2-12x
Objective Lens Diameter (mm): 42
Tube Diameter (mm): 30
Field of View (feet @ 100 yards): 55-8.5
Field of View (feet @ 100 meters): 5-9
Eye Relief (inches/mm):85-3.5 / 98-89.6
Exit Pupils (mm) HIGH/LOW:8 - 3.8
Diopter Setting: +2 to -3
Focal Plane: first
Reticle: Steiner MHR
Illumination: rotary dial
Battery: CR2032
Weight (w/o caps) (ounces/gram): 2 ounces / 650 grams
Length (inches/mm): 8 inches
Operating Temperature: -13-degrees Fahrenheit / +145-degrees Fahrenheit
Click Value Adjustment: 25 MOA
Total Elevation Range: 70 MOA
Total Windage Range: 70 MOA
Parallax Focus: side focus
Parallax/Focus Range: 25 yards to infinity
Steiner H6Xi 3-18x50mm
Magnification: 3-18x
Objective Lens Diameter (mm): 50
Tube Diameter (mm): 30
Field of View (feet @ 100 yards): 36-7
Field of View (feet @ 100 meters): 40-7.5
Eye Relief (inches/mm): 85-3.5 / 98-89.6
Exit Pupils (mm) HIGH/LOW: 4-3.8
Diopter Setting: +2 to -3
Focal Plane: first
Reticle: Steiner MHR
Illumination: rotary dial
Battery: CR2032
Weight (w/o caps) (ounces/gram): 4 ounces / 777 gram
Length (inches/mm): 3 inches
Operating Temperature: -13-degrees Fahrenheit / +145-degrees Fahrenheit
Click Value Adjustment: 25 MOA
Total Elevation Range: 75 MOA
Total Windage Range: 50 MOA
Parallax Focus: side focus
Parallax/Focus Range: 25 yards to infinity
Steiner H6Xi 5-30x50mm
Magnification: 5-30x
Objective Lens Diameter (mm): 50
Tube Diameter (mm): 30
Field of View (feet @ 100 yards): 25-4.5
Field of View (feet @ 100 meters): 24-4
Eye Relief (inches/mm): 85-3.5 / 98-89.6
Exit Pupils (mm) HIGH/LOW: 15-2.3
Diopter Setting: +2 to -3
Focal Plane: first
Reticle: Steiner MHR
Illumination: rotary dial
Battery: CR2032
Weight (w/o caps) (ounces/gram):1 ounces / 796 grams
Length (inches/mm): 4 inches
Operating Temperature: -13-degrees Fahrenheit / +145-degrees Fahrenheit
Click Value Adjustment: 25 MOA
Total Elevation Range: 65 MOA
Total Windage Range: 30 MOA
Parallax Focus: side focus
Parallax/Focus Range: 25 yards to infinity