by
posted on October 13, 2021
Support NRA American Hunter
DONATE
SilencerCo has announced the introduction of its new Hybrid 46M: the world's first modular large-bore suppressor.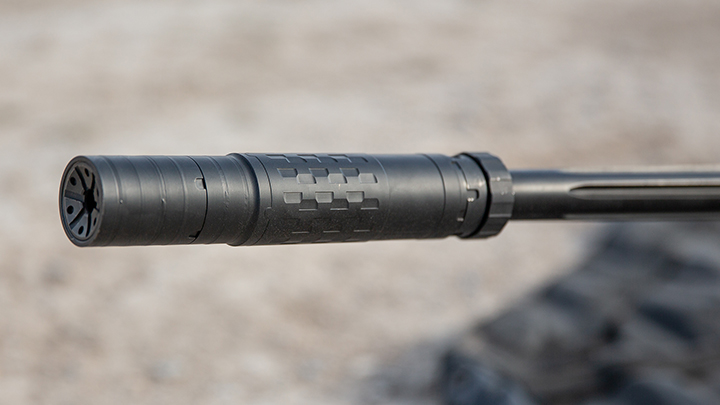 Effectively reducing the sound signature of everything from 9mm to 10mm and 5.56mm NATO to .458 SOCOM, the Hybrid 46M takes it to the next level for those who want the versatility of the company's Hybrid 46 with added modularity. It is compatible with virtually every centerfire firearm platform due to its wide range of available attachment accessories.
"The Hybrid 46M is the perfect tool for shooters hoping to suppress a variety of calibers on both pistols and rifles with only one suppressor," said SilencerCo senior product development specialist Dewie Vieira. "It's the first modular big bore suppressor ever; it's the answer for those who want to suppress every small and large-bore caliber."
The real beauty of the Hybrid 46M is that it allows the user to remove the front module, providing a shorter and lighter option that is especially useful on handguns. While the company's Omega 36M is still the best modular option for .30-caliber pistols, the Hybrid 46M gives shooters the ability to suppress big-bore pistol calibers like .45 Auto and 10mm.
With an MSRP of $1,117, the Hybrid 46M ships with a multi-tool, a spanner tool, an ASR mount, a .46 caliber front cap and a .30-caliber front cap.
Technical Specifications
• Includes Charlie ASR mount, Charlie .30-caliber front cap, and Charlie .46-caliber front cap
• Compatible with the Charlie ASR mount, all Charlie direct thread mounts, Charlie piston mount, all Charlie front caps, all ASR muzzle devices, pistons and tri-lug 
• Short configuration: weighs 12.2 ounces and measures 5.78 inches
• Long configuration: weighs 14.9 ounces and measures 7.72 inches
• Rated for all centerfire pistol and rifle calibers including .45 Auto, 10mm, .450 Bushmaster, .458 SOCOM, .45-70 Government, .338 Lapua Magnum and up to .460 Weatherby Magnum
Constructed of titanium, inconel and 17-4 heat-treated stainless steel 
For more information on the Hybrid 46M, visit silencerco.com.