by
posted on March 2, 2010
Support NRA American Hunter
DONATE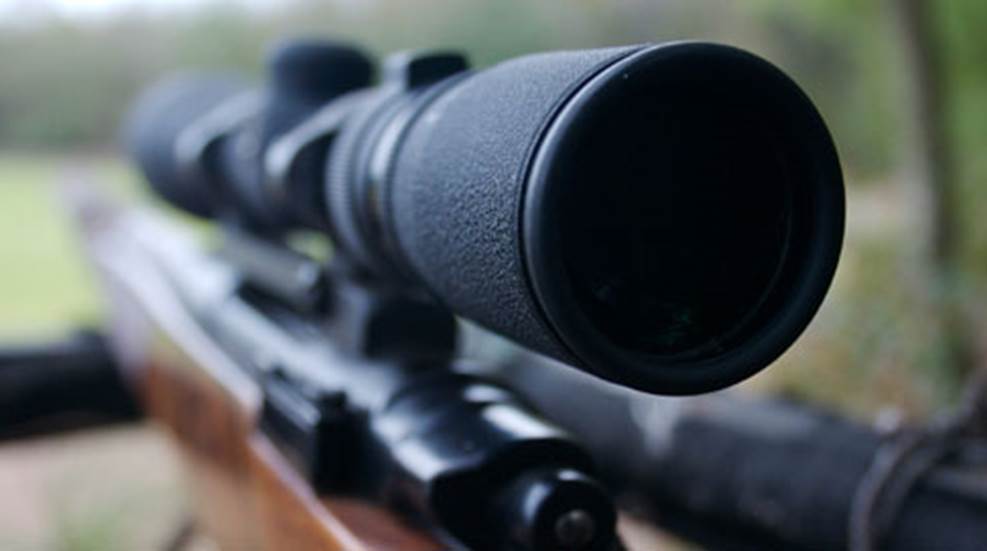 AIMPOINT has introduced a new line of hunting scopes with its non-magnifying, red-dot Aimpoint Hunter Series. The 9" H34L and 7 ½" H34S have 45 mm objective lenses, 34 mm-diameter tubes and use anti-reflex multi-coatings. Both take a single CR-2032 battery that powers the scopes for 50,000 hours of continuous operation—about five to six years. Silent push-button intensity adjustment touch pads on top of the housings activate the 2-m.o.a. dots. The H34L is designed primarily for long-action rifles and the H34S is designed primarily for short-action rifles and shotguns. Aimpoint will also release 30 mm versions of the scopes at the 2010 NRA Annual Meetings and Exhibits. www.aimpoint.com

BSA OPTICS added to its Illuminated Sights line with the new Weaver-style mounted PMRGSLL multi-reticle panoramic sight. Four reticle options and seven brightness options, in addition to its integrated light and laser, are designed for close- and medium-range target acquisition for both small-bore and larger caliber rifles.
www.bsaoptics.com

BURRIS' new Eliminator Laserscope has a laser rangefinder embedded in the scope. Burris boasts that "the Eliminator knows the precise horizontal distance to your trophy and exactly what your cartridge will do." The Eliminator lights a 1/3 MOA illuminated aiming dot showing exactly where your shot will go. When sighting in, you just choose from a wide variety of ballistic options. The rangefinder in the scope then puts the dot in the right place—all you have to think about is wind drift. Burris' SixX series riflescopes include a 30mm main tube, fast-diopter adjustment, a separate rubber-coated power ring and eye relief that is 3.5-4 inches. Being shorter and more compact than comparable scopes, the mounted SixX is made to improve rifle balance and handling. It's available in 2Xx-12X-40mm and 2X-12X-50mm with a matte finish. Its new 4X-16X-50mm XTR is designed for "accuracy and performance at distances ranging from 40 to 900 meters." The XTR-416 comes with a versatile Ballistic 14X Mil-Dot reticle or illuminated with a lighted Mil-Dot reticle.
www.burrisoptics.com
BUSHNELL debuts its Fusion 1600 ARC binocular, an exciting optic for hunters that takes a premium 8x42, BAK4 roof-prism binocular and combines it with a laser rangefinder without adding much extra bulk. The waterproof unit features a red-LED display with built-in bullet-drop compensator, weighs only 31 ounces and retails for $899. The optics juggernaut has restyled and improved its economical Trophy XLT riflescope line. The fully waterproof scope now features multi-coated optics for enhanced light transmission and hand-adjustable dials at an incredible price point. The top-of-the-line Elite 4200 FFP scope is a tactical wonder with 1-mil adjustments, a 30mm tube and green illuminated reticle. Versions in 6X-24X-50mm and 3X-12X-44mm are available. The Trophy Cam line of small, battery saving, intuitive-to-use trail cams expands with a color-viewing model and a Bone Collector camo version.

www.bushnell.com
CABELA'S takes the guesswork out of shooting with Caliber-Specific riflescopes and their EXT bullet-drop reticle. Precisely calculated for popular smallbore calibers, the scopes are available for .17 HMR, .22 LR, .22 Mag. and .223 Rem.
www.cabelas.com

LEICA ER riflescopes combine legendary performance and superior reliability in two models: a 2.5X-10X-42mm and 3.5X-14X-42mm. Both feature long eye relief, quarter-minute adjustments and Leica's AquaDura coating to repel water and dirt. The 2.5X-10X is available with an ASV elevation turret that adjusts point of impact at the turn of the knob.
www.leica-camera.com
MEOPTA, the noted European optical powerhouse, expands its sporting lines with the Meopro 1-inch series of American-style riflescopes and popular-size binos that are high-quality yet mid-priced. For a top-of-the-line hunting optic, check out the Meostar 8- and 10X 32mm units. For dangerous game hunters, the R1 1x4 22 KD scope features an illuminated reticle and ample eye relief. On the tactical side, the M-RAD reflex sight can be mounted on top of a primary optic and is a top-notch AR—or turkey hunting—optic by itself.
www.meoptasportsoptics.com
LEUPOLD maximizes bowhunting success with the bow-mounted Vendetta rangefinder. Push the pressure pad on the bow's grip at full draw to activate the True Ballistic Range feature, which calculates distance, shot angle and elevation to 70 yards. Hold down the pad to continuously range moving targets. The 10-ounce, 2.8-inch weatherproof optic has a large LED display to see readings in all light conditions, a black polycarbonate body for rugged use, and a built-in visible laser that simplifies alignment with the bow's sights. An aluminum bracket mounting system permits adjustment up or down and side to side.  www.leupold.com


NIKON's EDG line of binoculars use ED glass just like renowned Nikkor lenses. Nikon says this "extra-low dispersion glass pushes the limits of optical perfection in our new flagship binocular: The EDG." In rangefinders, Nikon introduced the Archer's Choice, designed and engineered with the help of Ralph and Vicki Cianciarulo of "Archer's Choice" for real-world bowhunting situations. This rangefinder has waterproof/fogproof ruggedness, pocket-sized portability, long eye relief (18mm) and Nikon's new ID (Incline/Decline) Technology. The new 1.65-5X 36 mm TurkeyPro Shotgun Scope will offer 5" of eye relief and the circle-in-circle Ballistic Turkey Reticle (BTR) that works as a ranging tool as well as an aiming device. It is available in Realtree APG, Mossy Oak Breakup and matte black. Also new is a line of SHE Safari and SHE Adventure binoculars, a new ProStaff 4X-12X-40 riflescope and new Action, Trailblazer and Travelite binoculars. www.nikonhunting.com

PENTAX offers its Gameseeker II line of affordable rifle scopes, in models from a 2.5-10X to a 4-16X, along with its Gameseekeer HS20 Dot Sight with a 5-m.o.a. dot; and the compact DCF CS 8X 42 mm and 10X 42mm binoculars.
www.pentaxsportoptics.com
REDFIELD riflescopes are back, and they're made in America. Four quality, value-priced Revolution models are available: a 2X-7X-33mm, 3X-9X-40mm, 3X-9X-50mm and 4X-14X-50mm. The complete line of Redfield optics also includes Rebel and Renegade binoculars, Rampage spotting scopes and Raider rangefinders. www.redfield.com
SIMMONS launches its ProSport spotting scope with interchangeable eyepieces in 20X-60X zoom and 30X (fixed power) wide-angle options. Features include fully coated Porro-prism optics to optimize view, a waterproof scope body and a compass inside the objective lens cap. Weight is 29.3 ounces. Kit includes a 44-inch tripod with a quick release mount.

www.simmonsoptics.com
STEINER's 10x42 R Tactical binocular has been developed as a compact roof-prism tactical surveillance and operations binocular incorporating a newly developed SUMR targeting reticle system. Steiner's new 10x50 Military Binocular Laser Rangefinder (LRF), is a lightweight, laser-rangefinding binocular. The Military LRF is based on Steiner's own military-tested-and-approved Porro-prism configuration. It integrates a two-button interface and a laser rangefinder with a maximum ranging distance of 1,600 yards. The 10x50 Military LRF's built-in laser rangefinder utilizes an eye-safe invisible FDA Class 1 laser in the left half of the unit.
SWAROVSKI EL 42 (42mm objective lenses) binoculars with Swarovision technology and field-flattener lenses produce crisp resolution to the very edge of the field of view; HD lenses minimize color-fringing. The Z5 riflescopes are 1-inch models with 5X zoom available in 3.5X-18X-44mm and 5X-25X-52mm. A wide range of reticles are available, along with a Ballistic Turret.

ZEISS adds to its line with 4-16X 50 mm, 6-24X 56 mm and 6-24X 72 mm Victory Diavari FL Riflescopes, 65 mm and 85 mm Victory DiaScope T* FL Spotting Scopes; the Victory PhotoScope 85 T* FL, which combines a spotting scope with a 7-mp camera; and the Victory Compact Point Red Dot Reflex Sight, with a 3.5-m.o.a. dot.
WEAVER's 1X Red/Green Dot Sight has five red or green brightness settings and four different reticle styles. It comes with a spare battery compartment, a removable sunshade, an adjustable rear hood and an integral Weaver mount. The Super Slam 1-5x42 mm Dangerous Game scope is designed for fast target acquisition. Made with powerful five times zoom range starting at 1x, the Dangerous Game scope has a 30mm one-piece tube, three-point erector system with improved springs and a glass-etched Dual-X reticle. Retro fans will appreciate the limited-edition 80th Anniversary Steel Tube K4 scope and two Classic K-Series models—a 4X 28 mm Scout Scope and an 8X 56 mm K8. Also new are the NITREX TR one Series 4-16X50 AO optic. Weaver's Grand Slam 8-16X 42 mm binoculars have an extra zoom feature that goes from 8x to 12x to 16x. Grand Slam binoculars have nitrogen purged tubes, rugged body armor, a sleek roof prism design and extendable eyecups.
www.weaveroptics.com
VORTEX OPTICS released its Viper Precision Shooting Tactical (PST) Series for 2010, which includes a 16-oz., 9.7"-long 1-4X 24 mm riflescope with a TMCQ MOA or MRAD reticle. Intended for close-quarters use, the scope has a 4" eye relief and a 98-27 ½ ft. field of view at 100 yds.