by
posted on November 17, 2015
Support NRA American Hunter
DONATE
After spending two weeks in Kansas guiding hunters and waiting patiently for my new-for-2016 Mathews Halon to arrive, I couldn't wait to hunt with it. When I first opened the box, the first things I noticed were its short, wide limbs and extra-wide riser. As I pulled it out, I saw that, despite being only 30 inches axle-to-axle, it didn't have the sharp string angle typical of a shorter bow because of the design of its large, new No Cam-inspired CrossCentric Cams.

I quickly set up the bow according to specs, but the wind was blowing 40 mph and gusting to 60 mph so I had to shoot it the shop where I was restricted to 20 yards. I put a loop in the center of the string and shot a clean hole through paper with the first shot.
I was amazed how fast I had it shooting groups, thanks partly to what Mathews calls a new True Center Nocking Point for straight, level nock travel and shot-to-shot consistency. For a bow of its speed—which Mathews clocks at up to 353 fps—I was pleasantly surprised when there was no shock or vibration in my grip hand when I shot it as with many other fast bows. And unlike most speed bows, the Halon had a comfortable valley, making the bow extremely forgiving. Worth noting, in camp with me was my buddy Mike Slinkard, who was a tournament archery shooter for years before starting HECS Stealthscreen. After he shot it, he was so impressed that he's getting one himself.
The wind blew hard for the next few days and my opportunities to shoot were limited so I hunted spots that would afford me a close shot. When the wind finally slowed, I set some yardage markers and saw how well the bow shot at distance. The new CrossCentric Cams create a smooth, fast draw cycle, and the new FlatBack grip makes the bow so stable that it's difficult to torque the riser. This makes it easy to aim. With no adjustments, I quickly had marks out to 50 yards. The bow grouped extremely well, and I was amazed at the speed, which for a Western guy like me has always been a big deal.
As for how it performs on game, my first crack was at a pheasant the next morning. I was making a trail in the pasture with my truck through the waist-high weeds so the deer would follow it back to the stand when Rex, my cameraman, spotted a rooster. I saw its head poke up and eased out of the truck to within 20 yards. All I could see was his head so I put the 20-yard pin on it and had my first kill with the Halon.
The evening hunt was uneventful until I went to get out of the stand. The loop in my bow rope came untied and my Halon dropped 20 feet to the ground. I'd accidentally conducted my own strength test of the bow's new Bridged Riser and more rigid limbs. I climbed down, shot it and found everything was perfect.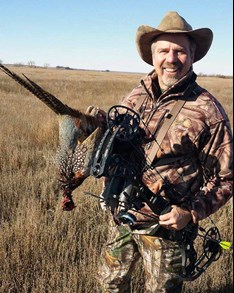 In the same stand the next morning, Rex and I spotted a buck on the fence line more than 750 yards away, walking the other direction. I grabbed my rattling antlers and rattled in the beautiful 24-inch-wide buck to 16 yards. But with everything going on between guiding and hunting, I had neglected to put the felt on my arrow rest. On this crisp, clear morning with no wind, the buck heard the arrow clatter on the rest as I drew. He took eight or 10 jumps, stopped and looked back. That's where the speed and forgiveness of my new bow paid off. I shoot a single pin Spot Hogg slider-style sight that was set at 20 yards, but with the flat-shooting Halon, I was able to keep the pin in the vitals and put my Easton arrow where it belonged.
To sum it up, the Halon is Mathews' hardest-hitting bow to date and is by far the smoothest speed bow I've ever shot. Available in three brace heights—including a 32-inch-draw-length option—it is a fantastic bow for any serious bowhunter, but for anyone like me who enjoys a speed bow it provides the best of both worlds. With the CrossCentric cams and rigid limbs that offer the necessary stability for such a powerful cam system, this bow is smooth, accurate, forgiving and extremely fast. I recommend you try shooting it for yourself.
Halon Highlights
• New CrossCentric Cams create a smooth, fast draw cycle.
• Mathews' widest limbs to date and a Dual Bridged riser deliver strength and durability.
• Measures a compact 30 inches axle-to-axle with let-off options of 75 and 85 percent.
• Available in 5-, 6- and 7-inch brace heights with respective IBO speeds of 353, 345 and 335 fps and respective draw lengths of 24-30, 25-31 and 26-32 inches, including half sizes.
• Harmonic Damper and Harmonic Stabilizer ensure it is deadly quiet and stable.
• Mathews' AVS (Advanced Vectoring System) technology maintains cam synchronization and stores more energy throughout the draw cycle.
• Available in five exclusive finishes, including the new Lost XD Camo.