by
posted on March 2, 2017
Support NRA American Hunter
DONATE
We covered plenty of new products earlier this year while in Las Vegas for SHOT Show 2017—but there's often far more on the show floor than we could ever get to. Fortunately, we've got the rest of the year to play with new products. One that the American Hunter team recently had a chance to have a little fun with was the Workhorse Electronic Trap from Champion Target. Here are five things you need to know.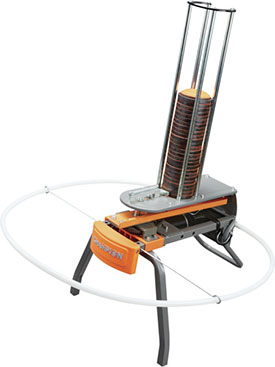 1. It works.
This one's important to note up front. The Workhorse does it job admirably, throwing targets up to 75 yards at your choice of three launch angles. We ran the Workhorse for an entire afternoon without a single technical hiccup, and left impressed. It'll serve as a regular part of tool kit going forward.
2. It's easy to assemble.
The Workhorse sports a compact, portable design—it's durable, but not exceptionally heavy, so you shouldn't have a hard time schlepping it along wherever your shotgunning might take you. Better yet, it all comes together rather quickly. With a few wrenches and a screwdriver, I had the Workhorse operational in about 20 minutes.
3. It runs on a 12-volt battery.
A 12-volt battery is required to run the workhorse, and is not included in the box. That said, 12-volts are easy to find, and aren't expensive. The perfect combination.
4. You can operate it solo.
Though it takes a little getting used to, the Workhorse can absolutely be operated without assistance. A foot pedal allows the shooter to launch targets and their leisure, from a safe distance. And, with a 50-clay magazine, you can get plenty of shooting in before stopping to reload the Workhorse itself.
5. It's affordable.
The Workhorse ships with an MSRP of $359.95, which isn't bad at all, as electronic trap throwers go. I'd label it a solid investment if busting clays is among your passions. Retailers such as Cabela's already have it priced lower than that, courtesy of a mail-in rebate.
You can get a closer look at the Workhorse by following along with our #SundayGunday series, where it should be a regular guest star whenever a shotgun is featured. Check it out.