by
posted on March 28, 2017
Support NRA American Hunter
DONATE
There's nothing like a hot meal after a hard morning's hunt. That's why Associate Editor Jon Draper and I made sure we packed some of Camp Chef's finest on-the-go cooking solutions when we decided to chase snow geese across the prairies of South Dakota. A hunt camp's kitchen, though, thrives on efficiency—which is why we were quick to acquire a Sherpa Camp Table and Organizer. Here are five things you need to know.
1. It's all about organization.
The Sherpa Camp Table and Organizer very much lives up to its name. The tabletop, which can be removed and stowed, handles the first part. The four miniature organizers, which are included, help keep you organized. The organizers fit securely within the cubed body, and are meant to help keep your cooking accessories—spices, utensils, condiments, anything you've got in mind—all stored in an orderly fashion. It makes the most of its 12"x11"x6½" space.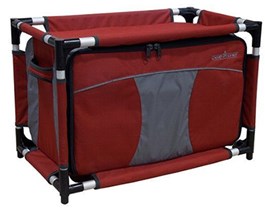 2. It's mobile.
A camp table's not much good if it's a pain in the rear to lug around, and Camp Chef's well aware of that. As such, the Sherpa Camp Table and Organizer is designed to follow you anywhere. The telescoping aluminum legs and tabletop are all easy to remove, and can be stowed in the side pouch. What you're left with is a compact, soft-sided rectangular cube that's tough, but made of lightweight parts—your load is only as heavy as you choose to make it. Whether you're leaving for a weeklong hunt camp or just planning a day at the lake, it's an ideal partner.
3. A miniature cooler is included.
As previously noted, four organizers are included with the table. The blue one is lined so it can double as a cooler or a sink. It can prove handy in a pinch.
4. It's versatile.
Camp Chef produces quite a few useful products—and has a knack for making sure they play well together. The Sherpa Camp Table's lower divider can be adjusted to accomodate one of the company's Mountain Series camp stoves, ensuring you can maximize efficiency when packing.
5. It's available now.
Camp Chef ships with Sherpa Camp Table and Organizer with an MSRP of $124.99. You can find it at a number of retailers, or on the company's own website.