by
posted on September 5, 2017
Support NRA American Hunter
DONATE
Bushnell's AR Optics line of riflescopes has become known for its combination of reliability and affordability. For 2017, the company has expanded the AR Optics brand to include an offering for the many hunters and shooters who have discovered 6.5 Creedmoor—the AR Optics 4.5-18x 40mm Creed Riflescope. Here are five things you need to know.
1. Only one model is available, for now.
So far, the 4.5-18x 40mm model is the only 6.5 Creedmoor-specific AR Optics scope Bushnell is offering. And yes, it really is fine-tuned for the 6.5 Creedmoor cartridge. You could certainly outfit it to any rifle you'd like, but you'd be wasting the included holdover points, which I'll get to in a moment.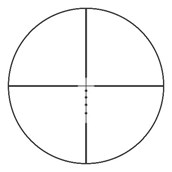 2. It features the "Drop Zone" 6.5 Creedmoor reticle.
As the scope's name suggests, it's already tuned for 6.5 Creedmoor. As such, Bushnell has equipped it with the Drop Zone 6.5 Creedmoor reticle, which is designed to maximize the round's performance by providing preset holder points for shots out to 600 yards.
3. It's easy to manipulate.
The scope features tactical-style turrets, which allow for very rapid adjustments, when required. A side parallax focus makes it easy to ensure your target is clear at any range—which is handy when you're preparing to make use of that built-in 600-yard holdover point.
4. It'll do the job in the field, too.
Though the AR Optics 4.5-18x 40mm Creed Riflescope was admittedly designed with tactical and competitive applications in mind, it acquits itself nicely in the field, too. I recently mounted one to a Savage Arms MSR 10 Hunter for an antelope hunt in New Mexico. The goat I put down from 200 yards didn't have time to offer any critiques as to my optic of choice.
5. It's affordable.
Almost the entirety of the AR Optics line can typically be found for under $200 at major retailers like Cabela's. Don't believe me? Click here.