Support NRA American Hunter
DONATE
Burris combines two hunting gear essentials into a single unit with its new Signature LRF 10x42 rangefinding binoculars.
The integrated rangefinder in the Signature LRF 10x42 offers everything needed to range game in any environment and to provide essential data for ballistic management. Capable of delivering extremely fast results ranging to 2,600 yards with a clear image, the Signature LRF 10x42 presents information in an easy-to-interpret heads-up display. Data points presented include five ranging options: line-of-sight (LOS) only, horizontal distance (HOR) only, LOS and HOR, LOS and angle (ANG) above and below horizontal, and HOR and ANG. This information allows long distance shooters to ensure their ranging and trajectory compensation will put projectiles on target. According to Burris, the Signature LRF 10x42 is accurate to within 1 yard at under 1,000 yards and ±2 yards at ranges over 1,000 yards.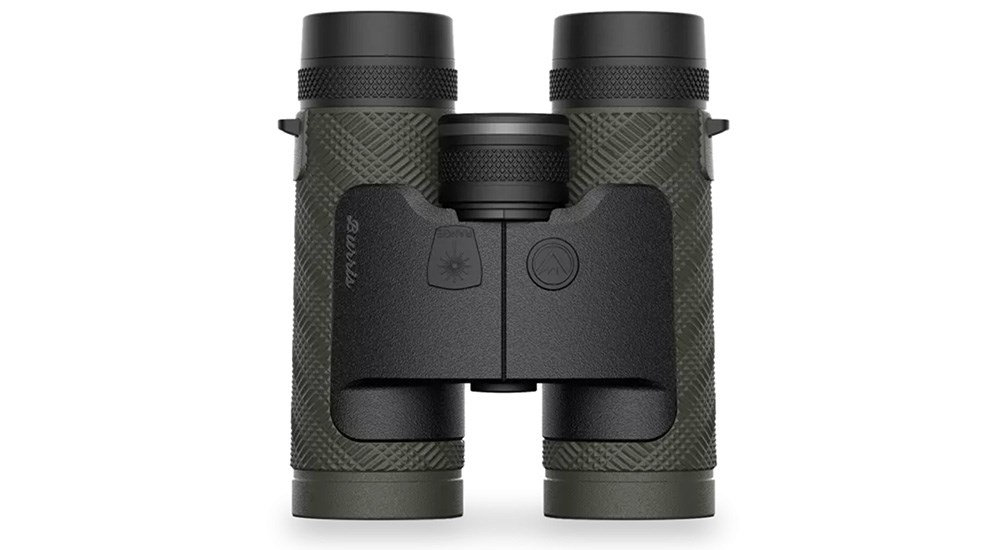 The Signature LRF 10x42 comes with five ranging modes:
• Auto: displays the range of the target with the strongest return signal;
• Sport: displays the range of the closes target in a group;
• Hunt: displays the farthest range of a group of targets;
• Scan: virtually instantaneous readings in range with the range button depressed.
The Signature LRF 10x42 is based on the proven Burris Signature HD series binoculars and the years of research integrating quick and powerful rangefinders in products like the Eliminator riflescope and Oracle bow sights. In keeping with the advanced Signature HD optical design, the Signature LRF 10x42 binocular delivers class-leading performance in terms of image sharpness and edge-to-edge clarity thanks to the multi-coated HD lenses and BaK-4 roof prisms. Housed in a rugged, shockproof chassis with no-slip rubber armor, the 10x42mm optic assembly provides the kind of low-glare, high-resolution, optimal color fidelity performance discerning hunters require.
Technical Specifications
• Magnification: 10x
• Objective Diameter: 42mm
• Field of View @ 1,000 yds: 334 ft.
• Close Focus: 12 yds.
• Focus System: Fast Focus
• Optics System: HD roof prism
• Exit Pupil: 4mm
• Eye Relief: 0.63 in. or 16mm
• IP Distance Range: 56 – 76 mm
• Eyecups: adjustable
• Nitrogen Filled: yes
• Waterproof Depth: 1 meter
• Weight: 36 ozs.
• Dimensions: 6.0" x 5.5" x 2.7"
• Laser Measure Range: 2,600 yards
• Laser Ranging Modes: Auto, Sport, Hunt, Scan
• MSRP: $1,200
For more information on the new Signature LRF 10x42 rangefinding binoculars, visit burrisoptics.com.