by
posted on June 9, 2021
Support NRA American Hunter
DONATE
Toward the beginning of the 2021
turkey
season,
ALPS OutdoorZ
unveiled its
Dash Panel Blind
. Designed as a hybrid between a traditionally-portable panel blind, and a full-concealment pop-up, the three-sided Dash Panel Blind is based around a hub system, which allows for quick and easy setup on a large scale. Here at 
American Hunter
, we were given the opportunity to test one of these useful pieces of kit all season long.
Setup and Construction

When you remove it from the box, you'll notice two things about the Dash Panel Blind. it's simultaneously long (47 inches), yet nowhere 
near
as long as you'd think it would have to be, to provide such substantial coverage. Indeed, folded (in-bag) width is a mere 4.5-inches, and weight is held to a paltry 5.5 pounds. As you slide it from the bag and roll it out onto the ground, be careful not to lose any of the stakes that come with it--I had one of these almost disappear into the grass on me. The side skirts fold out easily, and use tent-style poles to stay upright. Fitting them together is a process which will be fully familiar to most any camper. Push the hub at the center to spring the main section into shape, pound the stakes into the ground (including a staked guyline at the front, perfect for windy days), and you're ready to go.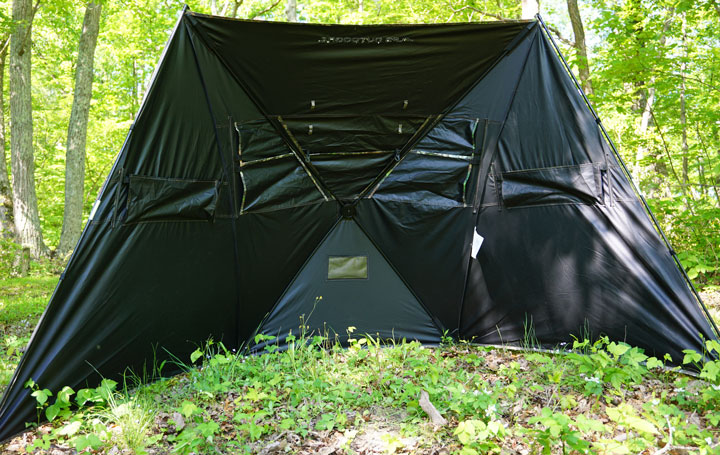 The blind boasts a SilentTrac window system across the front panel which, as the name implies, can be opened without making a ruckus. Side skirts include two mesh viewing windows, so game can be stealthily tracked all the way until it crosses into your field of fire. For those super wary birds, these mesh windows also have slide-up camouflage closures, so you can get fully concealed at a moment's notice. Finally, the blind boasts a small mesh pocket at its front, for the easy storage of calls and other such gear. This is honestly one of my favorites features. Its a simple addition, but all too often such small extras are what makes the difference between having to rustle through your bag, spooking game, and having that perfect item on hand to close the deal.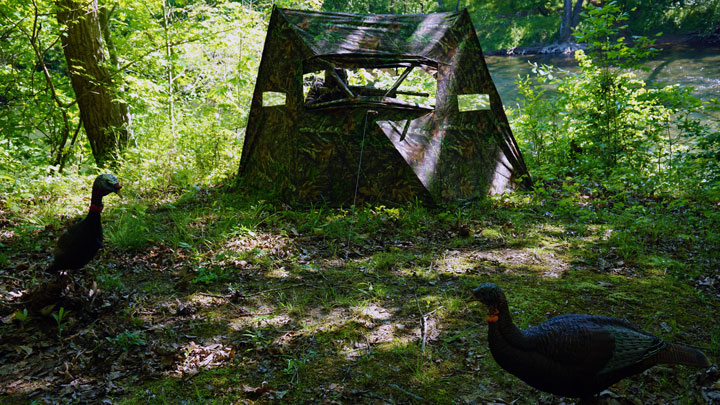 Field Performance

In the field, the blind performed as advertised. While its not the smallest portable setup I've ever shouldered, the additional coverage when in use makes it more than worth it, and it is fairly unobtrusive when slung across your back, only becoming a worry in the thickest of areas where even a pack would be a bit of a bother. The fast setup is also a boon, meaning you can go from hiking to concealed in a treeline at almost the drop of a hat. Once I got used to the system, setup took well under five minutes. Do note that, despite its extreme portability, the blind is still more akin to a pop-up than a panel-blind when in use. This means the windows are high, and a raised stool or seat of some sort will likely be needed to achieve an appropriate shot angle. A stadium-style seat, for instance, will be too low for this setup.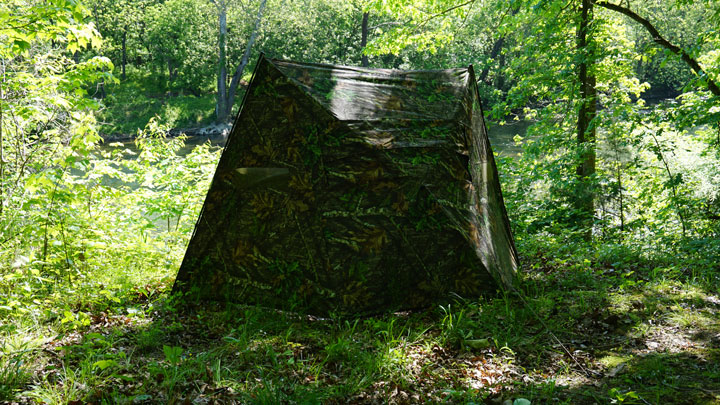 I think where this system really shines, however, is in that gray area between stationary hunting, and running and gunning it. Those times when you have a consistent-but-expansive area identified some miles in
—
be it a field, a powerline or the like
—
and need something just portable enough to hoof in and easily setup wherever looks most promising, while still retaining the concealment levels of a traditional pop-up. In such a role, the Dash Panel Blind is nigh unbeatable, being truly the best of all possible worlds.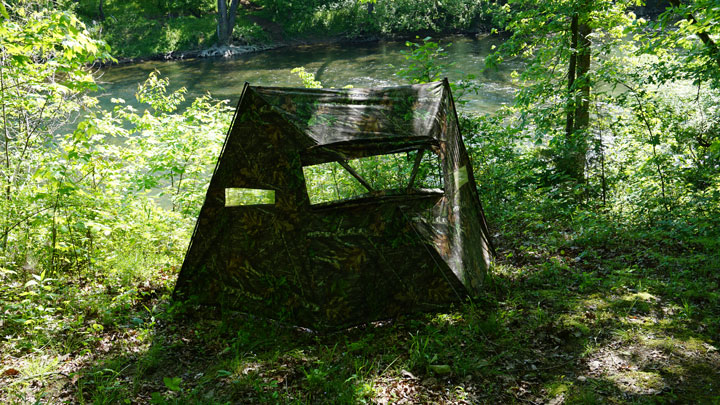 Just for the fun of it, despite its potable nature, I did also leave mine set in one spot for a little over a week, even through some decently powerful storms. While this is not its intended use, the stakes and guyline held the panel blind firmly in place, while the fabric resisted fading from the intense ultraviolets. If you do ever decide to leave it up semi-long term, I would recommend leaving all the windows open, so the blind forms a little less of a sail for the wind.
The verdict? From sheltered treelines, to deep in the woods, to the river's edge, this blind performed well. The construction held up to some fairly abusive treatment, while the
Mossy Oak
Obsession easily blended with every environment I threw at it (granted, all of which were in or around some variant of the Eastern hardwoods). For more information on the Dash Panel Blind from ALPS OutdoorZ, check out
alpsoutdoorz.com
. 
MSRP: $99.99