by
posted on September 12, 2012
Support NRA American Hunter
DONATE
Thompson/Center's switch-barrel Dimension is affordable and versatile, but it needed to pass a rigorous field test to prove itself: Africa. NRA's John Zent had a chance to handle the Dimension while in Africa's Stormberg Mountains and brought back some photographic evidence of its success.
Gallery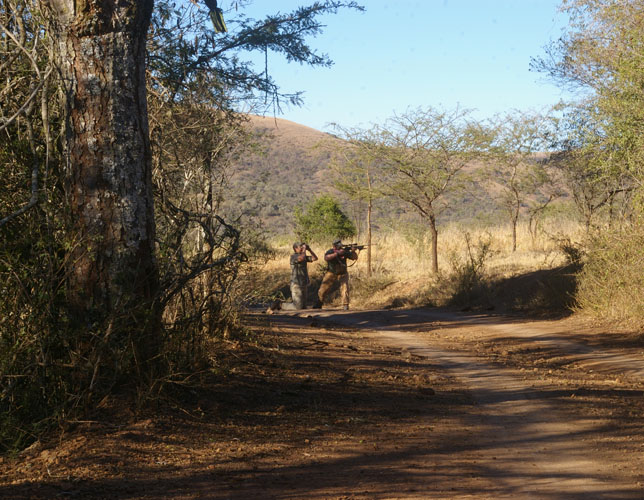 More Bushbuck
Next up for a bushbuck was Hornady's Neil Davies, who had to move and set up quickly to get a clear lane at an elusive ram.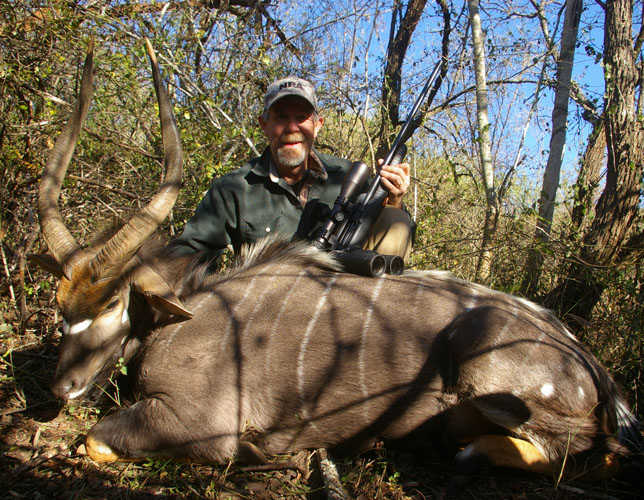 The Nyala
With time running out on the Dimension safari's final day, John Zent got one more chance, this time at a handsome nyala bull skulking in the shadows. Including the Hornady Superformance ammo and Zeiss optics, the hunter's equipment performed flawlessly.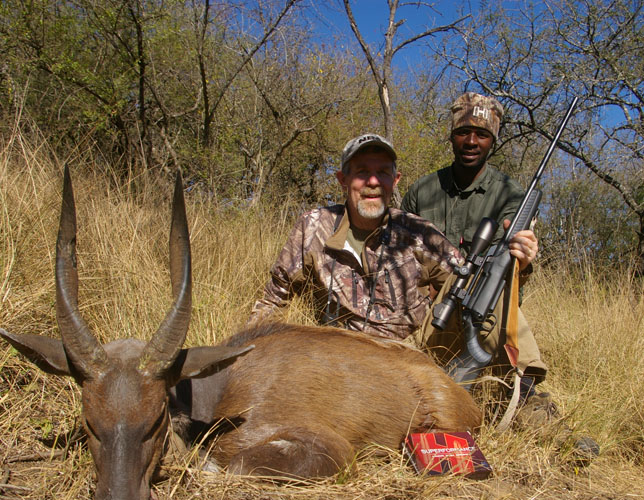 A Bushbuck Ram
John Zent and tracker Willy Matyobeni struck paydirt quickly during the new hunt, finding an old, heavy-horned bushbuck ram, a fabulous trophy.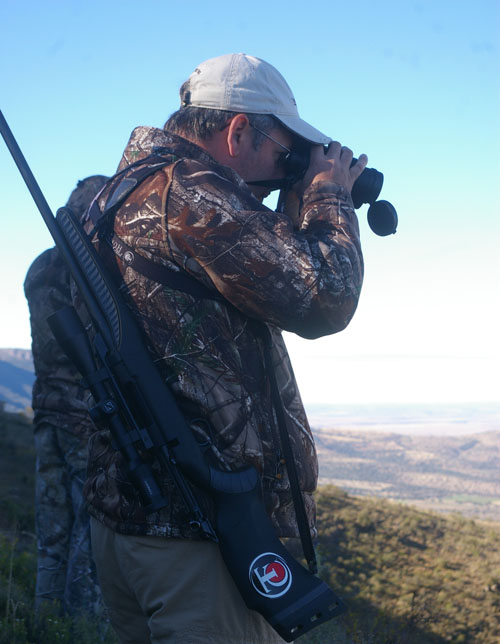 Putting it To the Test
Though T/C Communications Manager Craig Cushman has been spreading word about the Dimension's ingenious modularity and value, he knew that actual performance on game would be the ultimate test.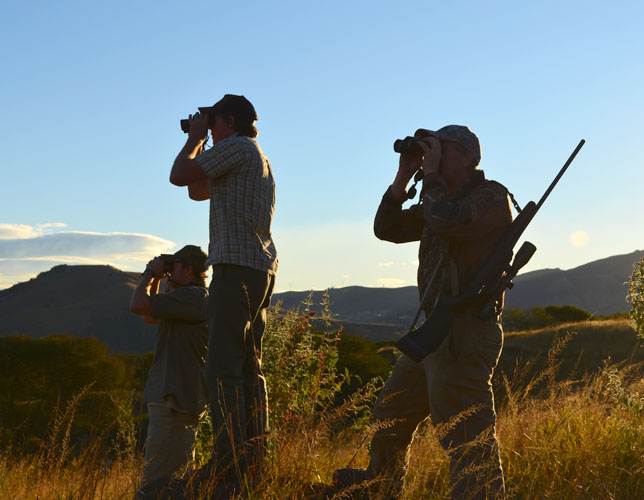 The Eastern Cape
A huge variety of plans game populates the Eastern Cape's rugged hills, but in that wide-open, brushy country, the climbing and glassing can seem more like the American west than wild Africa. NRA's John Zent (right) and PH Ryan Pienaar of Crusader Safaris pushed on to dusk in search of game.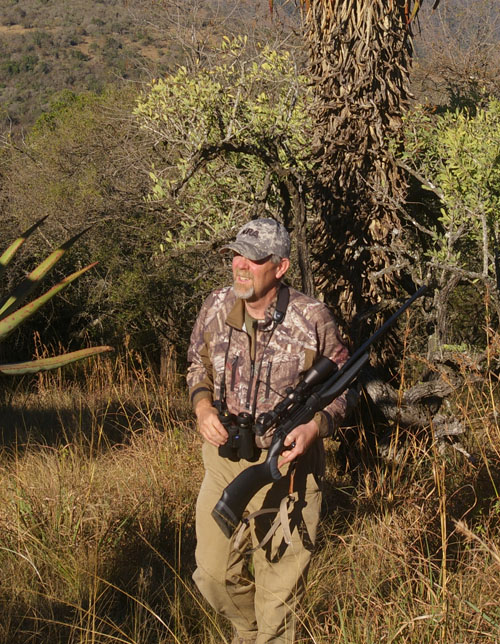 Natal
In the 24 hours following his climb in the alpine snow, John Zent traveled a few hundred miles north to the Natal province where Crusader Safaris has another camp in semi-tropical forest.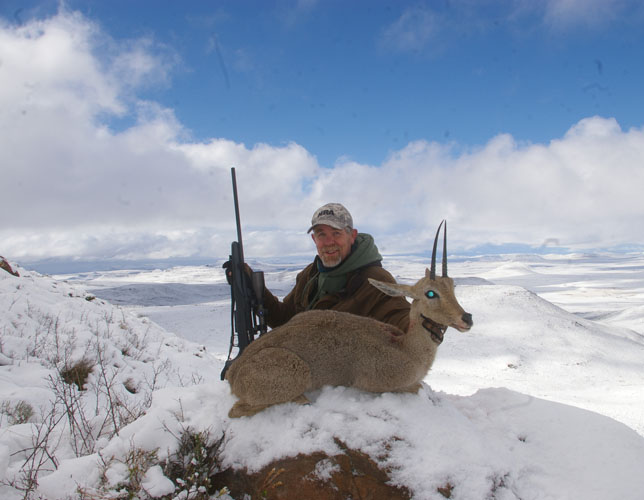 Mountain Snow
Are you sure this is Africa? Indeed, on the heels of a freakish snowfall in the province's Stormberg Mountains, John Zent found himself in the perfect position for a chance at one of Africa's most unusual, localized trophies, a vaal rhebuck. One steep, uphill shot from the Dimension did the job.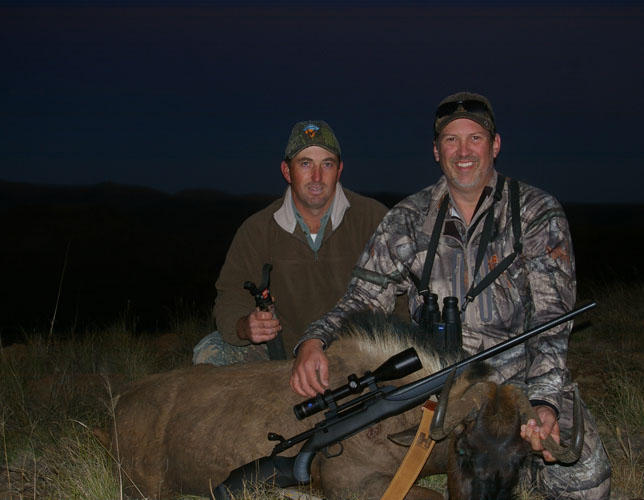 First Blood
Striking first blood was Todd Pearson from Carl Zeiss Optics. With a shot that dropped the bull in its tracks, Todd took a black wildebeest, the so-called "animal designed by a committee." Pearson's T/C rifle was chambered for 7mm Rem. Mag. and carried his company's Conquest HD scope.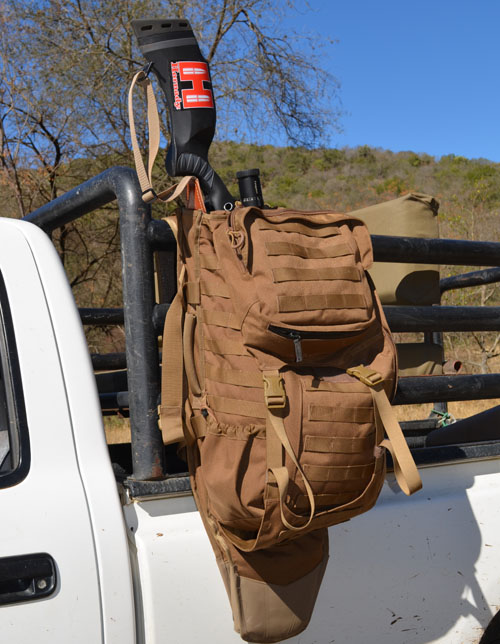 A New Dimension
On the back of a safari truck in South Africa's Eastern Cape province, the distinctive, arched buttstock of a Thompson/Center Dimension rifle peeks out of a hunter's pack. This new design with all-American roots was on its way to an exclusive test in one of the world's best hunting grounds.