by
posted on April 9, 2014
Support NRA American Hunter
DONATE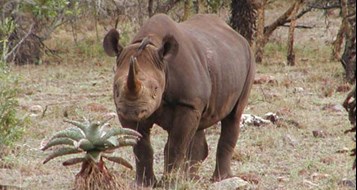 A couple of weeks ago, I posted a blog here that explained why the black rhino hunt auctioned via the Dallas Safari Club (DSC) benefited the species in Namibia. I explained why the arguments of conservationists outweigh those from preservationists (read: anti-hunters). Almost as soon as that went up, Ben Carter, executive director of DCS, weighed in with his own observations of the events surrounding the auction.
His comments include mention of a dastardly website, operationfunkill.org. To say this site is anti-hunting is an understatement. Among other things, its "official target list" includes trophy hunting and hunting safaris, so it's not just about resistance to animal cruelty (which everyone should agree on) but a blast at us, the hunting community at large.
I'll let Ben Carter explain the rest ...
Cyberbullying: Newest Beatdown of Hunters, Conservation
By Ben Carter, Executive Director, Dallas Safari Club
In the peak hours of the attack, our Facebook page received a profane comment or intimidation every six seconds.
Hackers tried to crash our website. Eventually, they did affect operations of an online auction firm we'd hired to manage a conservation fundraiser. The "hacktivist" cult Anonymous claimed responsibility for taking down web pages of a government wildlife agency slated to receive some of the funds we were raising—money from, gasp, hunters.
Facebook trolls organized a protest and some 900 people RSVP'd their attendance.
Media hysteria went viral. Haters erupted on Twitter. And it all boiled over as a frenzy of death threats against me and my family, staff, our members and hunters everywhere.
For us at Dallas Safari Club (DSC), all this e-fuss was mostly just an unusual distraction during our January convention at the Dallas Convention Center. The event was our annual four-day enterprise to raise money for wildlife and habitat, youth education and hunter advocacy worldwide. Record crowds produced record fundraising. Only some additional security costs impacted our biggest-ever net total of $1.2 million raised for 2014 grants.
But two leftover issues loom. Both are way bigger than DSC, and both are disturbing to anyone who hunts and cares about wildlife.
First is a grave situation for the species at the center of our controversy—the black rhino.
The cyberattacks began when DSC announced we would auction, on behalf of the Namibia Ministry of Environment and Tourism, a permit to hunt one of the endangered pachyderms. With broad scientific support, the agency is authorized by international treaties to sell up to five black-rhino permits a year. The hunts target post-breeding, aggressive bulls to improve herd fecundity and survival. In other words, removing certain individuals translates to more rhinos. And there are financial as well as biological benefits. All funds from the hunts are used for anti-poaching and other rhino initiatives. The ministry has never sold all five permits in a given year. It also had never sold a permit outside of its own country until the auction held during our convention.
The permit brought a record $350,000. I'm told it's the most ever paid for an African hunt. All proceeds go to Namibia where conservation officials say the funding will go a long way for law enforcement training, patrol vehicles and a national intelligence system crucial for protecting rhino populations from the plague of poaching and black-market trafficking.
DSC was proud to help. But prior to the siege of death threats and hackers, we had potential buyers willing to spend 2-3 times more. A million dollars could have been a true game changer for rhino conservation. In the end, though, most bidders kept quiet, opting to avoid the specter of violence against their families and homes, and assaults against their businesses. Can't fault them. Next time you're horrified by the criminal slaughter of rhinos in Africa, remember the animal-rights and anti-hunting activists who fought against us.
The second issue is an overall growing trend in cyberbullying.
Ever more routinely, threats are leveled at people involved publicly in hunting and conservation.
Second Amendment leaders have endured it for years. Now coercion comes with the job for a growing number of professionals in hunting organizations and wildlife agencies. The Rocky Mountain Elk Foundation president was threatened when he spoke up about wolf populations exceeding restoration goals and depleting local elk herds. State employees say coordinated tantrums enabled by electronic and social media can have a "chilling effect" not only on wildlife agency communications, but also on management decisions.
It happens to others, too. Online flash-mobs ignited when Corey Knowlton, the hunter who bought the rhino permit, was outed by his buddies on Facebook. Within hours, he was hiring a team of ex-Navy SEALs to guard his wife, daughters and property. In 2013, outdoor personality Melissa Bachman stirred such outcry—more than 30,000 vicious responses—after she posted a photo of herself with rifle and lion, Facebook and Twitter actually cancelled her accounts. Hackers posted her credit report and personal information for the world to see. Even Bachman's parents began receiving death threats. It wasn't the first time she'd been victimized. In 2012, after she was selected for a Survivor-type reality show, activists protested until producers finally relented and removed Bachman from the cast.
Perhaps most troubling of all, Anonymous—the group that apparently attacked DSC and the Namibia Ministry of Environment and Tourism—was listed in 2012 by Time magazine among the "100 most influential people" in the world. A faction of the group now is focused on ending hunting through cyberbullying. They coordinate blitzes through a website, www.opfunkill.org, "Where the Hunters Become the Hunted." The site features a du jour list of official targets—and hunting safaris are listed alongside dog-fighting and perverted bestiality.
As I write this, my name and Facebook page also are listed and linked, as are DSC and a community of hunting outfitters, TV personalities, companies and organizations. Maybe you'll be next. Maybe you're there already.
Together, hunters have led the greatest wildlife restoration, habitat protection and conservation movement the world has ever known. Now, together, we're venturing into a new, unrecognizable place where proven science and practical, boots-on-the-ground experience can be outplayed by keyboard cowboys.
Our community—and the big checkbook we've always carried for conservation—over the years has weathered countless beatdowns. We've been staggered but never broken. But I'm not sure we've ever seen a threat quite like the one now building within today's culture, threatening our traditions and lifestyles, darkening the future of the great outdoors.
Our best chance is hanging together, sticking up for each other, never missing an opportunity to remind citizens that conservation succeeds because of, and not in spite of, hunters.
About Dallas Safari Club (DSC)
Desert bighorns on an unbroken landscape, stalking Cape buffalo in heavy brush, students discovering conservation. DSC works to guarantee a future for all these and much more. An independent organization since 1982, DSC has become an international leader in conserving wildlife and wilderness lands, educating youth and the general public, and promoting and protecting the rights and interests of hunters worldwide. Get involved at biggame.org.