by
posted on September 23, 2019
Support NRA American Hunter
DONATE
Need a new deer rig for the upcoming season? Or, like me, do you just get the itch to "upgrade" every so often? Either way, here's a suggestion: the Mossberg MVP LR, topped with a Riton scope makes a terrific deer-slayer and, take note, this combo delivers way more value than it costs.
And that's not mere speculation or based solely on range testing (though I did some of that). Rather, I had the good fortune to get a head-start on my 2019 deer season in California, one of three states (along with Alaska and South Carolina) with August firearm seasons. There I joined Mossberg's Linda Powell and Calley Carpenter from Riton, for a unique opportunity to pursue blacktail deer in a working vineyard. We'll chronicle the hunt itself in a future American Hunter article, but first I'm keen to share details and thoughts on my shooting gear.

Mossberg's MVP bolt-action series has grown steadily since its debut in the early 2000s, and now includes six base models purpose-designed for different jobs, plus multiple variants within each package. The common thread is that all are groomed to deliver a high level of accuracy, and as such, all MVPs come standard with what Mossberg dubs its "Medium Bull" barrel, muzzle threaded at the factory. My 6.5 Creedmoor LR (Long Range) loaner rifle certainly isn't the only series member built for long-range precision, and despite the name, it strikes me as the most versatile hunting rifle in the bunch, thanks to a stiff synthetic stock that's not full-on tactical, but inclined in that direction. While the stock's vertical pistol grip and flattened fore-end both optimize deliberate shooting off a rest, I found the rifle manageable for extended carry. The grip areas are beefier than I prefer for a stalking rifle that may need to be employed for snap shots on running game, but not so bulky that I couldn't get accustomed. At 8 pounds, the MVP LR is about a pound heavier than my favorite on-the-move rifles, but that's all to the good for shooting from stands or blinds or after sneaking into a rested position. Though stouter than the norm, the weight is compactly centered between the shooter's hands for a very stable feel.
But what really hooked me was how well the test rifle shoots. From a benchrest at 100 yards, it grouped under 1 inch with each of the three loads I tried, notably including my California, no-lead hunting ammo, Federal Premium Trophy Copper 120-grain. Then from 300 yards I fired a 10-shot composite group prone and sitting/off sticks that measured 4.8 inches. That's a keeper, and it beats results I've seen from considerably more expensive rifles.        
Along with its stock profile, this Mossberg boasts other touches common to the emerging class of hybrid tactical/hunting rifles: threaded muzzle/cap, factory-installed Picatinny rail, oversized bolt knob and an adjustable cheekpiece that's rubber-coated for shooter comfort. It comes standard with a 10-round Magpul P-Mag but will accept other AR-type magazines. Along with 6.5 Creedmoor, it comes in .308 Win., and word has it a .224 Valkyrie is in the works.
Riton Optics, based in Tucson, Ariz., is a relative newcomer in the optics market and its name, pronounced right-on, surely matches what owners want in a riflescope. It's a name hunters should get to know. CEO Brady Speth and other founders come from military and law enforcement backgrounds, and it shows in the product line. Immediately evident is rugged construction, impressive optical clarity and machine-like adjustments, qualities every bit as important for those pursuing game as they are to tactical and match shooters.
Riton's model lineup and naming convention also reflect a mil-spec mindset, as clearly seen in their high-magnification, first-focal-plane models built on 30 and 34mm tubes, plus trending tech like illuminated and ballistic-compensating reticles and zero-stop turrets. Even so, Riton also offers traditional sizes and features, models with 1-inch tubes, second-focal-plane reticles and fixed magnification. Though the scope lineup isn't extensive, it covers all practical bases and is supplemented by a selection of red dots plus a rail-mounted magnifier. The company also offers a single 10x40 binocular, a unit that's surprisingly  bright and sharp for being so compact (5½ inches long; 23 ounces).

I chose the RT-S Mod5 Gen2 3x-9x-40mm scope after learning that shots at the vineyard rarely exceed 200 yards. When higher magnification isn't needed for long-range precision, I routinely default to lighter, more compact scopes because they make rifle handling faster and easier. The test unit is barely over 12 inches long and weighs 23 ounces. Built on a 30mm tube, it delivers a 100-yard field of view ranging from 32.5 inches (3X) to 11 inches (9X), along with 40-minute-of-angle adjustment range. Riton says it is waterproof and shockproof, and that their HD lenses transmit 99.5 percent of available light. Those are things I can't verify, but along with observing the sturdy construction, I can vouch that it is easily bright enough for hunting in all legal daylight hours. Every bit as critical, to me, is that in all my shooting and hunting and traveling by commercial airline and train, there was not the slightest point-of-impact creep. The Riton remained right where I initially zeroed it. Could be that reflects why the company proudly offers what it calls "the industry's best warranty." Simply put, buyers are promised, "Our Unlimited Lifetime Warranty requires no proof of purchase or registration. If you have an issue with your optic, you send it back to us with a Warranty Claim Form and we replace it for you with a brand new product. You will not receive any repair or refurbished products from Riton. We are also committed to sending out replacement product within 48 business hours."
The end note on both rifle and scope is yet another factor vitally important to us all: price. Mossberg's MSRP for the MVP LR is $910, but as I write, it can be ordered from multiple online sellers for under $700. Riton's website lists the RT-S Mod 5 Gen2 3x-9x-40mm at $319.99, but it too can be had for less, with a couple of e-commerce sites selling it now (mid-September) for $279.99. If you follow the market you know these are rock-bottom prices for gear that delivers the level of performance I experienced. Better yet, do your own homework on these and related products by visiting mossberg.com and ritonoptics.com.
One final measure I use to judge a hunting rifle-scope pairing, especially one new to me, is how instinctive it feels at the moment of truth. When the quarry is moving and there's just a fraction of a second to get a sight picture and break the shot, your concentration needs to be fixed on the animal and the crosshair. Muscle memory must take over handling the rifle and optic. Our shooting equipment has evolved to facilitate that, but the fact is, some examples perform better than others.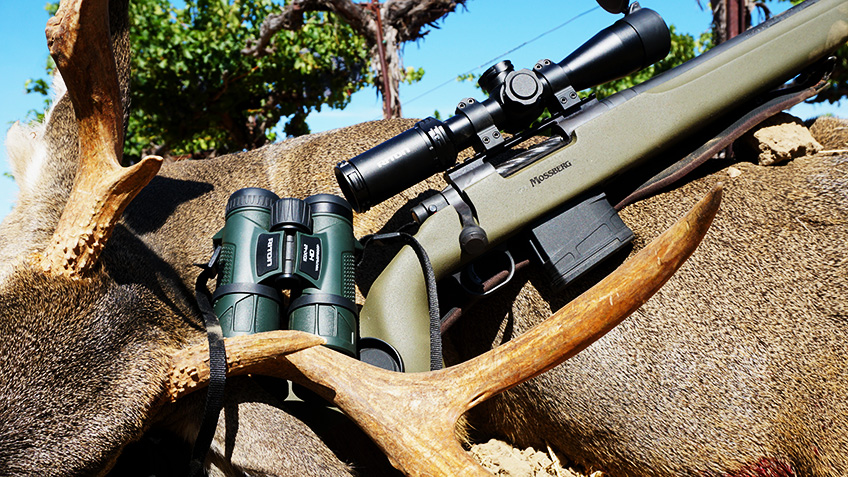 When the vineyard buck I was hoping to shoot jumped up from his bed and headed for cover just a few feet away, I reverted to a kind of "auto pilot" mode where conscious thinking gives way to training and experience. The sound of a solid hit broke that spell, and as we soon confirmed, the buck was down.  
It's just a single event, not enough to support sweeping conclusions, but nonetheless I'm looking forward to round two and am confident the results will be the same.