by
posted on January 13, 2017
Support NRA American Hunter
DONATE
For generations Americans have hunted with the same rifles they used in military service. Many of these guns were customized to better suit the specific needs or preferences of the individual. The problem with using surplus M14 rifles in the field is the rifle's full-auto capability. In 1974 Springfield Armory began offering semi-auto versions of the M14 called the M1A. Given the many models of M1As available today, one might call Springfield Armory a custom military-surplus-like rifle manufacturer offering products at production prices.
Springfield's latest rifle is a classic blending of features from both the hunting and tactical worlds. The M1A SOCOM CQB has a 16.25 inch barrel, an adjustable polymer stock with accessory rails scattered around the stock, and the capability for almost any kind of sighting system you could imagine. At 9.2 pounds sans ammo it sounds a bit heavy, but considering it's chambered for the powerful .308 Win. cartridge and can mount a variety of accessories on its compact frame/stock, this "carbine" is in the same weight class as less powerful and comparably equipped versions of modern AR-style packages. It seemed mandatory that we travel to the panhandle section of Texas for some rough country hog hunting.
While I'm a fan of the ghost ring aperture sight system on compact rifles, the full moon conditions during our hunt suggested the hogs would be most active at night, so Vortex's variable power Razor HD Gen II 1-6X24 scope was mounted on top of the CQB, and Surefire's 500 lumen M600 Ultra Scout light hung on the short, forward rail on the right side of the stock. Being right handed, I normally mount a weapon light on the right side of the stock since I'll hopefully be shooting around cover with my body partially shielded. In a ground blind, you're working from concealment, not cover, shooting through holes in your camouflage screen. If it's easier for you to operate the weapon light with the thumb of your support hand, then mount the light on the left side of the stock.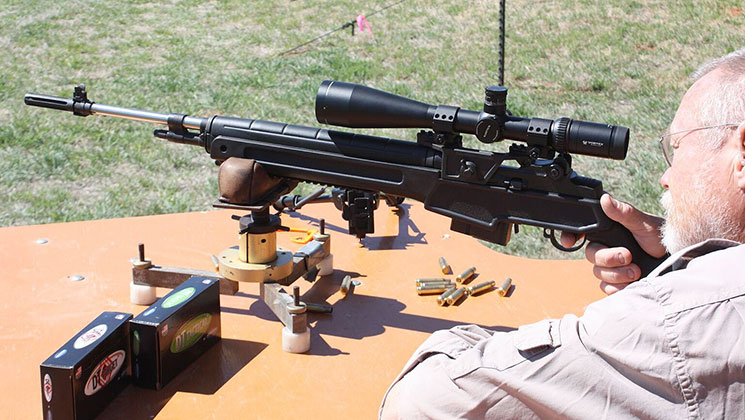 Tracking a wounded hog at night is a difficult (some say exhilarating) experience, so in an attempt to inflict as much internal damage on a hog as possible, we chose DoubleTap's .308 Win. ammo loaded with Barnes 110-grain lead-free bullet. If a large boar was encountered, the plan was to place the bullet just behind the shoulder blade so that the rapid expansion would occur inside the chest cavity rather than against the thick shoulder blade or gristle plate. You gotta love it when a plan comes together! Both pigs taken were shot through and through with the bullet entering and exiting just behind the shoulder, and both pigs collapsed after traveling about 50 yards. 
Because hunting was planned for low light hours, the CQB was sighted in dead on at 100 yards. We did have a loaded Springfield M1A dialed in for 200-300 yards with which we planned to take some longer distance stands, but the high winds experienced daily didn't die down until after dark, so the longer gun didn't see any hunting action. One might think that it would be easy to avoid bumping branches and twigs with the barrel of your rifle in a ground blind, and during daylight hours, perhaps so. But sitting in the dark, you can't see individual branches, and once you hear noise outside a flimsy, exposed ground blind, particularly the growling and shuffling of a large boar, good luck keeping track of the location of all protruding twigs!
Some very positive virtues of the CQB revealed themselves during the hunt.
First, the gun's compact size made it much easier to manipulate than a conventional rifle in close spaces. Second, the adjustable stock allows you to make the gun fit whatever shooting position you plan to use. Third, the .308 is truly a big game cartridge with adequate power for the medium to large game animals most of us hunt. Fourth, the porting system does a nice job reducing recoil, something much appreciated when the game approaches from the "wrong" direction and you have to shoot from some twisted angle for which you were not prepared. But it's loud, so make sure you wear hearing protection.
The CQB is kind of a "gun for all seasons." It's intimidating should you need it for defensive purposes; its appearance will impress your tactical friends regardless of how much accessory equipment you hang on it; it will hunt just about every game animal at all reasonable ranges; and it will let you shoot a full day at the range without heaping abuse on your body. What else do you want from a rifle?