by
posted on July 20, 2009
Support NRA American Hunter
DONATE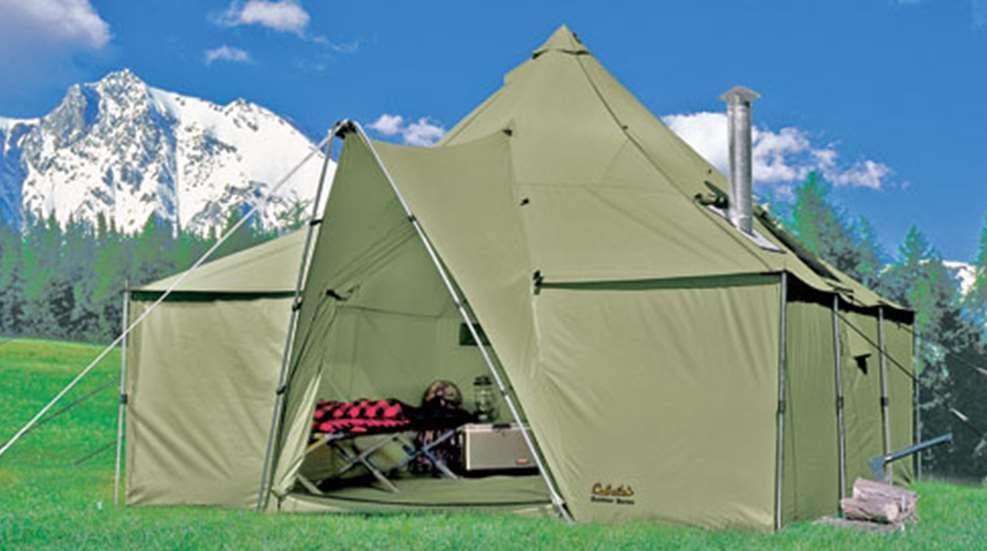 The house on our farm burned down years ago, so we camped in the garage till the roof came down. Then we camped in my pop-up till I sold it. Clearly, we needed new shelter for hunting season. So last year, I ordered a Cabela's Deluxe Alaknak II.
I thought about a wall tent, but canvas costs a lot more than nylon and it's heavier. I knew I'd sometimes set up camp by myself, and the 12x12 waterproof Alaknak II, at 67 pounds, looked manageable. Setup took about an hour; a buddy and I unfolded the tent, staked out the corners and sides, then I crawled inside and placed the center pole-voila', I had shelter.
We left it up and used it, off and on, from October till December. Ten perimeter poles add rigidity and keep the side walls from blowing about. Ventilation panels and three multi-panel windows keep condensation to a minimum. Fold-down shelves along the walls have cup holders-not bad when the guns are stored and the amber liquid begins flowing. Three guys with cots, a table and a wood stove filled it up. I don't think I'd try to sleep six, as mentioned in the catalog.
On the floor is a zip-open panel for safe placement of a stove. The rubber sleeve around the stove jack dried and cracked a bit during our use, probably because our stovepipe was an inch larger than the one Cabela's sells. Still, it'll see many more years of use. The optional vestibule I bought added a room for muddy boots and gear.
Three sizes are available: a 54-pound, 9.5x9.5 with 3-foot walls and 8-foot-2-inch center height; the 12x12 with 4-foot walls and 9-foot-8-inch center height; and a 12x20 with 5-foot walls and 9-foot-8-inch center height that weighs 106 pounds. ($579.99-$799.99)