by
posted on November 3, 2016
Support NRA American Hunter
DONATE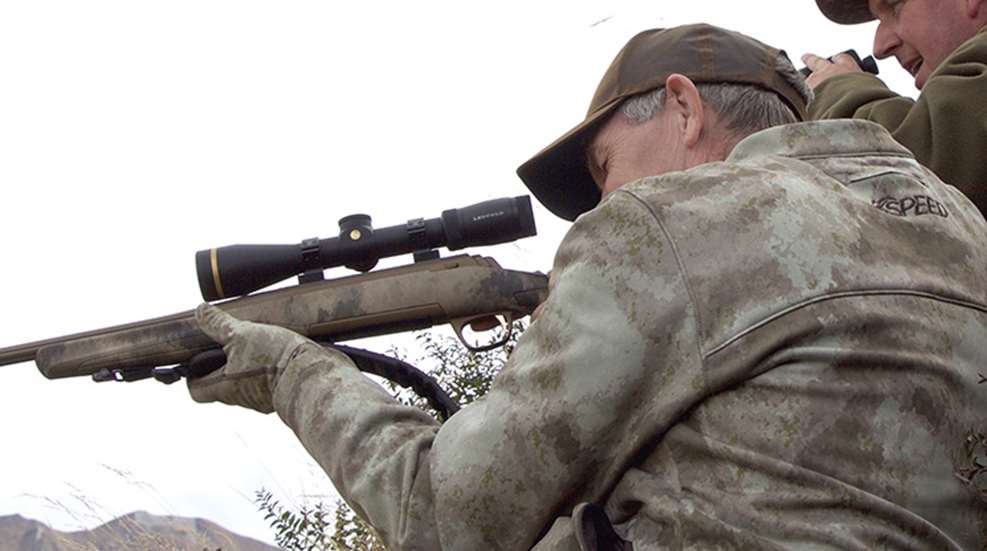 Over the past year, Browning has been building a new sub-brand designed for "Buckmark Nation" hunters keen for hot technology in a style that fits their go-all-out mindset. Hell's Canyon Speed (HCS) matches the smarts, intensity and work ethic that spread from extreme high-country pursuits to hunting camps across America. Inspired by adrenalin-fueled mornings and long, hard, satisfying treks back to camp, the HCS collection encompasses four different product categories and rates serious consideration wherever hunters seek epic encounters with game. To enhance the line, Browning even adopted a proprietary camouflage palette called A-TACS (Advanced Tactical Concealment System) in two environmental modes, A/U (Arid/Urban) and (FG) Foliage Green. Here's a rundown on what savvy outdoorsmen and women are finding in this line.
Rifles
Based on Browning's flagship bolt-action, the X-Bolt Hell's Canyon Speed is an award-winning update loaded with accuracy upgrades. The action is glass-bedded fore and aft; the fluted barrel is free-floated and comes equipped with a recoil-taming muzzle brake (which can be easily swapped out with a thread protector). Also present is the X-Bolt's adjustable Feather Trigger, a 60° bolt lift makes reloading quick and easy, and a detachable rotary magazine that can be swapped out for a spare in seconds. Decked out in HCS's A-TACS AU camo, the stock boasts a springy Inflex recoil pad and textured grip panels.
There are 12 caliber offerings—.243 Win. to .300 Win. Mag.—spanning popular standard and magnum hunting rounds along with flat-shooting newcomers like 6.5 Creedmoor and .26 Nosler. Rifle weight tops out at a trim 6 lbs., 13 ozs., in the magnums, and drops to 6 lbs., 5 ozs. in the short-action standard chamberings. And it sure seems to hit a sweet spot for carry and for shooting: While range-testing and hunting HSC rifles in .30-06, I've found that superb grouping off the bench translates to surprising field accuracy from such a light, packable gun.
Yet another touch that adds both durability and eye appeal is the Cerakote Burnt Bronze metal finish. This tough, non-reflective coat is favored by military operators for the way it takes hard knocks and yet thwarts corrosion. And that's not just the barreled action, but also the bolt body and bottom metal—which really is metal. Paired with the sand/flat earth-toned stock, the X-Bolt HCS boasts the hottest contemporary look of any production bolt rifle.
Clothing
Says Browning: "If you are a serious, athletically inclined hunter who hunts hard under difficult conditions and keeps hunting in wild weather extremes, then you need top tier hunting clothing. Browning SPEED excels at every level and every situation—from the form and fit, right down to the smallest details like reinforcing and fasteners."
There are about 30 garments in the line—base layers to outerwear to extreme-cold protection, plus raingear, hats, gloves and more—all sized to work together as a layered system. Several pieces are offered in both A-TACS camo variants; all are crafted from the latest design and fabrics, then subjected to independent testing to ensure durability under the most rigorous standards. HeroFit tailoring keeps weight and bulk to minimum even while the tough, high-tech materials stretch to provide super mobility and comfort.
I've worn Hell's Canyon Speed clothing in foothills and mountain terrain in pursuit of big game and in lowlands calling turkeys, and even after several hard days, the stuff looks brand new. The basic pants, shirts and undergarments are made from supersmart, high-tech wicking fabrics that somehow keep you comfy in summery temperatures, then warm when it cools down. But Browning can turn up the furnace, too, with a PrimaLoft-insulated coat that blocks out winter chill and yet weighs very little. Also, A-TACS camo blends in like it grew there, AU on plains or western mountains or FG in eastern and southern fields and woodlots—two highly concealable options.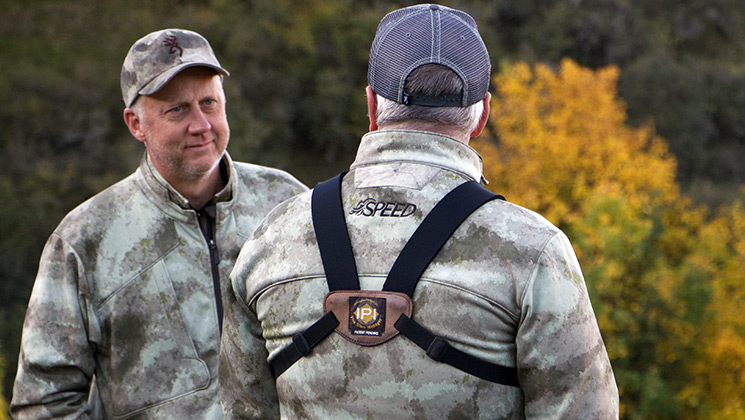 Knives
The Speed knife is uniquely streamlined. Machined from a single slab of ATS-34 stainless steel, its skeletal design slashes bulk but not strength thanks to carbon fiber inserts and paracord wrapping on the handle. Despite weighing just 2.8 ozs., the Speed knife nonetheless boasts a stout 3½" drop-point blade. Comes with a fitted polymer belt sheath.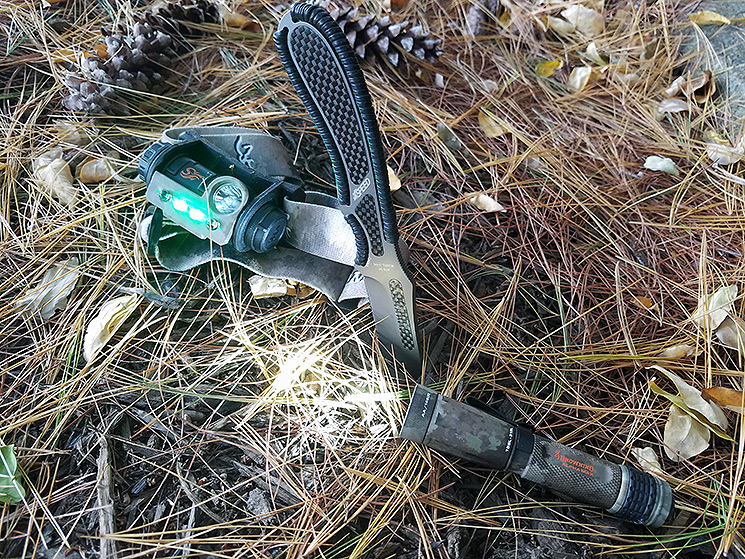 Lights
Take your choice, flashlight or headlamp. Or take both, since HCS lights are scaled for action. The tough, aluminum-bodied Alpha Max LED measures just 4½" by 7/8", can be powered by a single standard AA or rechargeable li-ion battery (charger included). Best of all, it has two settings—power bright (155 lumens) or soft green (one lumen), the latter with 80-hour life from a fully charged battery. The little fellow's brightness will surprise, but the green is enough to get you off the mountain without compromising night vision. The Epic 3V Headlamp is also a mini—3 ozs. including its CR123 battery and strap. Quite versatile, it cycles through High, Low, Soft White, Green and Fast Strobe settings. Depending on where you want to look, the lamp can be adjusted 180 degrees. Like the flashlight, this little bugger is built to last.