Support NRA American Hunter
DONATE
Trust me. Base camp memories never had more appeal as I rolled out my bivy bag in the mountain darkness pierced only by my headlamp. The location was a high saddle situated above a valley where elk fed consistently under cover of night. By dozing 1,500 feet above the valley, I was in position to pursue elk as they clambered back up the mountain for refuge. I would be waiting, rested and ready for an opportunity on the herd that felt they were ascending to safety.
Bivy is merely short for bivouac, which simply means of an unsheltered encampment or camp. That may be Webster's take on bivy, but today you have options to be sheltered even without a tent if you decide to bivy.
Why bivy? For me it provides an option to save calories with just a bit of comfort loss at worst. As an aging hunter, hiking back to base camp nightly burns calories and wears you out faster on extended hunts. You also may need to stay with the animals. Elk present a perfect example. They do not have a firm home territory, especially during hunting season. If you finally locate a herd with some pattern of home consistency, living with them may be an optimal strategy for success.
For most of my mountain hikes I already carry an emergency bivy bag weighing less than 5 ounces. For more comfort, longer lengths of stay and preparedness in the case of extreme weather, you should add a few more items to your bivy camp. To get everything to your bivouac site, I will assume you have an appropriate backpack. Packs ranging from 3,500 to 6,000 cubic inches that include space for your bivy gear, plus cooking, hunting and layer extras. Now you need bivy basics.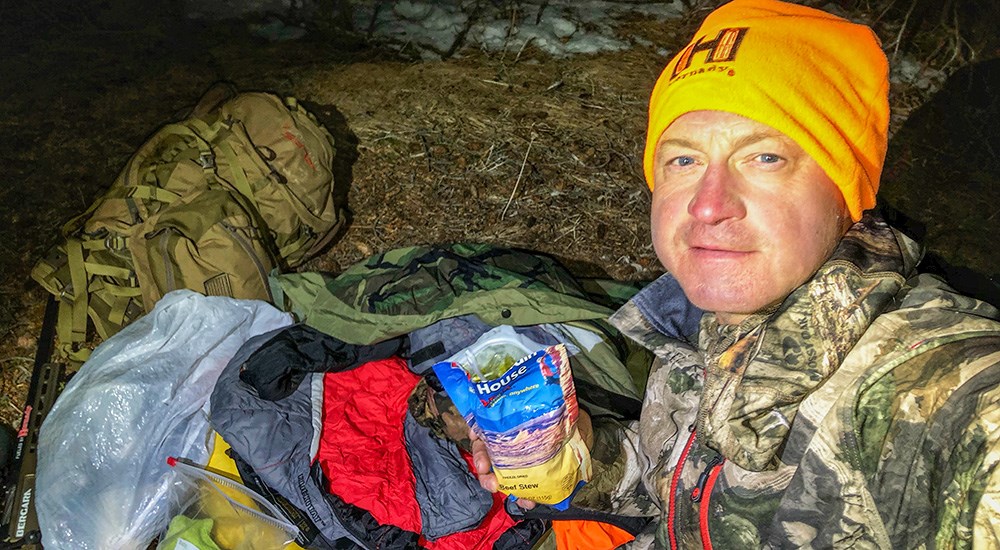 Bag Basics
Bivy situations differ, but for an average fall outing consider bringing a waterproof bivy sack or bivy shelter that has a tent-like raised opening adding slightly more weight. In some climates the bivy sack may be all you need for warmth while sleeping in clothing layers. In cooler environments, a lightweight backpacking sleeping bag is needed. Round out your setup with a backpacking sleeping pad for more comfort than pine boughs offer.
The benefit of a quality bivy sack is it provides a bottom layer of tent-quality urethane for a waterproof foundation. The remaining bivy consists of ripstop nylon coated with a waterproof, yet breathable shield such as the popular Gore-Tex. Vetted quality aside, the essential element to each of these components is light weight since it travels with you. Sometimes I will ditch my bivy camp gear and continue the hunt until circling back at dark, but oftentimes it goes with me all day.
Of course when you mention "lightweight" you almost always must include "more expensive." The backpacking community has outperformed in the lightweight, rugged and tested arena, but your blue-collar hunting budget will need to crunch the numbers.
For starters, your bivy sack should weigh approximately 1 pound or less. Companies like Outdoor Research lead the charge in overall satisfaction. Sleeping bag weights vary depending on your climate needs, but you can bet on a bag weighing from 2-3 pounds taming most temperatures. The ALPS Wisp is advertised for summer variables and weighs just under 2 pounds. When teamed with the 10 degree or more temperature jump from a bivy sack, it likely handles many fall conditions. Finally, look at a sleeping pad (thermarest.com) that weighs a pound or less to ensure restful sleep. As for a pillow, I bunch up my puffy layers as a melon cushion. Carry one if needed. Your bivy ensemble should not exceed 6 pounds, but if you have Musk money yours may weigh less.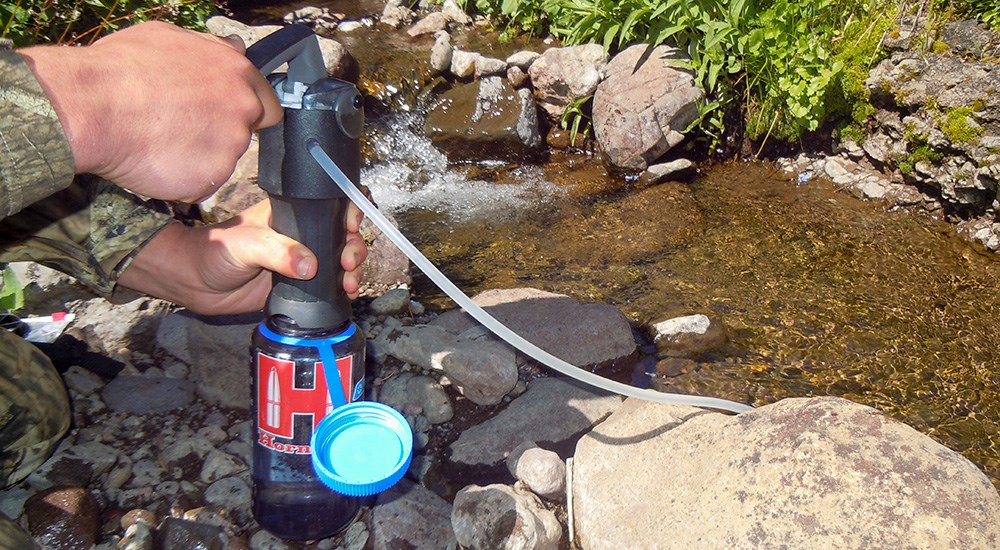 Water
The next few items are important, but you likely carry most of them regardless. Now you need to carry more. Start with water. On most hunts you carry water. If you plan to bivy a day or more, you need to account for at minimum 2 liters of water daily. Three options exist to master this dilemma. First, carry more. Another 2 liters of water adds up to 4.4 pounds. That gives you another day's hydration, but what if you stay longer? Then you will need to carry a filter, such as a Katadyn or chemicals to make water safely drinkable. Iodine drops or chlorine dioxide tablets top the list, but may have a bad taste and do not remove backcountry sediment. One to three minutes of boiling also purifies water, but that requires carrying ample fuel for your backpacking stove or a campfire configuration to safely do the chore.
I have also taken my water bottles at half full and added snow to the existing water while hunting cooler climates. In moderate temperatures, the water and outside temperature melt the snow to refill bottles. In one extreme case I filled multiple Ziploc gallon bags with snow, put them in a larger black garbage bag and sat them on a south-facing snow to melt. It worked, but basically created a slush that used less heating when melted for a true liquid form.
Calories and Cooking
To easily boil water you will need a compact backpacking stove. Again, think lightweight in that pound-or-less category since you also need to pack along fuel. One interesting note: You can literally have breakfast without leaving your bed by leaning out of the bivy sack to boil water for coffee or a steaming Mountain House skillet meal.
Freeze-dried meals and snacks have the highest calorie potential at the lowest weight for the bivy life. Depending on your bodily dimension, physical exertion and climate temperature, your intake should range from 2,500 to 4,500 calories daily. For coffee and energy drinks, consider mixes. Wilderness Athlete offers many energizing hydration cocktails with powder power.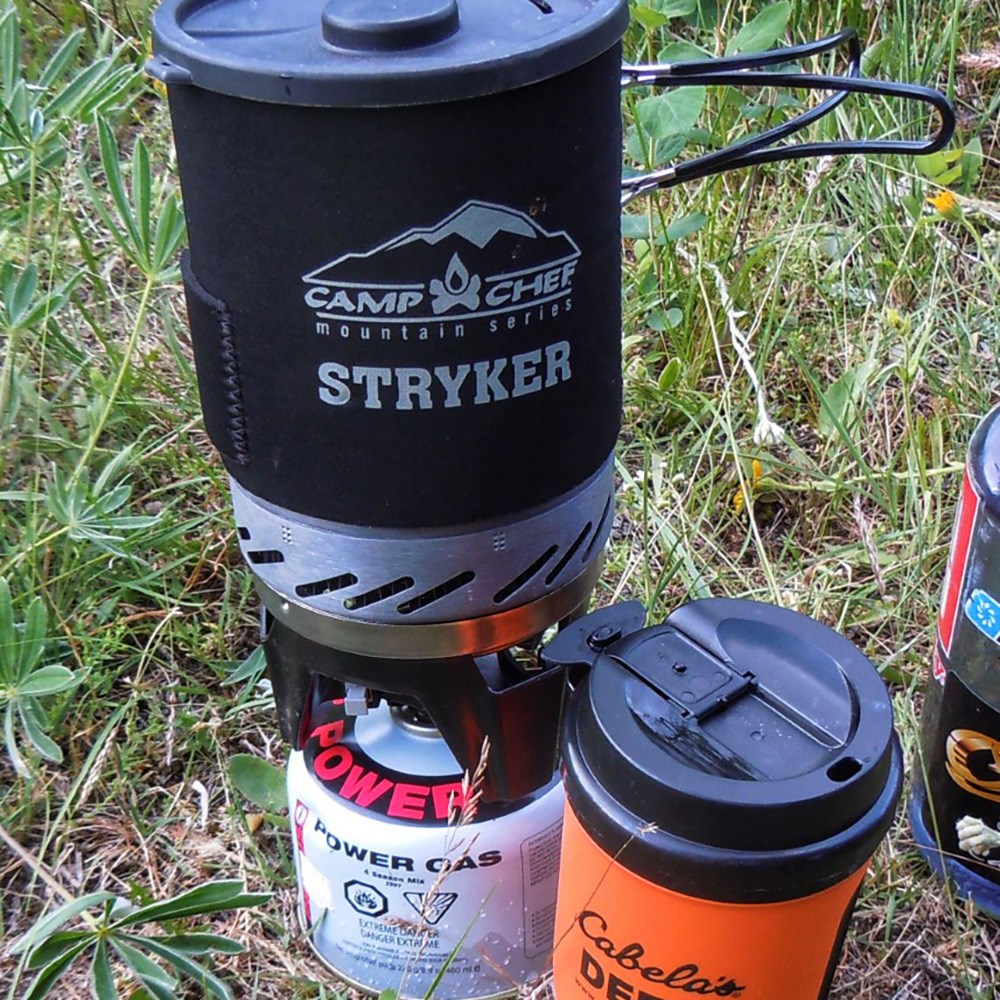 Let That Little Light Shine
Whether at base or bivy camp, lighting is essential to not accidentally bump into a bear while on your way to the biffy. Carry two options and extra batteries for each in case of failures. Option one for me is a headlamp and option two is a SureFire tactical flashlight.
Last fall while packing out an elk in the dark, my partner's headlamp crashed. I reached deep in my pocket, pressed on my Surefire and handed him my headlamp. We were back in weighed-down pain mode faster than we wished.
Cleanliness is Next to Godliness
Although not nearly as important as hydration (you will die if you do not drink water), pack along essential, but paired down personal items. Think medications, toothcare, extra contacts or glasses, maybe some deodorant and any supplements you take for daily recharge.
And although I recommend keeping a survival kit readily available on most outdoor adventures, revisit it for a bivy operation. First aid, fire starting, communication, navigation and backup batteries for any powered device are a must.
Some seasons I bivy and some I do not. Nevertheless, I keep a bivy backpack stocked and ready to rock for the times when I believe a night in the woods is needed for a freezer full of game meat.