Support NRA American Hunter
DONATE
The spring turkey season has arrived, and there are some great new products on the market to help you be successful. Here's some of the most innovative new gear for turkey hunters introduced this year.
HS Strut Cookie Cutt'R Tracer Lid Pot Call
First on the list is a great call that will help the beginner turkey caller or one that has struggled with learning how to use a friction call. Using a turkey call of any kind for the first time takes a little getting used to. The folks at HS Strut have come to the rescue with the new Cookie Cutt'R pot call, which helps users call like an expert. It's a conventional pot call produced with the company's best injection molded pot coupled with a slate striking surface. HS Strut has designed a durable quick-reference removable cap that allows novice as well as seasoned hunters to quickly and easily strike their preferred call. There's a slot for yelping, clucking and purring. The slots are designed so that all one has to do is insert the striker tip and strike in the direction of the arrows thus producing consistent calls every time. Once the user gets the hang of it, the cap can simply be removed for unrestricted use of the slate striking surface. MSRP: $19.99; hunterspec.com.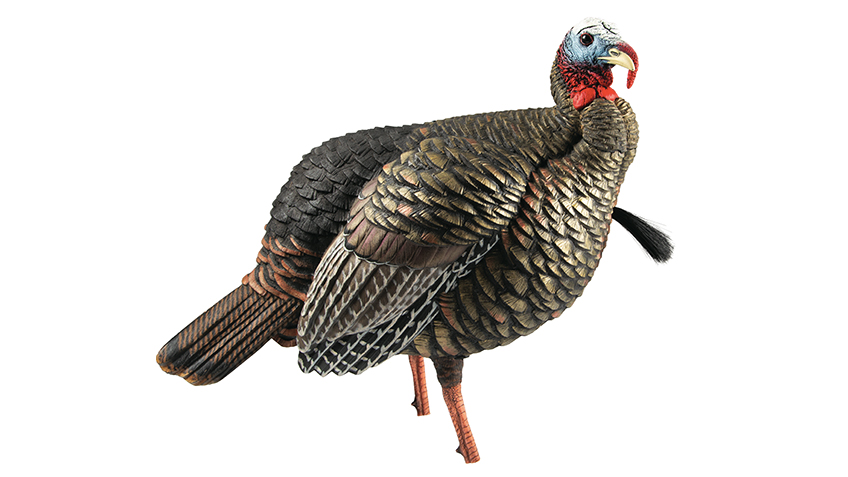 Avian-X HDR Jake Decoy
With some of the most realistic postures ever created amongst turkey decoys, it comes as no surprise that Avian-X has  released another decoy that is sure to be a game-changer when calling tough to hunt spring gobblers. The new HDR (Heavy-Duty Realism) Jake was designed to ignite a big tom's sense of dominance and bring him in close. Some of the best turkey hunters know that the one thing that can get an old tom to rush into their setup is to make him mad with an inferior intruder, however, this can be a delicate balance. Not all toms are as aggressive as the next, and it's important to raise their curiosity without intimidating them. This jake decoy is perfect for doing just that. It's sized slightly smaller than a real turkey to prevent it from looking intimidating to an approaching tom, but is blow-molded in a quarter-strut posture and bristling subdominant feathers to signal he's content but ready to fight, which will trigger aggression in a nearby gobbler. The other great feature of this decoy is the head design, which features a curled, aggressive posture. Hunters also have the ability to dial it back with a head design that is more submissive. Both heads are included. MSRP: $149.99; avian-x.com.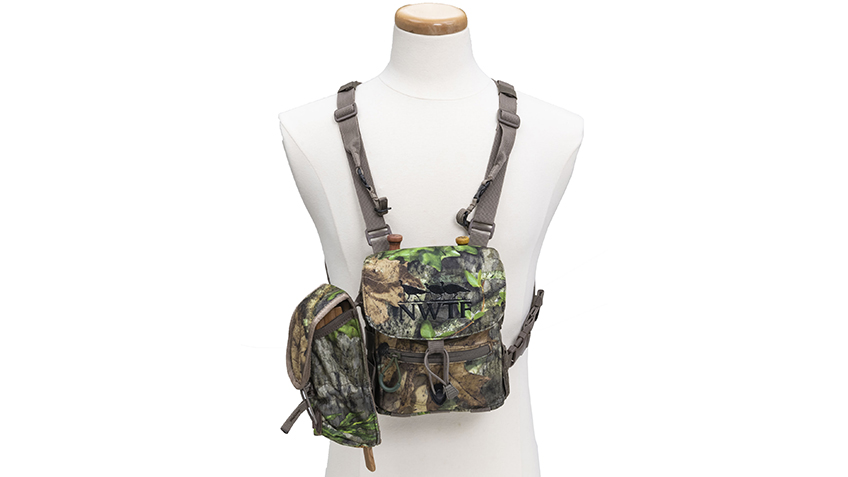 ALPS OutdoorZ Vantage Bino Harness
When doing a run and gun style of turkey hunting, it is crucial to have the right gear while staying compact. ALPS OutdoorZ has been known for making quality packs that meet the specific needs of hunters, and the new Vantage Bino Harness is another perfect example of this. Binos are an essential tool for many turkey hunters, especially those hunting in open country. The new Vantage Bino Harness was designed specifically with the turkey hunter in mind by combining a secure and convenient means of carrying binoculars and turkey calls.
This compact harness comes with a padded back panel for comfortable all-day wear, and the harness system is fully adjustable to accommodate everything from light camo to cold-weather clothing. The bino attachment straps are non-metallic to ensure optimal stealth, while an adjustable closure allows the system to be used with most binocular sizes. For easy bino retrieval, the case boasts a generous U-shape cut so optics can be pulled out, even when wearing gloves. The Vantage comes with a quick-access panel with slots to hold one slate call and two strikers. A mesh pocket on one side of the case provides secure storage for diaphragm calls. A box call is accommodated by a removable box call pocket. The Vantage bino harness covers the run and gun turkey hunter's most basic needs in a compact 6.5-inch by 7-inch by 2-inch dimension, and weighs just 14 ounces. MSRP: $59.99; alpsoutdoorz.com.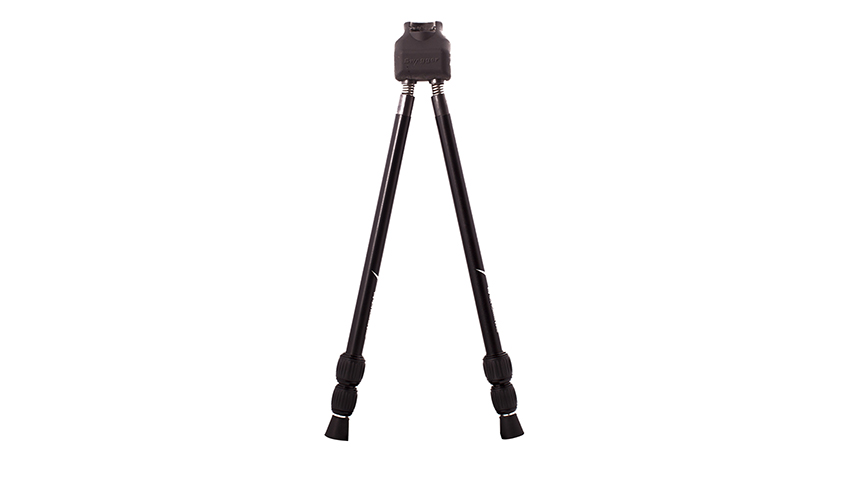 Swagger Bipods Stalker QD
We know that a turkey's astonishing eyesight is there biggest defense, and one of the most frequent occurrences of getting busted in when making a move to get a good a shot. Thanks to Swagger Bipods, turkey hunters can be more versatile than ever before with the company's new Stalker QD bipod.
Swagger Bipods has introduced a new line of Bipods called the Steelbanger series, featuring three innovative products that are designed to acquire multiple or moving targets down range: the Steelbanger Basic, Stalker QD and Stalker Lite. The Stalker QD, which quickly attaches to a shotgun or crossbow will be of interest to turkey hunters. With Swagger's Flex Ready technology, making a move on a turkey can be done while maintaining minimal movement.
The Stalker QD is available in two sizes: 14 to 42 inches at full range (QD42) and 24 to 72 inches (QD72) at full range, and weigh 15 and 17 ounces, respectively. The key feature of the Stalker QD bipod is a simple quick detach button that lets users remove the bipod from its mount so it can be collapsed and stowed away or reattached rapidly and easily. Additionally, it features steel tips under removable rubber feet, allowing the user to secure their bipod on any terrain. MSRP: Stalker QD42, $129.99; Stalker QD72, $139.99; swaggerbipods.com.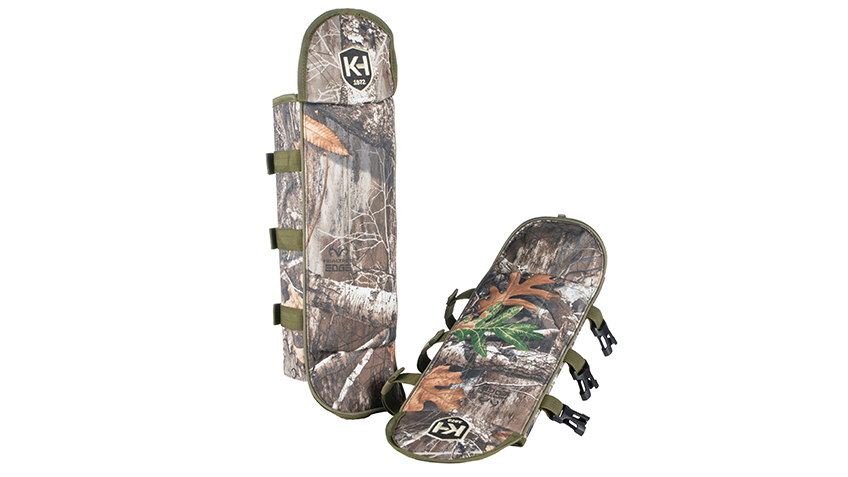 Knight & Hale Snake Gaiters
After a long bone-chilling winter, many hunters are dreaming of longer days and warmer temperatures. Spring turkey hunting starts getting good when the temperatures begin to warm up, which means venomous snakes become more mobile. Knight & Hale's new Snake Gaiters are an economical answer to providing lightweight, breathable protection from snakes, allowing hunters to remain focused on gobbling toms. The form-fitting Snake Gaiters consist of an internal polycarbonate shield that protects your ankle and calf 360 degrees from a venomous snake bite. The polycarbonate shield is covered by a thorn-proof ballistic nylon, as well. Available in Realtree Edge camo and OD green, the Snake Gaiters allow for ample protection without the need to wear hot, heavy snake boots. MSRP: $39.99; knightandhale.com.