by
posted on November 8, 2021
Support NRA American Hunter
DONATE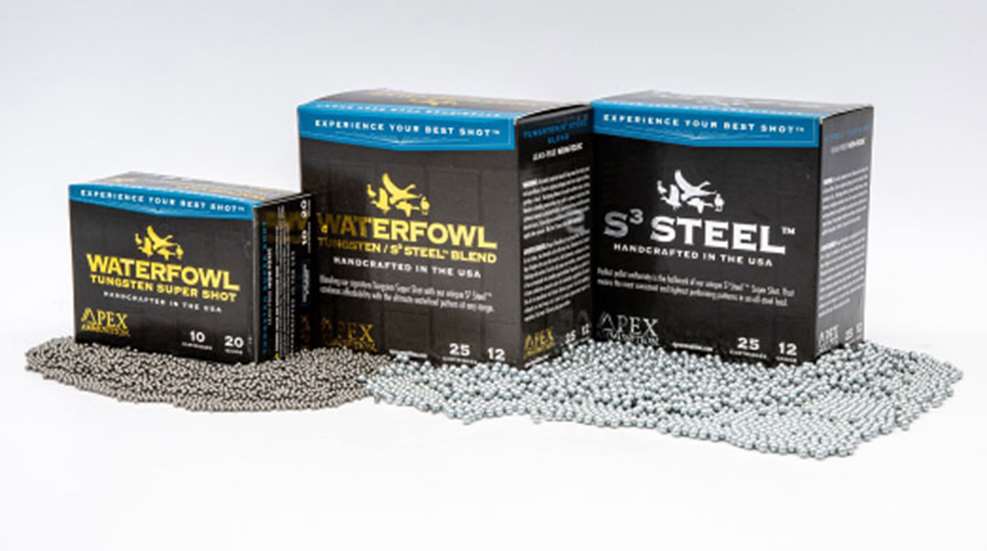 Apex Ammunition is now shipping its non-toxic, ultra-high-density Tungsten Super Shot (TSS), TSS / S3 Steel Blend, and S3 Steel Waterfowl loads, all featuring the Tungsten-grade wad system used in the company's Turkey TSS loads to deliver tight patterns and improved barrel protection.
Waterfowl TSS
Apex Waterfowl TSS loads are handloaded from 18.1 gram-per-cc (g/cc) density tungsten alloy, Tungsten Super Shot. It is denser than Lead (11.34 g/cc), Bismuth (9.8 g/cc), Copper (8.8 g/cc), or Steel (7.84 g/cc), which allows the use of smaller-sized shot and significantly more pellets in TSS loads than other shotshells (No. 9 TSS hits similar to No. 4 Lead). More pellets per ounce means a more powerful payload with higher pattern density and superior knockdown power at extended ranges. TSS is also highly effective in sub-gauge shotguns for those who prefer hunting waterfowl with 20-gauge, or even 28-gauge guns.
MSRP: $49.99 - $65.99 (per 10 round box)
Waterfowl TSS / S3 Steel Blend
These handcrafted "duplex" loads combine No. 9 Tungsten Super Shot with Apex's S3 zinc-plated steel shot (available in sizes 2, 4, or BB in 12 gauge and size 4 in 20 gauge). A limited supply of No. 7.5 TSS will also be available in this blended line later in the season.
The zinc coating on the Apex steel shot ensures optimum patterning in a steel load and, when combined with ultra-high-density TSS, helps deliver a harder-hitting payload and improved terminal performance to reduce crippling.
MSRP: $45.99 - $46.99 (per 25 round box)
Waterfowl S3 Steel
Apex Waterfowl S3 Steel is zinc-plated for improved performance. Normal steel shot has tiny voids and uneven surfaces from the manufacturing process. Apex's zinc-coating process fills these voids and imperfections to create more consistent and rounder pellets. The zinc also acts as a lubricant resulting in more consistent pellet drop when loading, and reduces the chance of pellet "bridging," where one pellet becomes locked with another. The reduced friction also allows for better movement of the pellets against each other in the firing process, resulting in fewer stray pellets (fliers). The same Tungsten-grade wad system used in the TSS line is also used in the S3 shotshells and, when combined with Apex's zinc-plated steel, delivers patterning previously unattainable in a steel load.
MSRP: $21.99 - $24.99 (per 25 round box)
For more information about Apex Waterfowl loads, please visit: ApexAmmunition.com/waterfowl/, and for more about other Apex products, check out apexmunition.com.