by
posted on December 7, 2022
Support NRA American Hunter
DONATE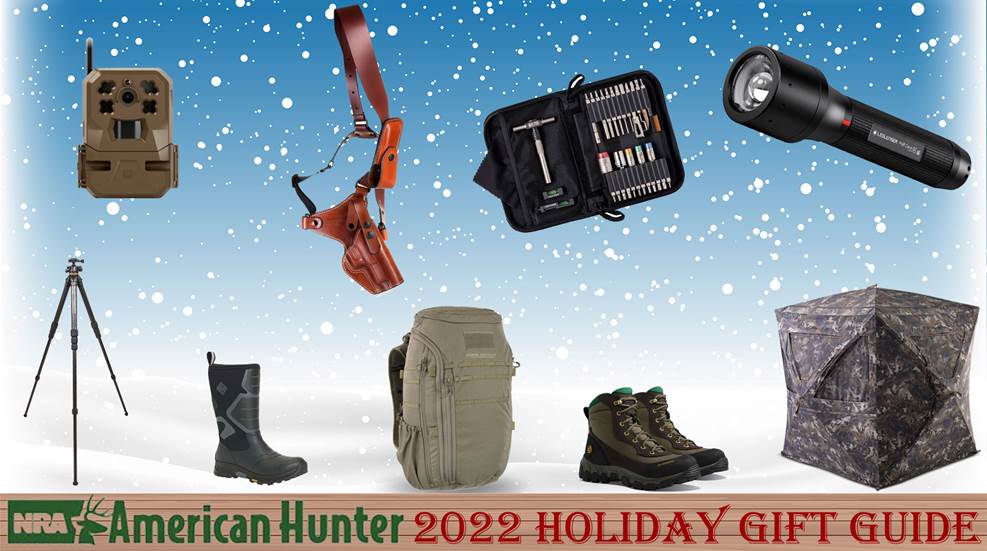 'Tis the season for Christmas gift guides. Here at American Hunter, we've gathered together a roundup of items we've field tested all year, so you can get the hunters on your list gear guaranteed not to let them down in the field. Even better, instead of just the usual brief description, you can read a little bit about our experiences with the items, so you can decide for yourself if the item is tough enough to suit your needs. From boots to bags and cleaning rods to cameras, we've got you covered.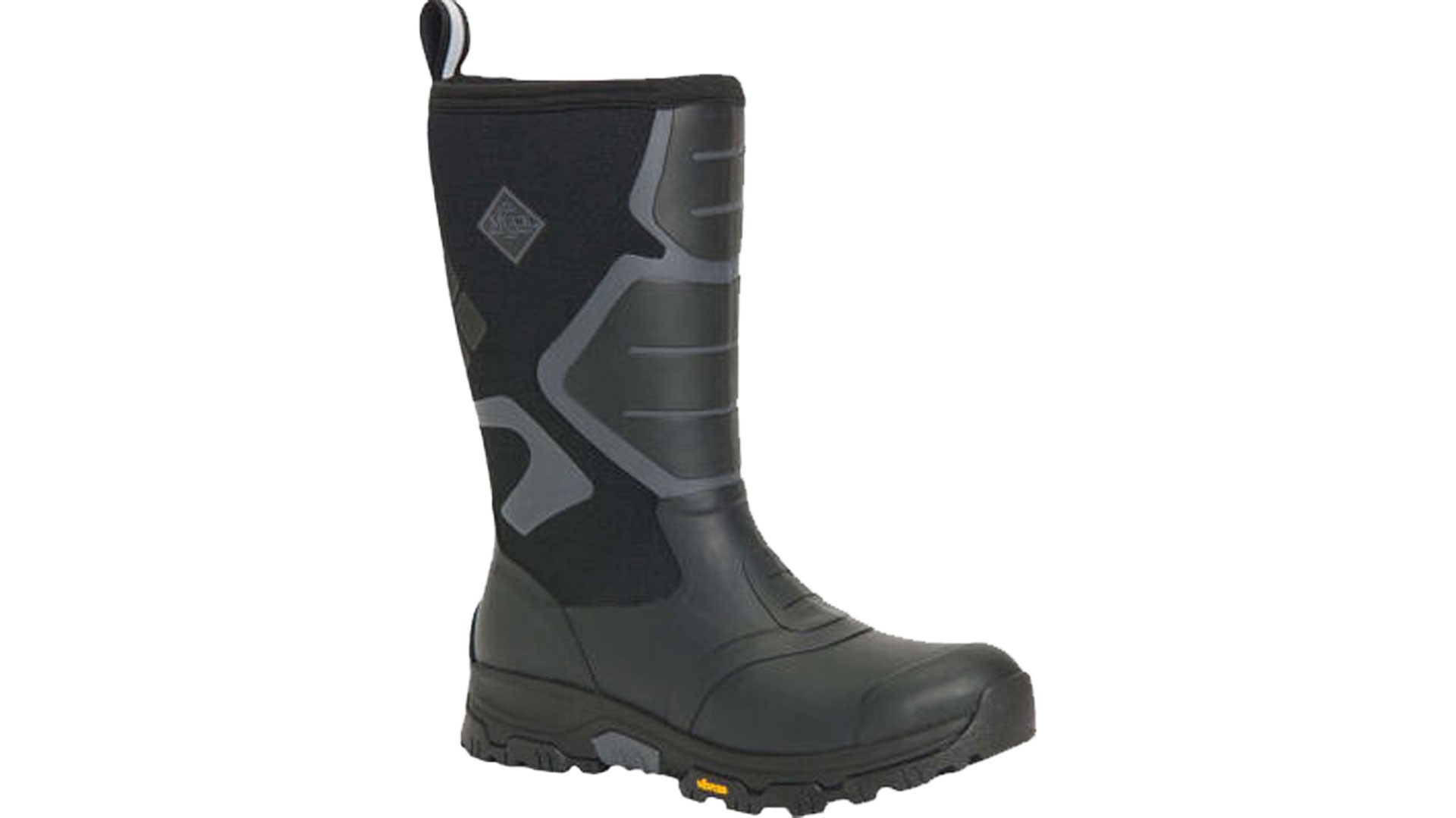 Muck Boot Company Men's Apex Pro Vibram Arctic Grip All-Terrain Boot
If you're looking for a boot that can handle an all-day sit in freezing temperatures, look no further than the Apex Pro, from Muck Boots. We'll be the first to admit, we were a little skeptical at the outset. Muck Boot has a spotless reputation for producing boots that will handle the worst conditions and temperatures you can throw at them, but the open fiber Thermal Regulating Fleece did give us a small bit of pause. New technologies are always exciting, but sometimes they take a generation or two to really find their groove, and the prospect of frozen toes in the meantime was daunting. Fortunately for us, this worry proved completely unfounded. With a 4mm neoprene bootie, these boots were about as warm as you could want in any temperature over 0-degrees, Fahrenheit. That open-fiber fleece, meanwhile, kept feet sweat-free while still trapping heat against socks, for an almost shocking degree of comfort. Walking about, the Vibram Arctic Grip kept firm hold of any terrain, wet stuff in particular, thanks to its traction lug design. A dual-density footbed with memory foam combines with an EVA midsole and a weirdly well-fitting insole to make these boots almost as comfortable as lace-ups for serious walking. Finally, the boots are (of course) fully waterproof, sporting brown, 16-inch shafts with pull-tabs for an easy step-in. muckbootcompany.com; MSRP: $265.
Rig 'em Right Hydeout XL
If ground blinds were cars, the Rig 'em Right Hydeout XL would be a Cadillac. As its name implies, the XL is sized larger than most of its counterparts, sitting 10-inches wider and seven-inches taller than the non-XL version. This makes for roomy seating, particularly when hunting with a partner. One of the neatest features, of course, is the full-camouflaging of the blind's interior. This eliminates the issue where, when wearing camo in a blind, you actually stand out against the black background, instead of blending in. Speaking of camo, the Hydeout XL is available in Gore Optifade Subalpine and Timber. We chose Timber, which worked great in our lush, woodland environment. Inside the blind, a spacious 360-degreee view is complemented by the inclusion of see-through shoot-through mesh, which you can run in directions where you don't necessarily think your quarry will appear, but which you want to keep an eye on anyway. While we didn't test the shoot-through capabilities, electing instead to slowly pull down the fabric, we can still attest to what a boon the 360-degree view is, having shot and spotted numerous animals slinking right behind us. Heavy-duty tent stakes are included for staking out, while high-visibility hooks and reflectors make it easy to find and manipulate doors and windows in the dark. rigemright.com; MSRP: $529.99.

Fix-it-Sticks Long Range Competition Toolkit
An all-in-one optic solution, the Fix-it-Sticks Long Range Competition Toolkit is the perfect gift for the hunter on your list who is always a short a tool or two on range day. With an assortment of 24-chrome-plated bits and two extended-action bits, the kit is sure to have any size tip needed for optic repairs or modifications. We've certainly never found a scope-base they don't fit. Further still, the kit boasts a T-handle driver with a locking hex drive, an all-in-one torque limiter (which can be adjusted to 12, 25, 45 or 65 inch pounds), and a bubble level to perfectly align your scope. Beyond simply being optics-focused, the toolkit also includes a six-piece pin punch set, a bronze scraper, a cleaning brush, a mini pry bar, a stainless-steel rod set, a steel pick and more, making it all but guaranteed to become a permanent addition to your favorite hunter's range bag. store.fixitsticks.com; MSRP: $368.00.
Moultrie Edge Camera
Does your hunter live far from his hunting grounds, or hate having to disrupt the woods just to pull camera cards? Check out the Mobile Edge Cellular Trail Camera, from Moultrie. With built-in memory, unlimited cloud storage, a 33 MP camera and a video camera capable HD 720p video with sound, the camera is capable of capturing and keeping beautiful high-definition photos. At night time, an improvised IR LED array illuminates targets out to 80-feed, while an expanded PIR gives a 40-degree field of motion-detection, day or night. While this all seems great, it wasn't even out favorite feature. Auto Connect technology means the Edge can automatically connect to the strongest signal from a multitude of mobile networks, over which it can send pictures straight to an app on your phone. To test this out, we placed a few cameras in areas notorious for weak signal on at least two networks, and all connected straightaway with signal strengths of "Good" to "Fair." Plans start at $10/month for 1000 pictures, though cheaper annual options are available. moultriefeeders.com; MSRP: $99.99/pack of one, $179.99/pack of two.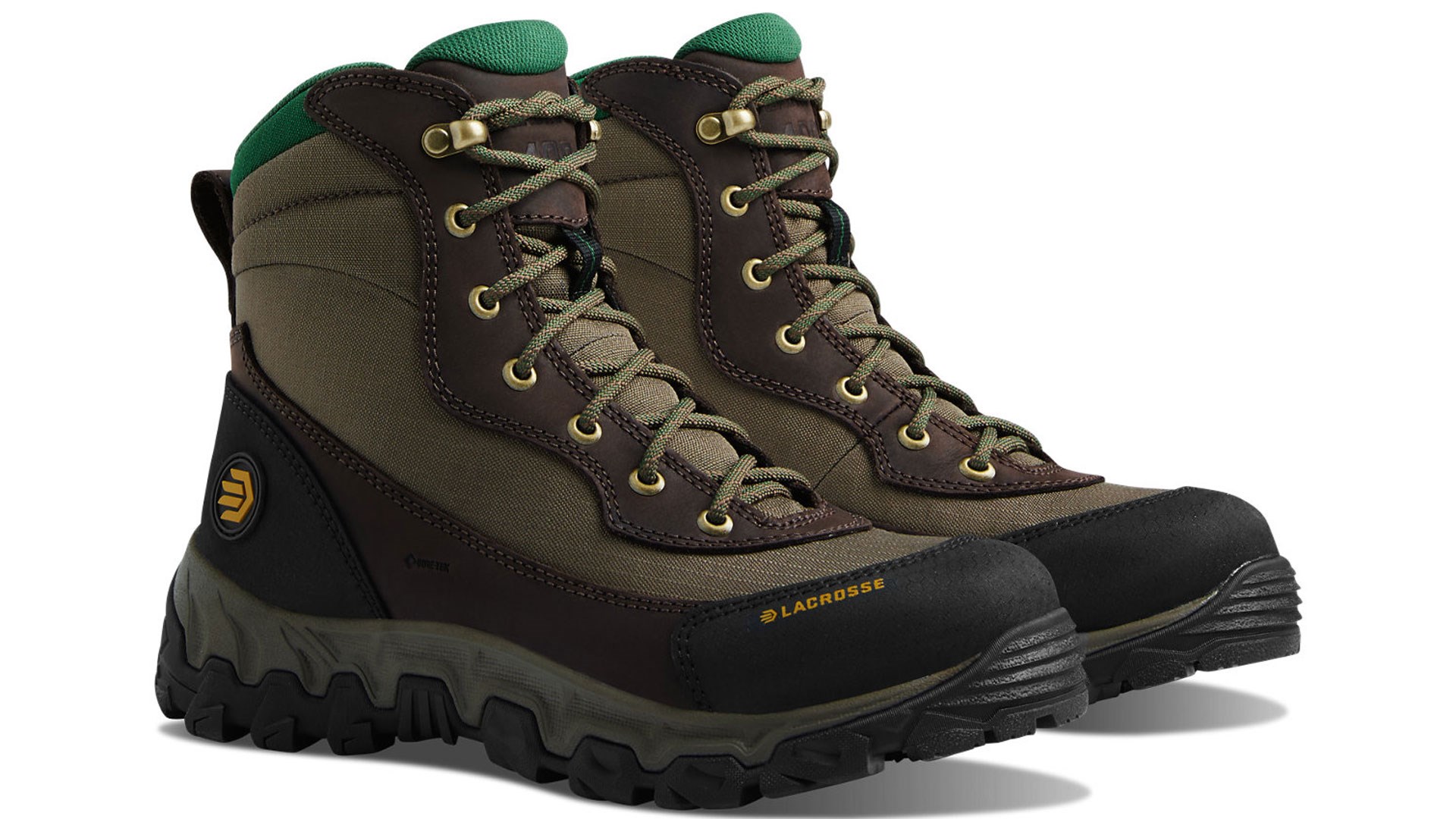 Lacrosse Women's Lodestar
For the female hunter on your list, check out the women's Lodestar boot, from Lacrosse. An agile and lightweight hiker, the Lodestar boasts a breathable waterproof lining, a Vibram outsole with Omni-Directional lugs and an oversized X-shank to disperse weight evenly underfoot for optimal support. A nubuck leather upper promotes abrasion resistance up top while a Hexguard toe does the same at the boot's front, and a Durafit heel cup locks the foot in place for optimal stability. One of our editors had already extensively tested the men's Lodestar, so we knew from the jump that the boot would perform well in the mountains. Sure enough, our tester chewed up some miles with the boots and was comfortable right from the jump, no break-in time required. What was new to us, however, was the insulation. Unlike the men's version, these Lodestars boast 400G of Thinsulate; seeing this, we just had to determine how warm these boots actually were. To say we were pleasantly surprised is an understatement. With a  pair of warm socks, the Women's Lodestar handled extremely cold hikes with ease, but more impressively, also maintained warmth and comfort during half-day-long, wet stand sits in temperatures down into the teens. For a boot designed primarily for walking, that's beyond impressive performance. lacrossefootwear.com; MSRP: $240 $120.00.
Falco Forrester Chest Holster
Looking for a classic way to carry your pistol into the backcountry? Falco holsters has you covered. The company's Forrester is a folding-shoulder-holster design that has been rotated to bring the gun forward into a quicker-draw position. The leather is Italian, lacquered, hand-colored and hand-shaped to your particular firearm. A two-snap forefinger security strap is included to keep your pistol secure when traversing treacherous terrain, while the included magazine holder sports a one-strap variant. While these straps do keep your pistol and magazine incredibly stable in their respective rigs, a mere flick of a finger can dislodge them for quick access to your firearm if a bear is coming on quick. This is not the first Falco holster we've tested, and if any phrase can describe the brand, it is consistent quality. No matter your firearm, the holsters fit snug as a fine glove, and the leatherwork is always exquisite. Additionally, the holsters can be customized with initials for $4.95, or a full, laser-etched imaged for $9.95. falcoholsters.com; MSRP: $179.99.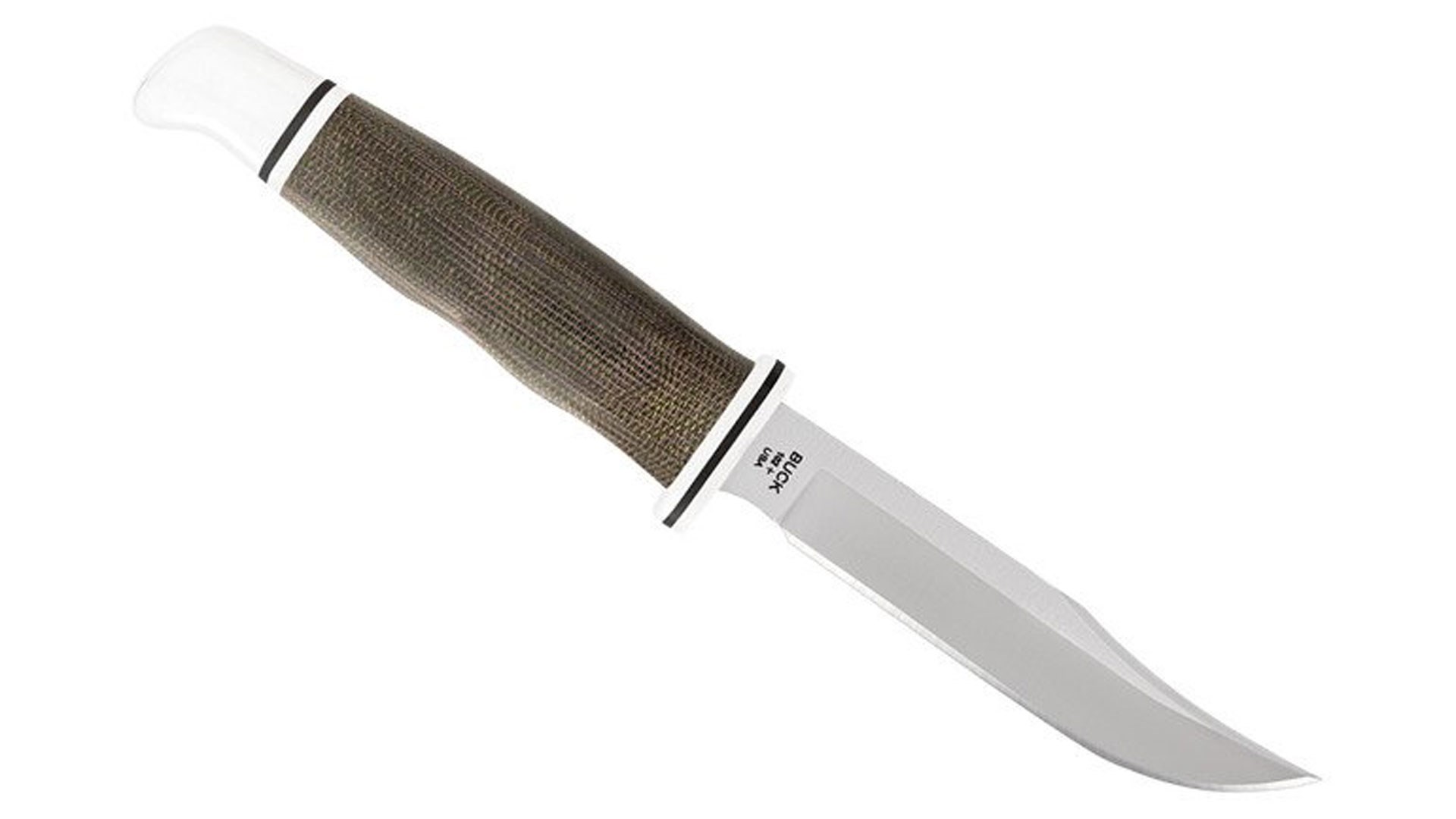 Buck 102 Woodsman's Pro
Buck knives are already legendary, but this particular classic deserves a special mention on this list. From turkey, to whitetail, to even bigger game, the Buck 102 seems to be the perfect size and shape for gutting, breasting, skinning and everything in between. It also holds an edge on its S35VN steel blade like no-one's business, despite a certain editor's predilection for repeatedly scraping it across bone ... With a green canvas Micarta handle, full-tang construction, an integrated finger guard and a sturdy leather sheath, this is a knife that performs just as good as it looks. You can also get the blade personalized with either a script or a block engraving for $9 extra. buckknives.com; MSRP: $142.99.

Tipton Deluxe 1-Piece Carbon Fiber Cleaning Rod
At first glance, this might not seem like the sort of thing that screams "gift," but hear us out. Over the course of a rifle's life, a standard brass cleaning rod can actually scratch your rifle's bore microscopically, lessening its accuracy. While this may not make sense right away considering that brass is a softer metal than steel, think of the impact water can have on rock. Over time, even a softer material can etch a harder one (and while yes, this is then also theoretically true of carbon fiber, the wear rate is low enough to be exactly that: entirely theoretical). So even if your hunter doesn't know he needs this yet, it'll help him preserve the life of his favorite firearm far better than his current kit. Tipton also has a wide range of other accessories available, such as nylon bore brushes, bore guides and more. tiptonclean.com; MSRP: $43.99.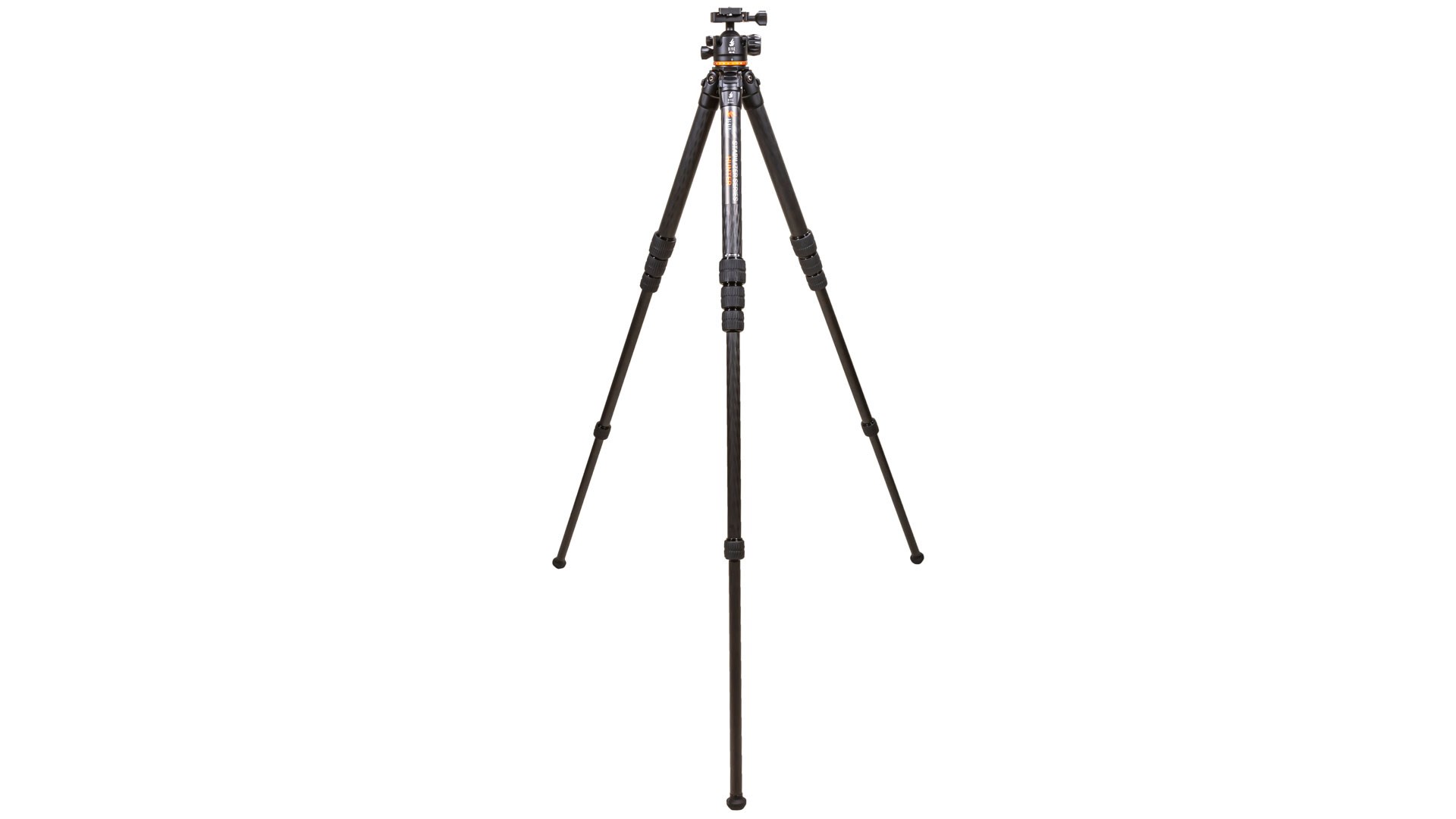 Revic Stabilizer Hunter Tripod
For the hunter who goes deep into the backcountry but is looking to save some weight, check out the Revic Stabilizer Hunter Tripod. Whether standing, sitting, kneeling or some position in between, this is one of the most stable rifle rests we've used. Four barrel locks per leg allow for extensive adjustability, while the locks all hold tight enough to lean into the rifle without having to worry about a leg collapsing on you (max load is somewhere around 33 pounds). The legs also will unlock and splay out to two different angle stops, in order to sink lower and better conform to uneven terrain. Max height is 66 inches, while collapsed length sits at just 19.75. The 40mm ball head pans and tilts with the turn of a knob, and comes equipped to attach to either an Arca-Swiss rail, or a hog saddle via the included adapter plate. Altogether, the tripod and ball head weight in at a mere 4.3 pounds. revicoptics.com; MSRP: $495.00.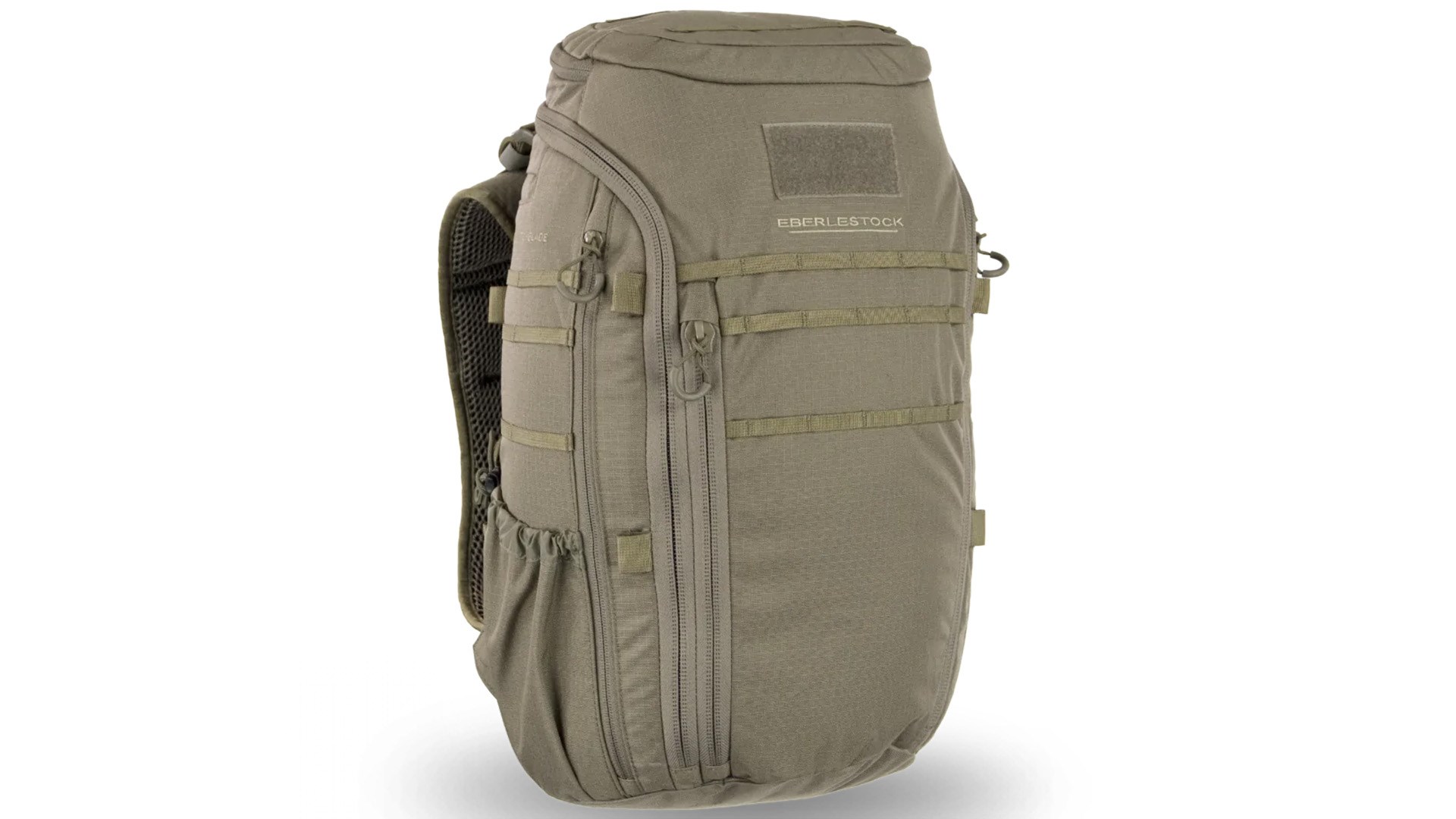 Eberlestock Switchblade
Looking for a nice, frameless daypack to bring to the stand, or tote your gear on a turkey hunt? The Switchblade, from Eberlestock offers a selection of features that nicely fits those needs, yet wouldn't look out of place on a range day, or in an airport. A zipper-open lid pocket boasts two magazine pockets among a host of other organizational aids. The main compartment, meanwhile, boasts a notebook organizer, hydration pouch with a hose outlet, three tubular pockets perfect for flashlights and calls, and another side pocket. Aside from all this, it is incredibly spacious for its size, contributing to the pack's 1,050 cubic-inch volume. Back on the outside, the pack sports four additional pockets: two long ones down the side for easy access accessories, a flat one at the rear, and a hidden pocket right behind your back with a magnetic closure. While the Switchblade is hip-belt compatible, it does not come with one, and we never really felt a need for it in the lighter-duty carry we used it for. eberlestock.com; MSRP: $199.00.

Rustico Leather Hunting Log and Ammo Case Gift Set
Toting extra ammo along with you on a hunt can be a little annoying, and we do mean a "little." After all, its certainly not undoable, but lets be honest; throwing a whole extra box of ammo into your pack is added weight you don't really need, while simply tossing in a few extra shells can spell disaster next time you arrive at TSA and one has rolled into a hidden seam (don't ask us how we know). As such, this makes the perfect kit for any hunter on your lift—while its not generally something someone would purchase for themselves, it is something they will never tire of using. The ammo case fits 11 cartridges, and loops sturdily onto a belt. It also boasts an interior slit to store a hunting license. The gift set additionally comes with a hunter's log, which includes fast-reference pages that can be filled out with information in the wake of a successful hunt, such as time, place, weather, temperature, moon phase, general notes and much more. The set can be personalized with two lines of text, and is available in six different leather finishes. rustico.com; MSRP: $94.00.

LEDLenser P6R Core QC
The LEDLenser P6R Core QC is a perfect light for anyone who spends significant chunks of time heading to a hunting spot before daybreak. With a five-hour runtime on its 270-lumen setting, which can illuminate up to 350 meters, the P6R Core QC boasts decent battery life in conjunction with night-defying brightness. Its lowest setting of 15 lumens will illuminate for 110 hours, and can reach out to 80 meters. Further, its LED also boasts red, green and blue settings. Red and green worked perfectly for slipping through the dark unnoticed, while blue worked well for blood trailing, in conjunction with the standard white light. The flashlight is IP54 waterproof, and sports a rechargeable 3.7-volt lithium-ion battery. ledlenserusa.com; MSRP: $71.96.