If you hadn't heard of Tracy and Lanny Barnes—the twin sisters of Olympic biathlon—before the 2014 Winter Games of Sochi, it's a sad comment on America's current interests. But no one can blame you. The lack of media coverage of biathlon and its paltry popularity is one reason why the United States hasn't finished better than 14th, ever. But if you haven't heard of the Barnes twins since Sochi, where Tracy selflessly gave up her hard-earned spot to her sister after Lanny couldn't qualify due to illness, then you weren't paying attention. This extraordinary sacrifice by an athlete became an international special-interest story and put U.S. biathlon on Americans' radar, at least for a moment. The story also garnered rare, positive national attention for America's shooting sports, to which the Barnes credit their start.
Cultural Advantages
Unlike ice dancing and other darlings of the mass media, biathlon follows the classical definition of the Olympic Games: It's a sport born of purpose. Much like the intent of the NRA's founding, biathlon, or "military patrol," was officially recognized in 1861 in Norway to promote the country's national defense. Competitors used high-power centerfire rifles before the 
.22 LR was standardized in 1978, 18 years after its debut as an Olympic sport.
Today the biathlon event requires individual male competitors to cross-country ski 20 kilometers (12 miles) and females to ski 15 kilometers; the course is interrupted by four stops to shoot from alternating prone and standing positions at a total of 20 targets. The 50-meter targets are 1.8 inches in diameter for prone shots and 4.5 inches for standing. Each missed target must be "atoned for" by skiing a penalty lap. The competitor who finishes the course in the shortest amount of time wins.
In Russia, Norway, Sweden, Finland and other European countries, many kids attend dedicated biathlon schools from elementary to college. Biathlon competitions fill stadiums with raucous fans, and top athletes are nationally recognized and often compensated handsomely by sponsorships. Career opportunities abound when competitive windows close.
In the United States, the Barnes twins have dedicated more than half of their 32 years of life to a few cracks at Olympic medals, mostly for pride. (They also made the 2006 and 2010 U.S. Olympic teams.) But the fact is they had few idols, schoolmarms or dreams of fame to motivate them as they deprived themselves daily of normal adolescent fun and oxygen. Yet they had one unique advantage over other American hopefuls: their passion for hunting.
Hunters First
I first met the Barnes while coming off an elk mountain, by total chance. I chose the particular area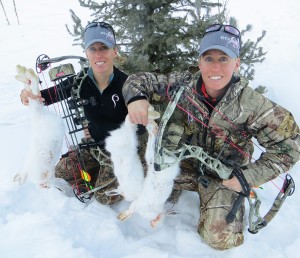 in Colorado's San Juans for its ruggedness, figuring it would eliminate fair-weather hunters from having at it. I was right. The area is home to the Lower 48's largest conglomeration of 14,000-foot peaks, and so the public-land elk there are exceptionally tough to hunt. So you can imagine my surprise when I met the blond twins in the moonlight at a little-known trailhead after 16 hours of hunting. I thought I was delirious with dehydration. The sisters, on the other hand, were fresh as mountain springs.
"Do any good?" I finally mustered.
"Not tonight," said Lanny as she stowed her bow in her truck. "Got a good 6-by here a while back though."
Flabbergasted, I poured myself into the truck where my hunting buddies, equally mesmerized, were waiting. Who are these women?
I soon learned they are from Durango, Colo., NRA members and lifelong hunters who are as serious about their pastime as anyone reading this. Their father started them at age 7 plinking with BB guns then they graduated to small game with shotguns and .22s. Now they routinely take elk, deer and bear on their own with rifles and bows. You can bet neither would've turned down a Russian bear hunt had a Sochi local invited them.
The women know their high-altitude hobby has paid dividends to their biathlon prowess. After all, few things can hustle a hunter up an impossibly steep mountain like a bugling elk, and there's no better practice for suppressing the nerves and heart rate than steadying the sights on a once-in-a-lifetime head of game while the chest heaves with thin air and adrenaline.
"We were hunters and shooters first, and then learned to ski," said Lanny, "which is the opposite of most competitors."
Unconventional, maybe, but it also lent them another advantage, one they will leverage soon.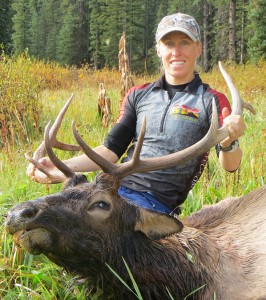 Unlike many biathletes who eventually forge careers in skiing sports, the Barnes sisters have been wholeheartedly accepted by America's shooting and hunting industry. They quickly picked up sponsors like Otis, Rock River Arms, Bow Tech and Prois. So, although the Barnes are retiring from biathlon, you will likely see more of them.
Besides competing in 3-gun events (they're pretty handy with pistols, too), the twins plan to open a shooting institute that will teach military and law-enforcement personnel how to shoot with elevated heart rates and while under stress. They want to promote the shooting sports, hunting and biathlon to America's youth—a goal that will only make our country stronger. That's the Barnes twins: always moving forward rapidly unless pausing to aim at a target.
While Lanny had a bad run and finished 64th at Sochi (she still holds the best finish for an American female in 20 years), neither sister has any regrets. Rather, it's fortunate that America got to know these extraordinary women via not a podium but by an act that resonated like a rifle shot around the world. Rest assured, the Barnes won't rest long; Lanny is already looking for a way to repay her sister. And to that end …
What if she were to give up a shot at a bugling, 6x6 bull and let Tracy take it?
"Hmmm. That's pretty good," said Lanny. "Yeah … that's what I'll do!"If she does, we'll cover the story.