by
posted on August 30, 2012
Support NRA American Hunter
DONATE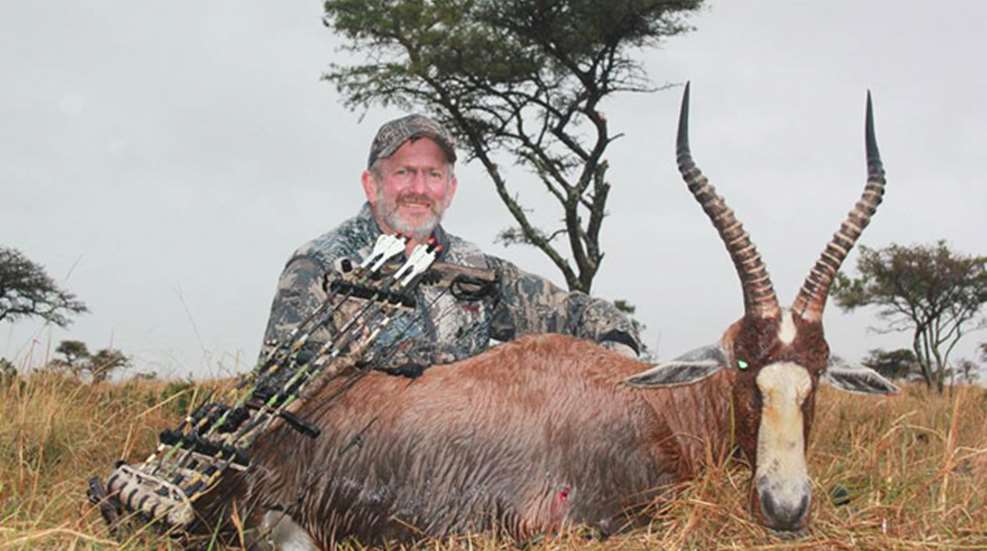 On August 13 I returned from a fabulous 10-day bowhunting trip on the Eastern Cape of South Africa with my friends, owner/PH Andrew Renton and PH Marius Potgieter of Kei River Safaris It was my second time with Kei River. Five years ago it was a plains game hunt extraordinaire. This time it would be the same, but with a bit of a twist. This time, we'd first target Cape buffalo with the bow.
Gallery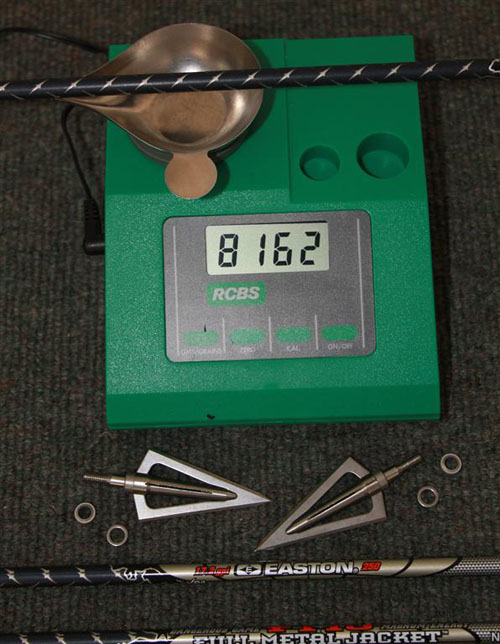 Buffalo Medicine
Law requires Cape buffalo be hunted with a minimum 80 lb. draw weight and minimum 750-grain arrow weight. My Hoyt RKT compound was set at 80 lbs., and I loaded it with 28 ½-inch Easton Full Metal Jacket Dangerous Game arrows. The 250 size shafts weigh 17.2 grains/inch, and by adding a 9 grain X Nock, 75 grain Brass X HIT Break Off insert, and 3 four-inch fletches, total raw arrow weight is a tick over 600 grains. Since buffalo can only be hunted with a single forged, two-bladed head that has its cutting edge beginning at the tip, I went with 200-grain Phantom SS two-blade broadheads with .040-inch main blades. My total arrow weight was 816.2 grains. The bow lobbed them off at just 218 fps, but in this game it is all about the momentum provided. The initial K.E. value was 86.15 ft./lbs.—which I hoped would be plenty!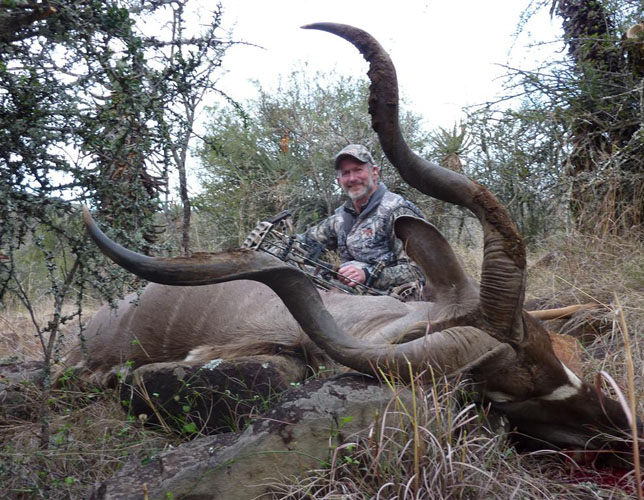 Kudu Bull
After four days of sneaking within less than 40 yards of four different and very large kudu bulls on a "walk & stalk" hunt but getting no shots thanks to the thick cover, we opted for Plan B—a blind. After nine hours of waiting this nice bull walked in and the Thunderhead took him high in the shoulder.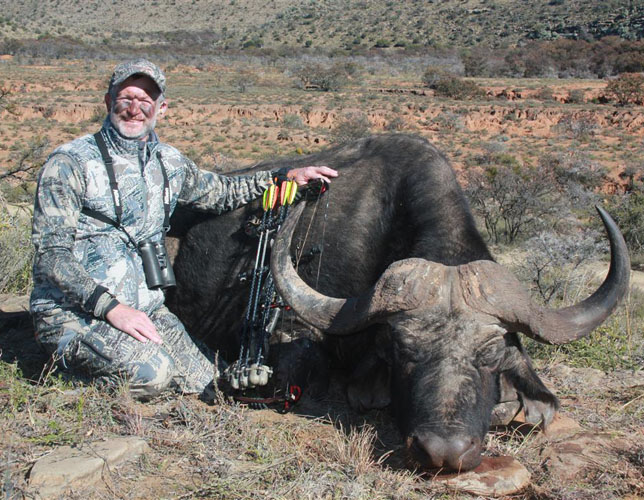 The Bull
When we found the animals, the bull we wanted was the ideal candidate—an old warrior who did not like to be around other buffalo. When they got too close to him he'd fight them, and they didn't want any of that. So by mid-morning there he was, contentedly alone and feeding along the side of a steep ridge. Marius and I, together with another PH and tracker (and a very large backup rifle), circled to get the wind right, then climbed carefully above the buffalo. It seemed to take forever, but soon the bull was just inside a thorn tree I had ranged at 20 yards. The crest of the hill and tall brush hid us, and I let him walk slightly past until he gave a very slight quartering-away shot. The shaft struck the bull perfectly behind the front shoulder. He took two steps forward, then turned and gave us that "You owe me money!" buffalo look so aptly described by Robert Ruark decades ago.
When his nose came up I thought, "Here he comes!" Instead, he dropped his head, wobbled slightly, and rolled over, graveyard dead. He had not traveled 5 yards after the hit! The arrow had penetrated to the fletching; when the bull rolled you could see it sticking out the other side.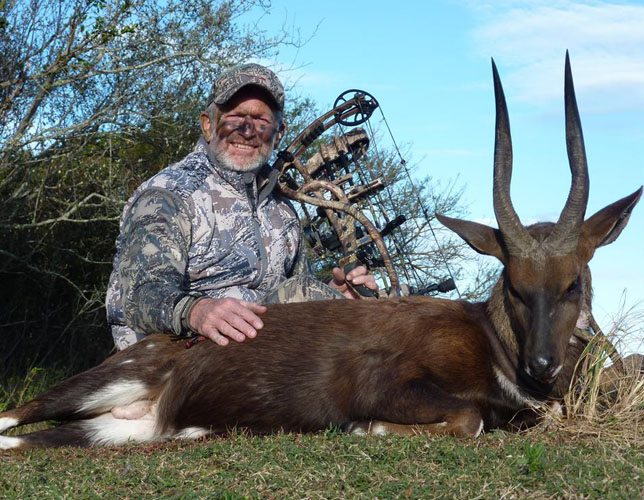 No. 4 All-Time Cape Bushbuck
Marius Potgieter, my PH, holds both the No. 1 and No. 6 all-time bowhunting records for bushbuck, so when he said "shooter!" I knew we had to make a stalk. It took 30 minutes until I got a 30-yard shot. The animal ran into the thick stuff, but fortunately we had Andre's tracking dog to help us fund him. He would be the new No. 4 in the SCI Bowhunting book.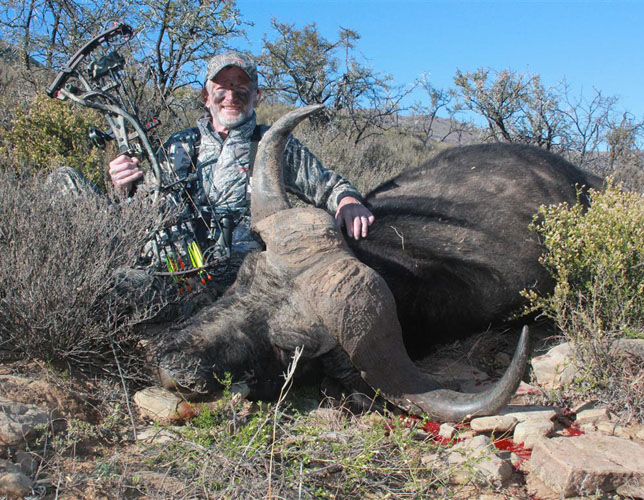 Kei River Safaris
Kei River Safaris is my kind of operation. It's small and specializes in personal service. Andrew and Marius have hunted their area all their lives, and both are extremely accomplished as hunters themselves and as PH's. The lodge, food, and equipment are all 5-star, and best of all, you get all this at a reasonable price. Andrew specializes in offering both rifle and bow hunts catering to the hard-working American hunter that cannot spend five figures on a hunt. The hunter that wants a $4,000-$5,000 bracket hunt that allows for a mixed bag of high-quality plains game with no limitations on horn length or record book score, which in most other instances would mean having to pay much more in terms of trophy fees. On top of that, Big 5 hunts are available, too, though that ratchets up the cost.
They also prefer to hunt in the "walk & stalk" style, which suits me perfectly, though you can hunt from blinds if you choose. Andrew has incredible connections with local landowners and game ranchers, so locating top-end animals for clients is not a dream, but a reality. Marius' hunting philosophy sums it up best: "Good is not good enough." They want the very best for their clients, and it shows.
As you can see, it went extremely well. And I cannot wait to go back!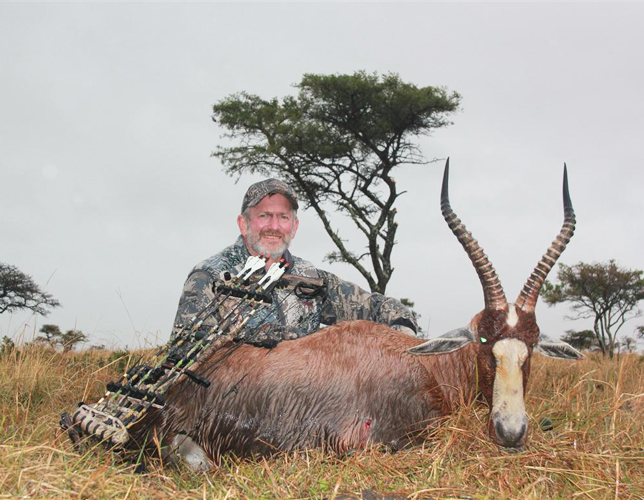 Blesbok
The day was Alaska-esque, with a hard rain and hail falling in buckets—but that just helped cover our approach to the herd of perhaps 50 blesbok over the semi-open ground. We tucked into a small cover of trees, and when the animals strolled past at 45 yards I shot the largest. He ended up scoring so well he would tie the current No. 1 Safari Club International bowhunting record book blesbok!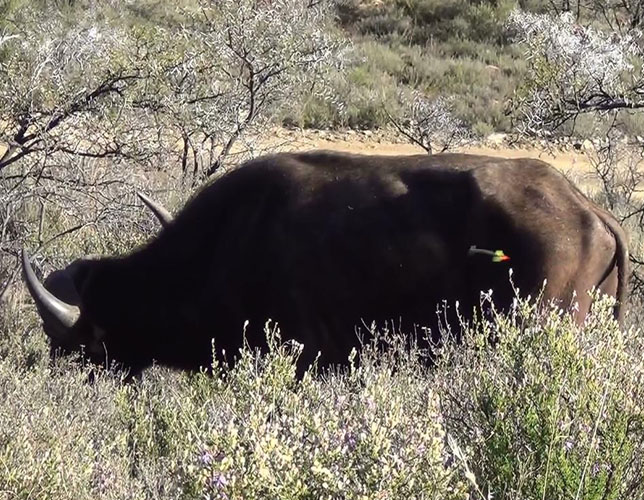 Buffalo Down
I took this photo off the video, and it shows the arrow just before it strikes the buffalo perfectly behind the shoulder.
For plains game I used the same bow I will be hunting elk with this fal—a Hoyt Carbon Element set at 72 lbs. loaded with 340 Beman ICS Hunter Pro shafts fletched with NAP QuikFletch and tipped with a 12-grain Thunderhead. Total arrow weight is about 420 grains, and this bow sends the package out at about 272 fps.