by
posted on March 9, 2010
Support NRA American Hunter
DONATE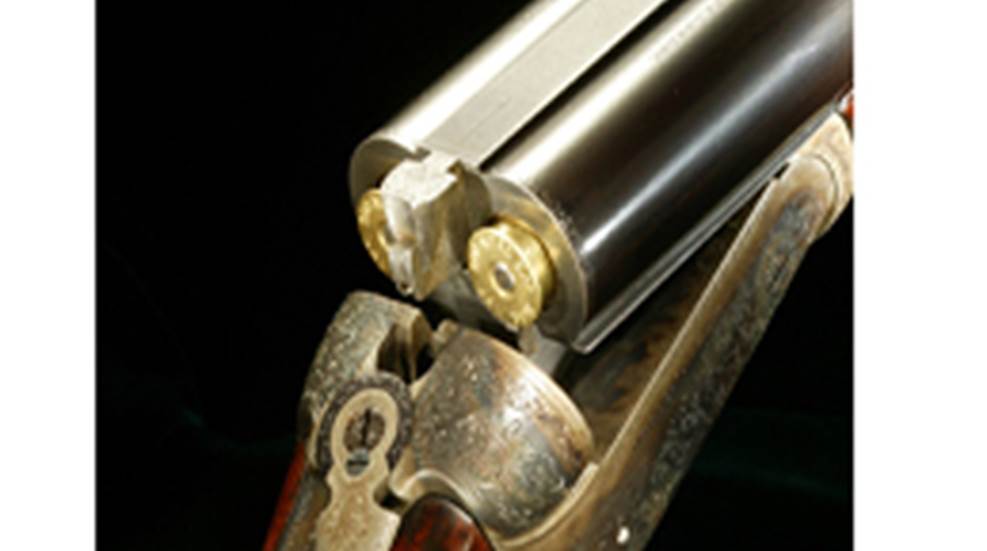 When Robert Ruark took his immortal safari to Tanganyika with Harry Selby in 1952, he toted along three rifles and his favorite "shotty-gun," a 12 ga. side-by-side for shooting francolin and other birds. I'm leaving for Tanzania in about a month, and the rifles I'll be taking could well have been Ruark's.
Although the intervening years have foisted enough new calibers on us to sink a battleship, my three calibers would have been considered to be vintage even in Ruark's day! Ruark's rifles are still a purely classic example of what is called a "three-gun African battery."
The North Carolina newspaperman took a .30-'06 for the smaller antelopes, like Thompson gazelle and impala, a .375 H&H Magnum for lion and the bigger antelopes, like kudu and waterbuck, and finally a Westley-Richards .470 Nitro Express double for buffalo, rhino and elephant.
I'm taking a .300 H&H Magnum for the small stuff, a .416 Rigby for lion and eland, and a William Evans .500 Nitro Express for buffalo and elephant. That's one thing that has changed—my license doesn't include rhino.
These choices were not taken lightly. I put much more thought, planning and care into the selection of my safari rifles than I do choosing the safari itself. This might seem backwards, but it's really not.
Once you decide on what area you want to hunt—in this case, the wetlands of Western Tanzania near Lake Tanganyika, the only place that East African sitatunga are found—picking an outfitter isn't too hard. There are relatively few professional hunters who have access to a hunting concession in the Malagarasi-Moyowosi flood plain.
But my rifles could have been selected from a dozen makers in a gross of calibers! There is clearly no such thing as "the best" cartridge or rifle, but Ruark's choice of a .30-'06 is a great one.
I agree completely with Bob that a .30 caliber is the best light-rifle chambering for Africa. I particularly like the 180 gr. bullet weight in a solid copper design like the unrivalled Barnes X-bullet. There is simply no better African bullet for lightly-boned game than the Barnes X (or the newer TSX), in my opinion.
However, I like my X bullet to step out a little faster than '06 velocities. Call it nostalgia if you like, but I've always loved the original "magnum," Holland & Holland's Super .30, otherwise known as the .300 H&H Magnum. I will be driving that 180 gr. Barnes X at close to 3,000 fps from a 24-inch Pac-Nor custom barrel expertly fitted to a Winchester Model by my favorite gunsmith, Sterling Davenport of Tucson, Ariz.
My medium rifle is also a custom Winchester Model 70 built by Sterling, chambered in .416 Rigby. This is the single most accurate rifle of the half-dozen that Sterling has built for me over the years. It shoots three-shots into one ragged, half-inch hole… at 200 yards. This sort of accuracy is remarkable, but not shocking. Big bore rifles can be astonishingly accurate for reasons I've never fully comprehended.
I'll be handloading for the .416 with— surprise— a 400 gr. Barnes TSX bullet and a good-sized handful of Hodgdon H4350 ignited by a Federal 215 primer. This the "half-inch at 200" load.
On this particular safari, my "medium" rifle will be reserved for what I anticipate will be only two shots— lion and eland. Even though I'll have three buffalo on license, I hope to shoot them all with my "heavy."
My "heavy" is older than Ruark's .470 Nitro. It's a .500 Nitro (three-inch) and it pre-dates the most widely-used double rifle cartridge, the .470, by some 20 years.
With essentially the same recoil— it's hard to tell one big, hard wallop from another— the .500 Nitro launches a 570 gr. bullet versus the .470 Nitro's 500 gr. slug. Both trundle along at 2,150 fps, which is the same velocity pretty much every Nitro Express travels from a double rifle.
I get a bit bigger hole, .510" versus .475", but when you add that extra bore diameter and the heavier bullet, you definitely get more reaction on the receiving end.
The rifle itself is a classic right out of the very best era of British gunmaking— the period between the wars. My .500 was made by Williams Evans in 1919 with 27-inch chopper lump barrels on a Birmingham "trade action," an Anson & Deely boxlock that was fabricated by the tradesmen in and around Birmingham and sold to the "name" London gunmakers.
Virtually all the boxlocks of the pre-war era were made on "trade actions." They were used by Holland, Purdey, Evans, Westley-Richards, Lang, Rigby, everyone. In was into one of these shops, that of Westley-Richards, that Robert Ruark stopped on his way back from Tanganyika and bought a .275 Rigby bolt-action rifle that had belonged to W.D.M. "Karamojo" Bell. He later gave the rifle to Harry Selby's son. Now that's a classic African rifle.