by
posted on April 6, 2010
Support NRA American Hunter
DONATE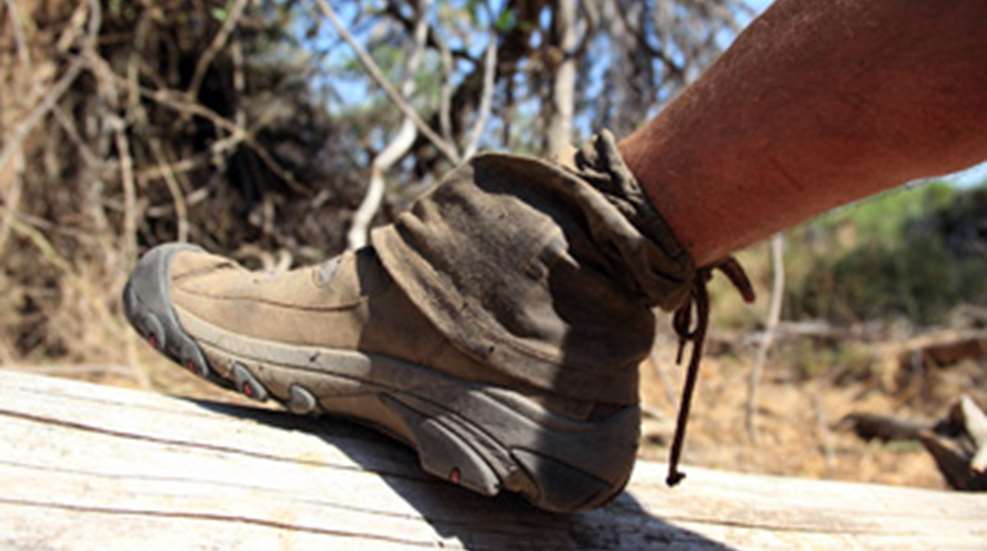 Unlike Alaska where it's wet and mountainous, there's nothing particularly demanding about most African terrain. The worst thing you'll run across might be some rocks and thorns.
Actually, thorns can be a problem, especially the long white camel thorns that can reach over two inches. If you step directly on one of those babies, you'll need a tough, thick sole to repel it. I was once walking along and felt an ever so slight prick on my foot. I ignored it, thinking it was a small piece of debris that had somehow slid into my shoe, but the longer I walked, the more annoying it got. I finally stopped and pulled off my shoe. Nothing fell out. I felt inside and found a tiny protrusion and, flipping the shoe over, found that it corresponded to a large thorn stuck in the sole.
Using my Leatherman pliers, I pulled out a thorn over an inch long. It had barely made it through the hard sole, but made it through it had. I resolved to make sure any shoes for Africa have good thick soles in the future.
But other than that one consideration, comfort is the first order of business. I've tried two of the most expensive "African" shoes, the much-hyped Courtney boot from Zimbabwe and the custom made Russell "PH," and found both of them to be excruciating— on my feet. Shoes are like neckties. There's nothing inherently good or bad about them, they just appeal to different people. I know a lot of hunters who swear by their Courtneys or their Russells, but I personally can't wear them.
As far as style goes, an ankle-top hiker is what you want. Danner, Merrell and Timberland make good ones. I wear an ankle-top hiker from Keen, which I love. Before that I wore a Nike brand hiker which I never would have predicted would be a good African boot, but it was. I finally tossed them after extending their life with Shoe-Goo.
You also need a set of short gaiters, so-called "African gaiters" to go over your hiker tops to prevent dried leaves, bits of twigs and mostly dust and dirt from getting down in your boots. I like the leather gaiters from Courtney (even though I don't care for their boots) but Boyt Harness makes a good set of canvas gaiters available at Midway for $9.99.