by
posted on February 1, 2018
Support NRA American Hunter
DONATE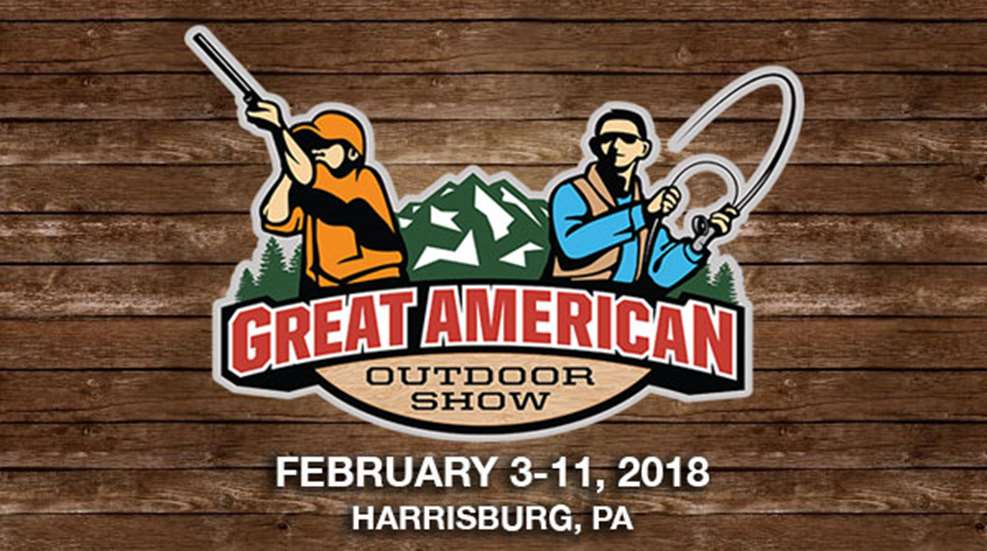 The Great American Outdoor Show (GAOS) is one of the biggest shows for hunters every year, and since its inception, the show has grown exponentially to include nearly every aspect of the outdoor lifestyle you can imagine. Here are a just a few of the many reasons to make the trip to the show this year, held in Harrisburg, Pa., Feb. 3-11.
1. Exhibits
With over 1,000 exhibitors, there is no shortage of things to see. Featuring products ranging from knives and clothing, to calls and optics, along with booths from outfitters across the country, nearly anything and everything hunting-related can be found at the show.
2. Guest Speakers
More than two dozen speakers will be making appearances at this year's show. Just a few names on the list for this year are Ken Hammel from Mountain Hollow Game Calls, predator hunter Abner Druckenmiller with FOXPRO Inc., and Alan Probst of "Wild Pennsylvania with Alan Probst."
3. DockDogs Competition
For those hunters who enjoy watching man's best friend preform at their peaks, the popular DockDogs competition is making another appearance at this year's show. Taking place in the large arena from Saturday, Feb. 3 through Wednesday, Feb. 7, DockDog competition events include Big Air Wave, Extreme Vertical and Speed Retrieve. Think your dog has what it takes to compete? Canines of any breed, size or shape are welcomed to compete in one, two or all three events! For more information, click here.
4. Pennsylvania Taxidermy Association Contest
There's a reason it takes so long for taxidermy to get returned. Individuals commemorating our hunts via their art put in countless hours, and now they have the opportunity to put their talents on display at the GAOS' Pennsylvania Taxidermist Association Competition. The competition includes seven divisions: Youth, Junior, Amateur, Professional, Master, Collective Artist and Commercial. Taxidermy entered in the contest will be on display in the large arena from Saturday, Feb. 3 through Wednesday, Feb. 7.
5. 3D Bowhunter Challenge
For the archery hunters who will be in attendance, the 3D Bowhunter Challenge course features 30 shots taken at various 3D targets at distances up to 50 yards. Anyone can participate to win a trophy or money in their age division/trophy class, and you can shoot qualifying rounds as many times as you'd like, but you have to pay for each round you shoot. The top qualifiers from each day, in each class, will advance to the finals and to compete for free! The course takes about an hour and a half to complete and pre-registration is available to guarantee you a spot in line, but walk-ins are also welcome. For more information or to register, click here.
6. Seminars
It's never too late to learn something new, and with more than 200 seminars throughout the week of the show, opportunities to expand your hunting knowledge abound. From various hunting tactics in the field to cooking game in the kitchen, there's a topic to interest visitors across the board. Click here for a full list of seminar dates and times. 
7. NRA Foundation's Wall of Guns
$10.00 doesn't get you much these days, but with the NRA Foundation's Wall of Guns, it might buy a winning raffle ticket for a firearm. With more than 60 guns on display, all proceeds benefit the NRA Foundation and the future of the shooting sports, making it money well spent.
8. Eddie Eagle Kid's Zone
Bringing children with you to the GAOS? At the Eddie Eagle Kid's Zone, your young hunter can learn wildlife identification skills, get their face painted and shoot some hoops. The Eddie Eagle program is celebrating its 30th year, too, so a special Eddie Eagle birthday celebration will take place at various times throughout the week. Click here to learn more.