by
posted on March 16, 2021
Support NRA American Hunter
DONATE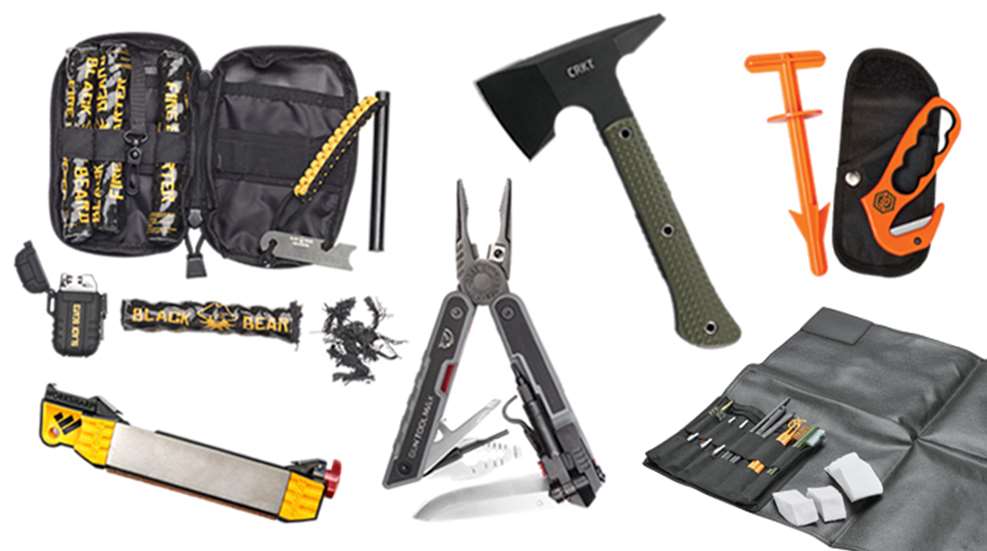 Be prepared when heading afield this season with these six must-have packable tools.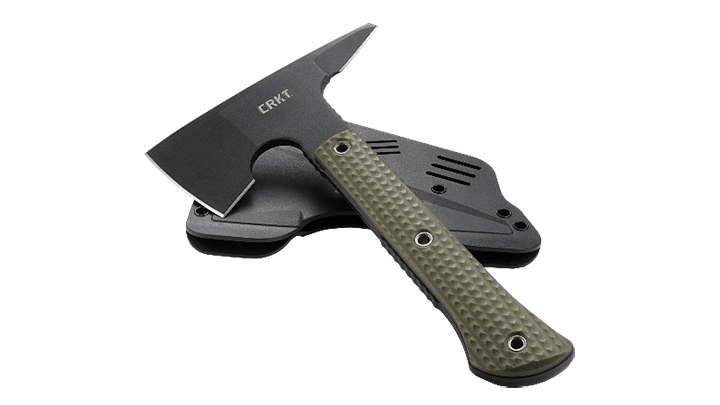 CRKT Jenny Wren Compact
Whether you need to cut wood for camp cooking, drop a meat pole for hanging deer, or hack a pelvic bone or rib cage before packing out a bull elk, there's almost nothing this little "tomahawk" can't handle. At just over 10 inches long and weighing a hair more than a pound, the Jenny Wren Compact hatchet from Columbia River Knife and Tool can go anywhere you do without becoming a burden. It features three edged sides for chopping and cutting versatility, a glass-reinforced nylon handle for strength, a textured gripping surface and a MOLLE-compatible hard nylon sheath to strap on your pack. Comes with a lifetime warranty. MSRP: $135; crkt.com.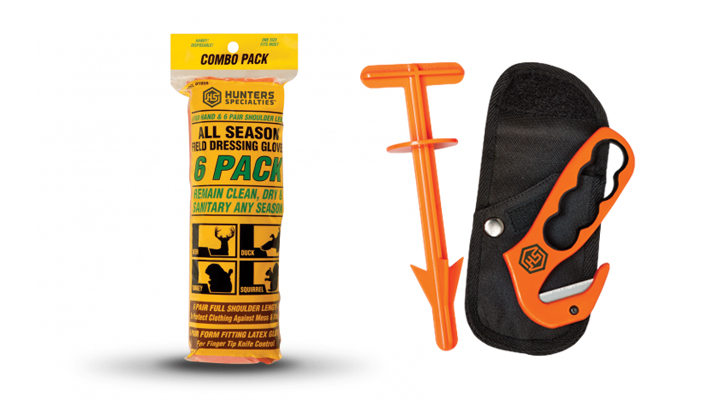 Hunters Specialties Butt Hook Combo and Field Dressing Gloves
Turn the job of gutting and clearing the anal canal into a quick and, most importantly, clean process with the Butt Hook Combo including the Butt Out 2 tool and Gut Hook from Hunters Specialties. If you've never used these, trust us when we say there is no easier way to field-dress an animal. There's also no easier way to keep clean while doing so than by simply stashing a few sets of Field Dressing Gloves in your pack. The combination of a shoulder-length glove and a snug-fitting "surgical" glove allows you to go elbow-deep while providing the tactile control you need for safe knife handling. MSRP: Butt Hook Combo $24.99, Field Dressing Gloves 6-pack $5.99; hunterspec.com.

Hoppe's Range Kit with Cleaning Mat
Perhaps you hunted all day in a downpour, maybe your rifle took a spill somewhere along the trail or maybe the prairie dogs were so plentiful you burned through two boxes of ammo before calling it quits. Regardless of the day's success, a good cleaning ensures your gun will be ready to do it all again come tomorrow morning. This Range Kit comes complete with a multi-section cleaning rod, common rifle- and pistol-caliber brushes, patches, cleaning picks and an oil- and solvent-resistant cleaning mat with magnetic corners (so you don't lose small parts), a carrying case and more. You'll need to add some solvent, oil and a shotgun brush to the case if you're chasing birds, but this compact kit is ideal for quick cleaning during or after the hunt. MSRP: $50.95; hoppes.com.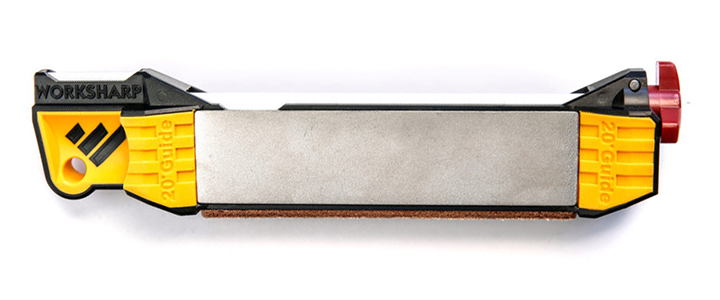 Work Sharp Guided Field Sharpener
So much more than a basic sharpening stone—you won't believe how many sharpening implements and features Work Sharp packed into this little pocket-sized 4.6-ounce tool. It provides five stages of sharpening and honing via two, 4x1-inch diamond plates (a coarse 220-grit plate and a fine 600-grit plate), two ceramic rods for coarse- and fine-grit honing and a genuine leather strop to finish your sharpening to face-shaving perfection. Every sharpening surface features built-in angle guides for the perfect edge. Diamond plates are held in place with a strong, rare-earth magnet, and when removed, reveal a storage compartment on one side and a broadhead wrench with slots for both three- and four-blade broadheads on the other. Ideal for straight blades, big-bellied skinning blades, serrated blades, fish hooks, broadheads, hatchets, axes and anything else that needs to maintain an edge in the field, the Guided Field Sharpener is a must-have tool for every outdoorsman. MSRP: $34.95; worksharptools.com.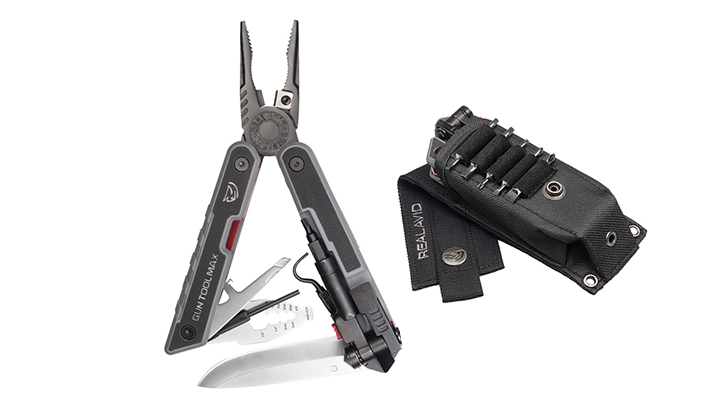 Real Avid Gun Tool Max
Not only can you find the always-useful 3.25-inch folding drop point blade, a flathead screwdriver, needle-nose pliers and a bottle opener within this multi-tool, but Real Avid packed the Gun Tool Max with as many additional gun-specific tools as possible to get you through basic repairs or assembly and disassembly jobs that are thrown your way. Within the stainless steel frame, you'll find a universal shotgun choke tube wrench for everything from .410-bore to 10-gauge guns, carbon scrapers, a cleaning pick, locking bit driver, a pin punch, four wrenches, a scope windage-and-elevation adjustment tool and more. Included nylon sheath houses 12 additional bits so you're prepared to tackle everything from scope bases to bolt faces. MSRP: $69.99; realavid.com.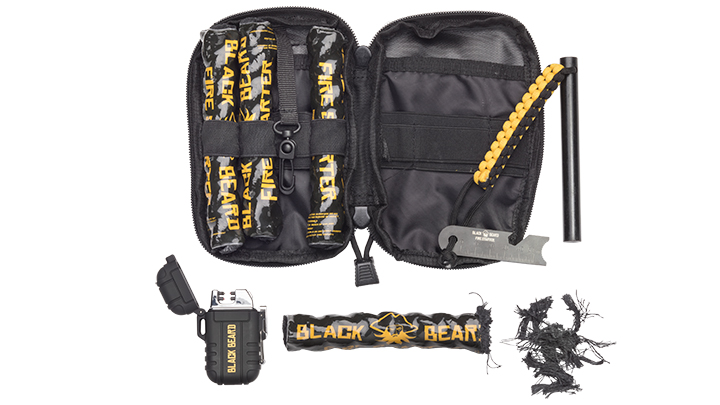 Black Beard Fire Starter Pirates Plunder
Among all the tools man has developed, there may be none more necessary than the fire starter. And like most tools, this backcountry staple has seen some improvement over the years. One of the latest companies to catch a spark, Black Beard Fire Starters has compiled the perfect kit to get you through an emergency situation—or dinner—with ease and dependability you can count on. At the core of the Pirates Plunder kit you'll find four original Black Beard fire starters that are windproof and 100 percent waterproof—just an inch of this braided cotton rope (treated with nontoxic waxes and oils) will catch even the smallest spark and burn long enough to start a blaze. Simply cut off what you need, separate the fibers, add a spark and save the rest. Made in America with a 100-year shelf life, this stuff will even catch fire floating on water! The Pirates Plunder kit comes with a convenient plasma arc lighter, a dependable ferro rod and a carrying case to keep it all together. MSRP: $89; blackbeardfire.com.