by
posted on May 13, 2016
Support NRA American Hunter
DONATE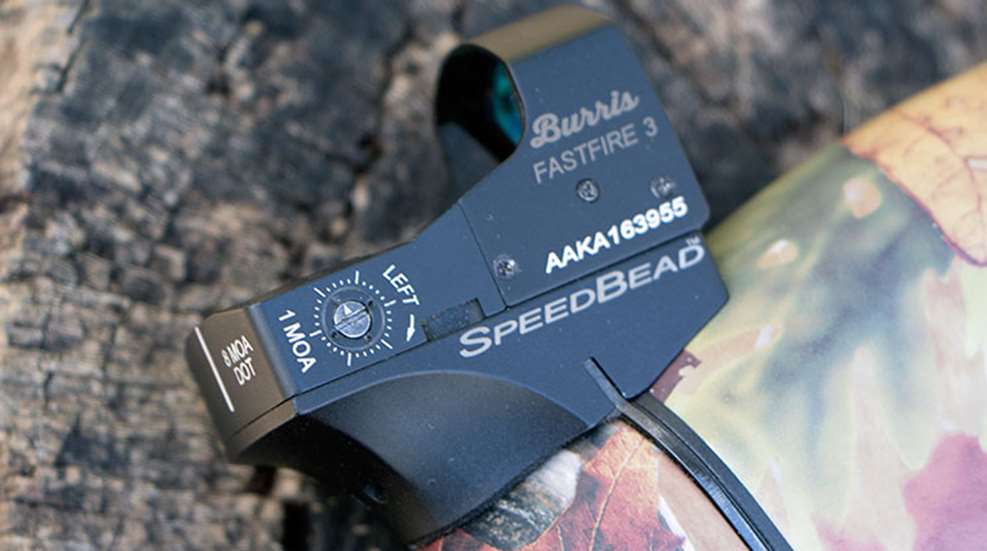 Red dot optics have left their mark on the hunting industry over the last decade, of that there's little doubt. Though some folks will never quite understand the point in throwing any kind of optic on a shotgun, more and more consumers are "seeing the light," in a way. Typically, throwing a red dot on your shotgun requires the addition of a rail. That doesn't have to be the case, though. For some time now, Burris Optics has offered its SpeedBead system, which has found a home with turkey hunters and a few wingshooters (yes, wingshooters) alike. Here are five things you need to know.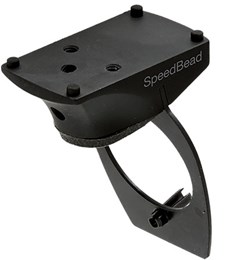 1. It's not a red dot on its own—it's part of a system.
The SpeedBead is designed to operate hand in hand with red dot optics, and because of that folks have a habit of assuming it is a red dot. It's not. It's actually a mounting system—I've embedded an image of the SpeedBead itself here. Burris typically pairs the SpeedBead with its latest FastFire red dot, hence the consumer confusion. What makes the SpeedBead unique is that it's unlike any other shotgun optic/sight system. Rather than drilling and tapping your shotgun for an optic or having a rail installed, you can opt for the SpeedBead. It mounts between the stock and receiver of your scattergun with just two screws. The process is simple, and reversible. Throw a red dot on it and you're good to go. Don't want the red dot on there anymore? Take the SpeedBead mount out and you're good to go, no permanent alterations required.
2. It's all about versatility.
Because the SpeedBead is easy to work with, it offers a whole new level of flexibility when it comes to your shotgun. Your favorite trap or waterfowl gun can be the same firearm that goes turkey hunting—without you having to sacrifice using an optic. Rig up your SpeedBead, throw a FastFire on it and you're good to go. When duck season comes back, take the SpeedBead off (or keep using it—it was designed with moving targets in mind, after all).
3. It works.
Like I said, the SpeedBead was originally developed with moving, aerial targets in mind. And it really does work. The low mounting system means your line of sight falls just above the vented rib—and it stays there. That's the important bit. If you're a master of the scattergun, this may not matter to you. But if you're a shooter that has a hard time maintaining the same cheek weld, you're in for a treat. No matter how that shotgun comes to your cheek, the red dot be aligned—which should help you put your shot where it needs to go, even if your own sight picture is a bit off.
4. It's only compatible with certain shotgun models.
This much is true—you're not going to be able to apply the SpeedBead to just any old scattergun. Fortunately, the models that it's compatible with happen to be some of the most popular shotguns in industry history. You've heard of the Benelli Super Black Eagle II, Remington 870 and Remington 1100 before, I take it? I've identified the entire list below:
• Benelli Super Black Eagle II 12 Gauge
• Benelli M2, Montefeltro, and Ultra Light
• Beretta Xtrema/2, 391, 291 Light, and Urika/2 12 Ga.
• Remington 870 12 Gauge
• Remington 1100 and 1187
• Beretta A400 Xplor
• Beretta 391 20 Ga.
5. It's affordable.
Though a SpeedBead mount ships with an MSRP of $95, and the full SpeedBead/FastFire system lists close to $300, I've seen them both listed for less than that at dealers. Do you due diligence and it'll be well worth the investment.