by
posted on March 14, 2013
Support NRA American Hunter
DONATE
Waterfowl seasons as a whole have shut down by late February and early March, save one: snow goose conservation season. With the opportunity to unplug your shotgun, break out the electronic calls and dream about the possibilities of no bag limits, conservation season can make for exciting stuff when things go right.
Gallery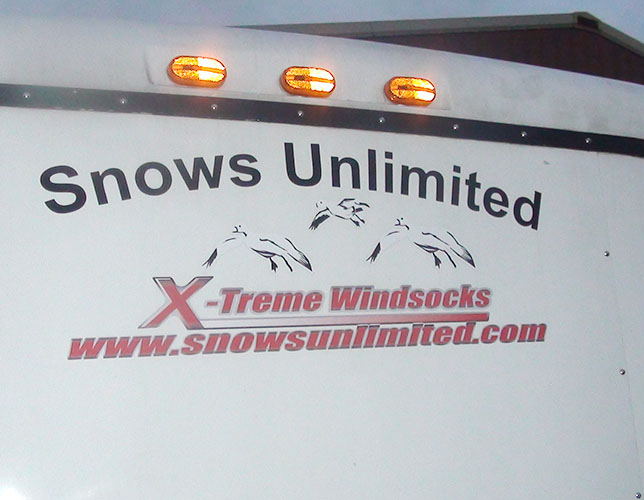 The Guides
I ventured out to Illinois with my father and a handful of family friends, and we ultimately settled on a guide service known as Snows Unlimited. The company's operation is centered out of Jonesboro, Ill., which is in the far southern region of the state—we could have made either Missouri or Kentucky in less than an hour's ride. In business since 2002, Snows Unlimited provides professionally guided trips and offers two lodging options, if you're so inclined.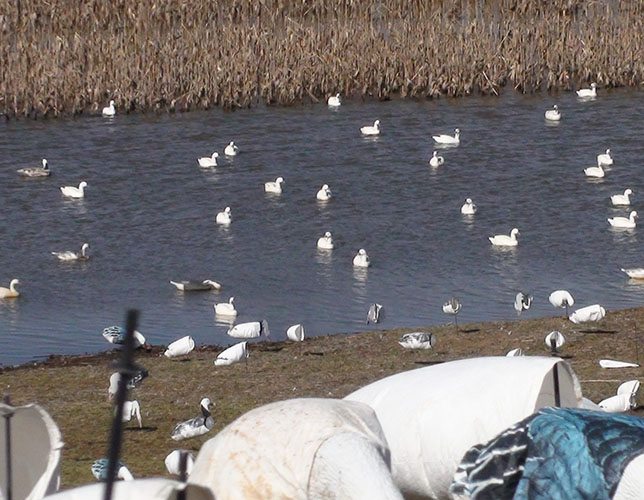 Location, Location, Location
The pits offered by our guide service were set up on a variety of dry wheat and cornfields in and around Jonesboro, Ill. Five refuges and two major rivers surround the Jonesboro region, making it a hotbed for snow goose activity during the spring season. Some of the fields sported water, as seen above, while others remained dry. I'm not kidding about the major rivers, either—one of the locations we hunted from was just a handful of miles from the Mississippi River in one direction, and the Ohio River in another.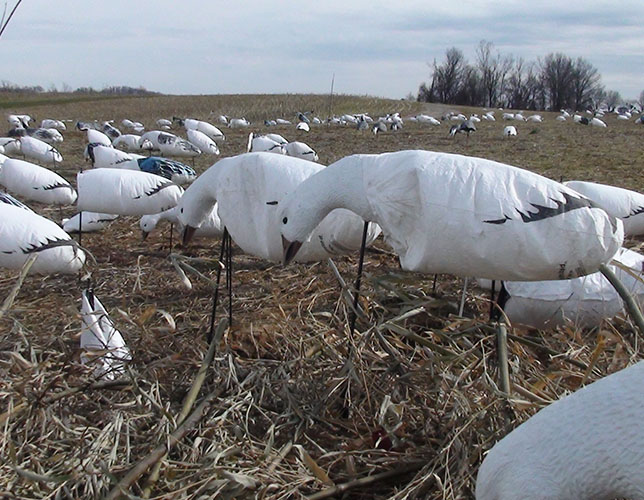 Custom Decoys
Snows Unlimited utilizes its own custom, in-house decoys in the field. The "Crossbreed" decoys move in the wind without having to be manipulated by hand. They're a combination of a realistic looking plastic head and a free-moving body with detailing that's done by hand. The company sells both its snow goose and blue goose models by the dozen.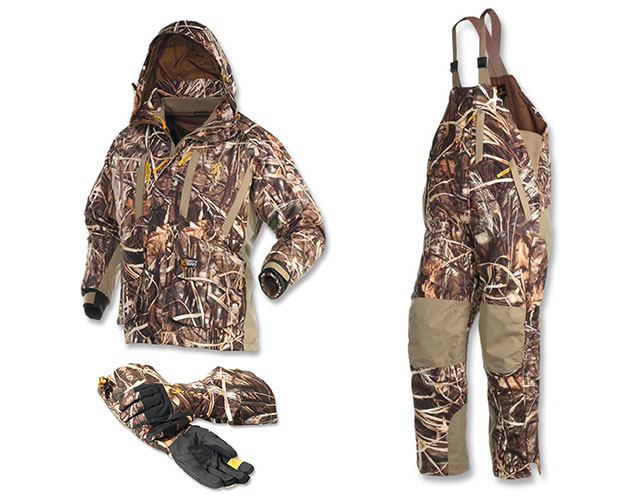 Gearing Up
As late February weather is a bit of a crapshoot, I wanted to be ready for anything in the field—which was the right way to go, because it wound up being a very cold, very wet week to be in southern Illinois. With that in mind, I hit the field equipped with some of the latest releases from Browning's Dirty Bird waterfowl line: the Dirty Bird 4-In-1 Parka, Dirty Bird Insulated Bib and Dirty Bird Insulated Decoy Gloves. The Pre-Vent technology of the bibs and parka create a waterproof, breathable fabric shell that kept me as warm and dry as I needed to be. The line's available in both Realtree Max-4 (pictured here) and Mossy Oak's new Shadow Grass Blades pattern.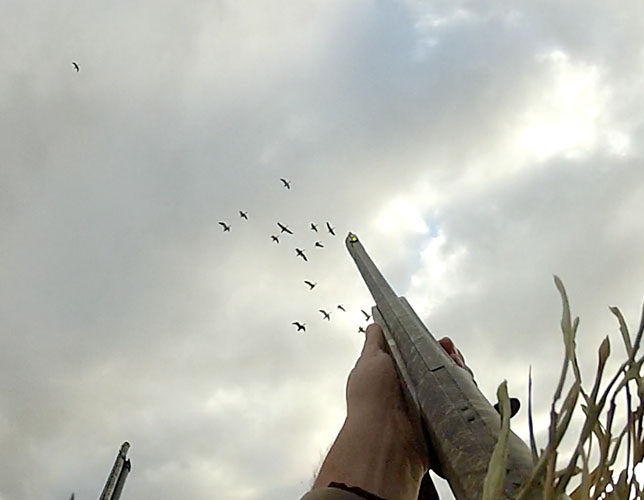 Birds in the Sky
All told, we dealt with some very uncooperative weather during our week in the field—that's just how it goes sometimes. That said, we didn't do bad on the second day of our trip. A few groups like the one pictured above came in, and we ultimately managed to bag 17 birds on the day. I screen captured the image from a GoPro camera that I occasionally donned over the course of the week. The gun, by the way, is a Mossberg 935 with a HiViz front sight.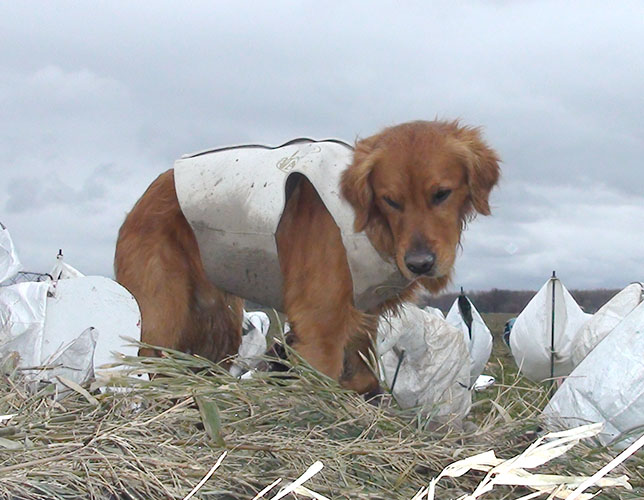 Family Gundog
My family doesn't go anywhere—let alone on a hunting trip—without our gundog, Tank. A 3-year-old Golden Retriever, Tank's now hunted in Delaware, Maryland, Illinois, South Dakota, Missouri and Canada. He put on quite the show for our guides—who hadn't had much exposure to a golden in the field—while we were in Illinois. He sported a GoPro himself, and I'm hoping to have some "Retriever Cam" footage in the future.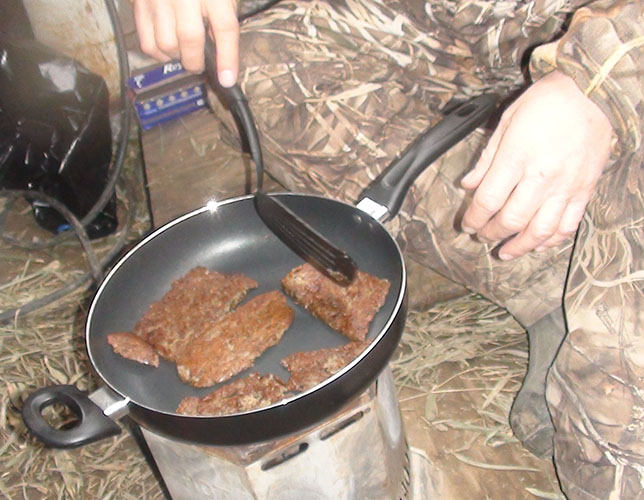 An Unnecessary Breakfast Shot
Part of what makes waterfowling so enjoyable is that you've got more freedom than you do when you're sitting in a tree or holed up in a box blind. It's a group affair, so if things get slow you've got people to talk to. And when things get really slow, you can cook. We showed up in Illinois just as the Weather Channel's "Winter Storm Q" left town, and were still there when "Winter Storm Rocky" hit. Thanks to the storms, we didn't see much action—though we were pelted with hail for a while. In our spare time, we introduced our guides to a regional delicacy that they hadn't heard of before: scrapple.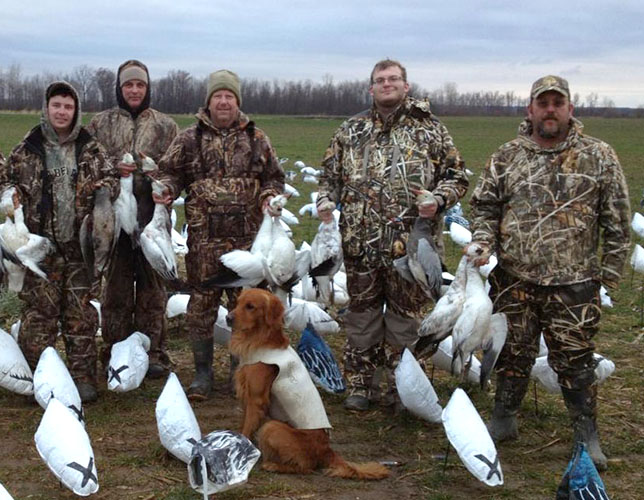 Birds in Hand
We hunted five days, and the weather made things difficult in the latter half of the week. Our second day, though, did reap a respectable number of awards. We harvested 17 geese, some of which are pictured here with our group at a pit the guides called "Delta," thanks to its unique location between the Mississippi and Ohio Rivers.