Support NRA American Hunter
DONATE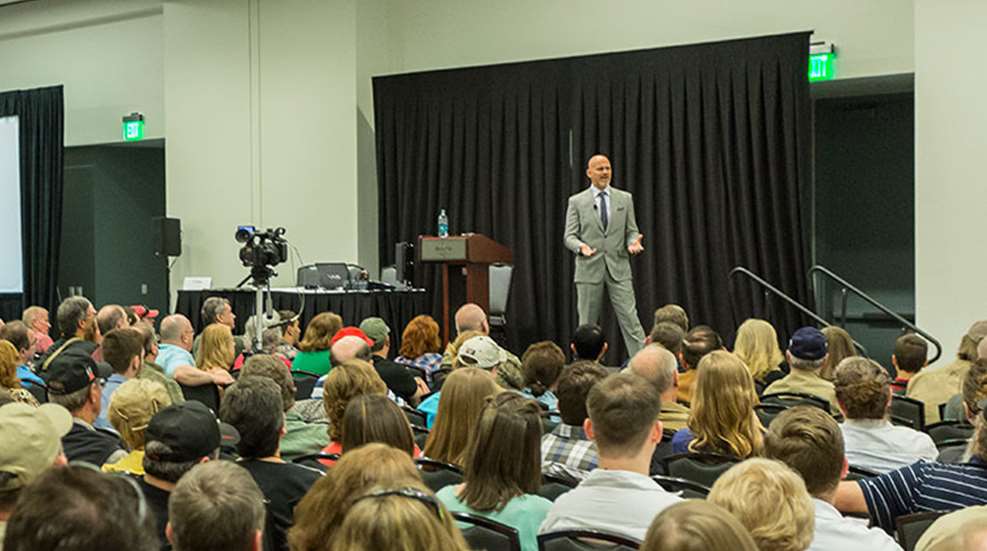 By now you know Louisville, Ky., is the place to be this weekend to fondle thousands of guns, peruse piles of hunting gear and celebrate your Second Amendment rights at the NRA Annual Meetings and Exhibits. But it's also a great place to get expert advice on a host of subjects from training bird dogs to carrying concealed. With dozens of seminars, workshops and special presentations scheduled from 8 a.m. Friday to 2 p.m. Sunday, you'll leave the Kentucky Exposition Center a more knowledgeable hunter, home defender, gun historian and shooter than when you arrived. Your buddies at camp and the range may start calling you an expert. 
But with so many opportunities and so little time, how do you decide which seminars to attend? We'll make it easy: Here are three you can't afford to miss. The presenters for each are also American Hunter contributors, so you know they know their stuff. Be prepared to take notes.
Hunting and Conservation: A Worldwide Partnership
Friday, 2 p.m.; Room B102(C)
If there's anyone qualified to talk about hunting the world, and how hunting benefits the world's wildlife, it's Craig Boddington. The retired Marine colonel has written books and articles about hunting everywhere from Argentina to Zimbabwe. In this special presentation, brought to you by American Hunter, Boddington will speak of his experiences around the globe not only as a hunter but as a dedicated conservationist. He'll cover how hunting and conservation work together in North and South America, Europe, the South Pacific, Asia and Africa. You'll learn exactly how hunting helps game animals thrive, and why it's the best tool the world's growing population has to effectively manage wildlife. In addition, you'll learn more about the NRA Hunters' Leadership Forum and how it is working to preserve the future of our sport.
Survival Mindset: Are You Prepared?
Friday, 11:30 a.m.; Saturday, 11 a.m.; B103(C)
Personal danger can lurk around any given corner, as retired Delta Force Sergeant Major Kyle Lamb knows. As a member of an elite military group, Lamb participated in numerous operations including the Battle of Mogadishu, portrayed in the movie "Black Hawk Down," and during his five combat tours to Iraq. He will draw on his experience to discuss the proper mindset and training needed to deal with a dangerous threat. While much of Lamb's material will focus on protection against two-legged predators, he's also a well-traveled hunter, and his advice on survival mindset and decision-making will apply to hunters who find themselves facing danger of any kind in the field.
The Spirit of John Garand
Sunday, 11:30 a.m.; Room B102(C)
We sit just down the hall from American Rifleman Editor in Chief Mark A. Keefe IV, and on any given day hear him pontificating aloud about the merits of John C. Garand's semi-automatic M1 rifle. Keefe will join noted military firearm historian Marty Morgan for this seminar to discuss the success of the M1 on the battlefield, as well as its popularity among civilian firearms enthusiasts that lives on today. The Garand changed shooters' thinking about semi-auto rifles; it can be argued its inventor's legacy helped pave the way for the growing trend of AR-style rifles among hunters. If you haven't met the Garand yet—here's your chance. If you already know the rifle, you'll like it even more after Keefe and Morgan are done.