Support NRA American Hunter
DONATE
Shed antler hunting has become a popular sport across the winter ranges of the West, affording people a chance to spend time outdoors when days are short and cabin fever long. If you want to get in on the action yourself, you'll need to be quick on your feet and strategic in your approach. If you're not, all the brown gold will be gone before you even get your pan in the creek. Here are some tips that'll help you find pay dirt.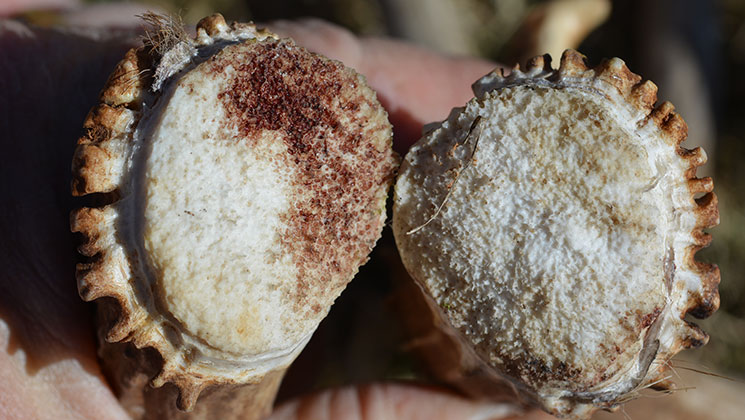 1. Hunt Early
Timing is everything in today's high-speed public land shed hunting scene—antlers get picked up within a few days of hitting the ground. Valentine's Day usually heralds the first early muley sheds hitting the ground, and March seems to be the magic time for elk antlers to detach en-mass. Of course, both can and do drop from December through April, but the majority will begin mid-February and be bareheaded before the end of March.
2. Follow the Snowline for Elk Sheds
Most bull elk follow the snow line as it recedes into the high country, grazing on fresh grassy shoots that emerge in the snowline's wake. They hang in bachelor groups, utilizing their spare time to beat up unsuspecting trees. They rub frequently until their antlers drop, leaving telltale beaten and broken trees as beacons. Find the freshest rubs, tracks and sign, and then search the area systematically.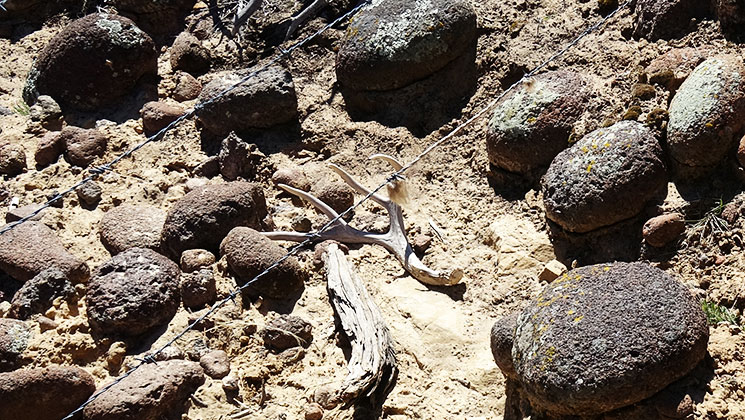 3. Check Fences, Ditches and Obstacles
Antlers detach rapidly once the process starts, and the first jarring they get means a quick trip to the dirt. That might occur the first time the buck or bull rubs on a tree after the bone gets loose, but it also might be the first time the animal jumps a ditch, ducks under a fence or tries to rip hay from a stack with his antler. Spend extra time hunting fence lines, ditch crossing, and similar spots where an animal might knock or jar an antler free.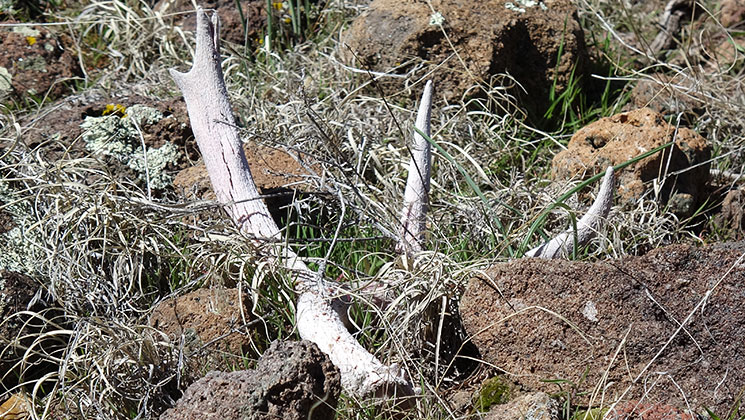 4. Search Bedding Areas
A high percentage of antlers are shed in bedding areas. Look for fresh and historical bedding sign, and spend time dissecting the area. In my neck of the woods, muleys typically bed on pinion- and juniper-covered benches and plateaus. Elk prefer to bed in brushy areas mixed with ponderosa, scrub oak and PJ (pinion/juniper), where they can find shelter from the afternoon sun.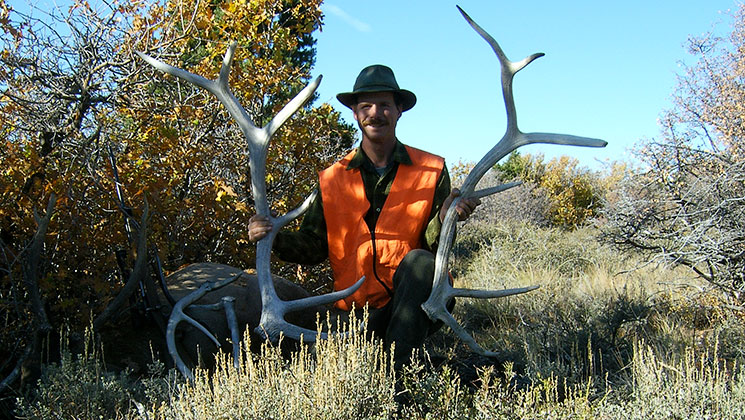 5. Search Travel Corridors
I found the first half of my best-ever set of elk sheds during an early low-country October elk hunt. I had just harvested a bull on a tiny hillside bench, and as I walked up on my meat, I found four elk sheds. One was half of a 350-class set. I later returned to search for the match. Sitting my horse on a vantage point, I studied the area, trying to determine the elk's movements and patterns during shedding time. A small saddle looked like a perfect cross-ridge travel corridor, so I rode my horse along the route I figured the elk would have traveled. Sure enough, there lay the match to my big shed, propped haphazardly against an oak bush. Figure out likely travel routes in your shed-hunting area, and work them—they'll pay off.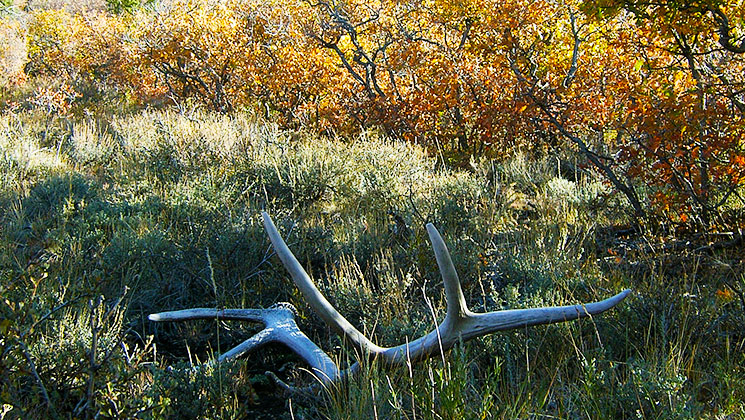 6. Hunt Food Sources
The last element of a buck or bull's springtime pattern is food. Grid any agricultural fields that deer have been hanging in (be sure you obtain permission from the landowner first). Hunt brushy draws and browse filled creek bottoms thoroughly. If you have access to haystacks on private land, a trip around the stack and short excursions down the spider-web trails leading in and out can pay dividends. South-facing grassy slopes and tiny brush-surrounded meadows and draws are good places to look for big bone—bulls love to bed in a shady north-facing patch of timber, and then pop over the ridge to feed on a south-facing meadow or draw.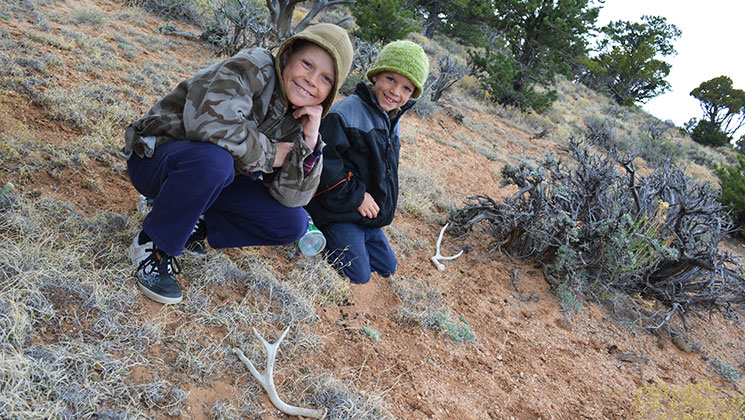 7. Take a Kid Shed Hunting
Shed hunting is a high-energy endeavor. What better way to find sheds than taking a handful of high-energy kids to help you grid an area? Kids love a good treasure hunt, so load up with water and snacks, spend the day in good shed country, and come out light on food and heavy on antlers.
8. Train a Dog
Just about the only thing better at finding sheds than an energetic kid is an energetic dog. Shed antlers do have an odor, and dogs are usually good at sniffing out things that smell. There are even breeders that raise dogs specifically bred for shed hunting. Use treats, a couple sheds and weekend afternoons to teach your dog to love antlers. Come shed season, it'll pay off.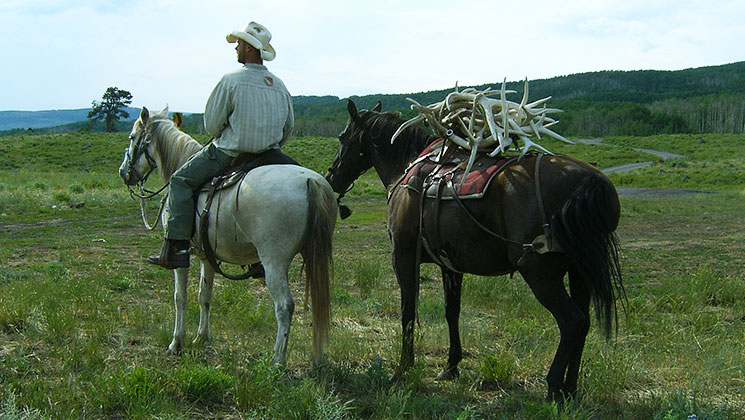 9. Hunt Horseback
If you have access to horses, use them to hunt sheds. They offer two advantages over hunting on foot: first, they save you a lot of effort, rendering you capable of hunting longer and harder. Second, they offer a higher—and better—point of vantage. You can further, and you don't have to watch where you're putting your feet, leaving your eyes free to search for bone.
10. Find a Matched Set
The icing on a shed-hunter's cake is finding a matched set. There are no hard and fast rules to how an animal drops his antlers, but there are some tendencies. Big, old animals are more likely to drop their antlers in close proximity, sometimes even atop each other. If you find a big shed, spend the time it takes to cover every inch in about a 400-yard radius. Hunt the close stuff first, then further out. Chances are, if someone hasn't beaten you to the match, you'll find it.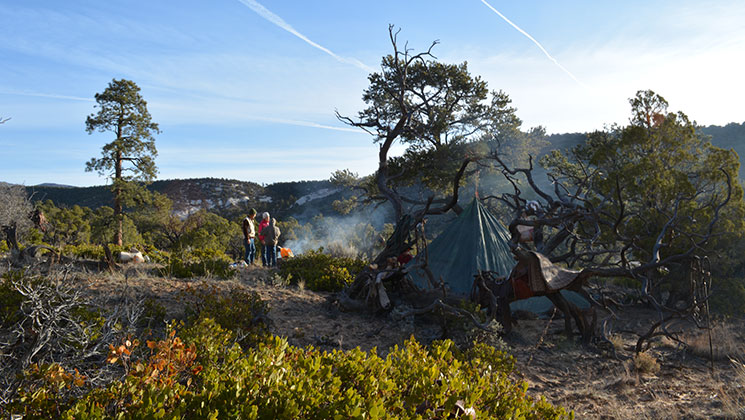 11. Know Your State's Regulations
Some states have regulations or restrictions to shed hunting. Do your homework and comply with requirements before and during your trip. There are good reasons for regulation, and you should demonstrate integrity in abiding by the rules.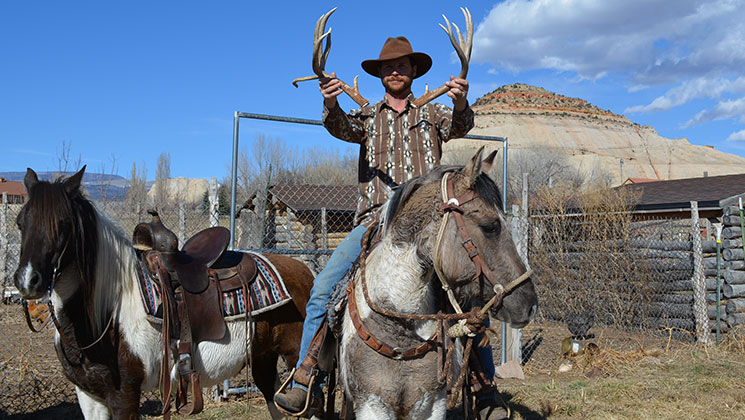 12. Be Respectful
I saved this subject for last intentionally. Deer and elk deserve space and respect while they drop their antlers, and here's why: Bucks and bulls are more vulnerable while shedding their antlers than at any other time in their lives. The chemical process that occurs in their body while the antlers detach leaves them weak for several days, and can be lethal if they experience undue stress. If you slip into their home turf to pick up early drops, be clandestine. Try not to be seen, and if you bump into an animal, back off immediately. Give deer and elk the space and respect they need to shed their antlers in peace.