There'd been months of preparation. Weeks of talking ourselves up, of scouring page after page of rules and regulations. Hours spent practicing with new calls. We'd packed a small army's worth of turkey decoys, from a bevy of manufacturers. We had every scenario covered, every contingency planned. And then Team American Hunter went to the 2017 World Turkey Hunting Championship in La Cygne, Kan., and never saw a gobbler.
Huh?
It was a collapse of legendary proportions. A rout. Though 11 other teams in the 48-team field didn't kill a bird, few had been skunked in the fashion we had. Our team—Executive Editor Adam Heggenstaller, Steve McGrath of SPG Outdoors and, yours truly, Digital Managing Editor Shawn Skipper—never actually laid eyes on a gobbler, be it on our private property or on public land. After all that tall talk, we couldn't so much as claim a single bird.
All told, though, we had a blast. The WTHC, which celebrated its fifth year in 2017, was originally organized by singer/songwriter Bobby Pinson, who's probably most closely associated with Toby Keith. The 50-team competition is held in eastern Kansas, about 60 miles south of Kansas City, and invites turkey nuts from across the nation to strut their stuff over the first two and half days of the state's spring season. Better yet, it raises tens of thousands of dollars for charitable organizations. One of the primary recipients this year was Wounded Warriors United, which routinely takes veterans on hunting and fishing adventures. A number of local charities are supported, too. You're welcome to join in the fun, too! There were more than a few teams in attendance that had won their way into the tournament through regional qualifiers. Just don't count on me being able to provide you any advice on how the win darn thing. I did just finish 44th.
That said, there is some advice I can impart: What not to do. Without further ado, here are 10 ways to lose the 2018 World Turkey Hunting Championship, should you choose to attend. Bear in mind, a few are a bit tongue-in-cheek. See you next year, folks.
10. Hunt with any of the guys from American Hunter.
Just don't do it. Except maybe Field Editor Jeff Johnston. He's cool.
9. Swing and miss during your supply run.
En route to our camp, we stopped for a week's worth of supplies. Figured we'd need some water, some healthy, on-the-go breakfast options that we could eat while we were in the turkey woods. What we checked out with wasn't quite that high-minded. Check out the photo embedded below. If you're scoring at home, that's one box of "Strawberry Waffle Snacks," five bottles of local barbecue sauce (don't ask), some Sharpies, a bag of jazz apples (which are decidedly out of place), a few sugary granola bars, a case of the finest adult beverage ever made and, yes, six boxes of Peeps. The marshmallow treat. The only remotely healthy option on the table was the apples—and when we left Kansas, all but one of them went in the trash. If you are what you eat, we weren't anything to write home about in Kansas.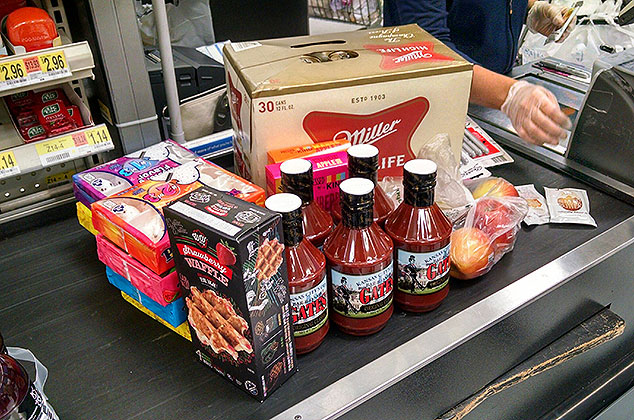 8. Refuse to redraw.
The land draw process at the WTHC is something of a double-blind process. It's entirely random—I have no complaints about it. There were even a few bonus properties that teams were free to "redraw" for, in the case that you got to your property and weren't impressed. We should have redrawn. We didn't. Our primary plot of land looked sweet—to an extent. See, we fell into that trap of liking it because it looked where the turkeys should be. It did not, however, look like a place that turkeys currently were, or where they recently had been. When you've only got two and a half days to hunt, you can't rely on "should be." Not so long as there's other potential land on the table. The teams that were in the upper third of the tournament? They drew land with better sign, and, in some cases, with as many as 11 gobblers. Yes, 11—their captain personally relayed this to me. There's a fair bit of luck involved, but we could have bettered our odds by playing the lottery a second time.
7. Splurge on the "Giant Hand-Breaded Pork Tenderloin Sandwich" at lunch on scouting day.
This mistake snuck up on us. When you walk into the local diner and the friendly waitress recommends the "Giant Hand-Breaded Pork Tenderloin Sandwich," how can you say no? Easy: You say "no thank you" and get a cheeseburger. That's what I did, at least. Adam and Steve, meanwhile, rolled the dice on the local flavor. They later regretted it. I mean, look at this thing! It's enormous, and 90 percent grease. We had scouting to do! Steve tapped out after a few bites, but Adam soldiered through the majority of his. The end result left him looking for the nearest commode and a mid-day nap.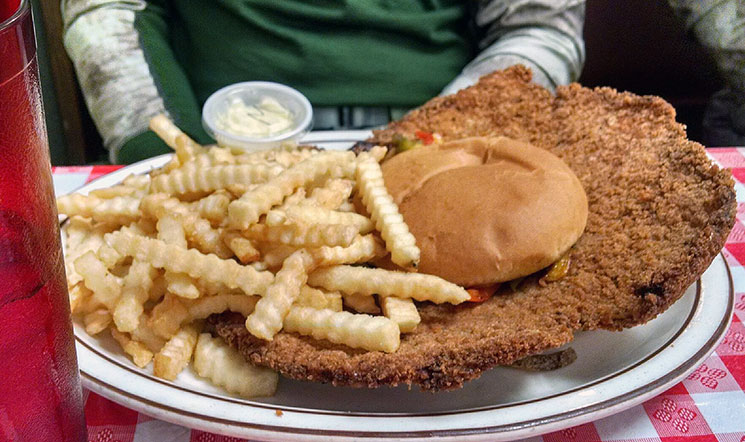 6. Completely ignore public land until it's too late.
The WTHC rules are simple—you can hunt the private land you draw, or you can hunt on any of Kansas' public land. Hunting on any other private land is grounds for immediate disqualification—it's to keep teams from hunting on the land of a local friend that's been feeding turkeys all winter, stuff like that. And so, on the second half of scouting day, most of the veteran teams scoured the area for public land hotspots. Us? We went back to our still-empty private land draw and listened for gobblers as the sun went down. We did hear a couple, but they were well off our allotted land. So later the next day, when we finally realized we were dealing with a gar hole of sorts, we had to start from the beginning in terms of public land. We'd confidently wolfed down some Peeps and counted on our land draw to deliver. That was a mistake. Honestly, it did actually work out for us, because Steve found a Walk-in-Access Hunting Area just a few miles up the road that apparently none of the other teams had heard about. We won't get that lucky next year. Point being, be prepared.
5. Have your land be on the wrong side of a honey hole.
This one hurt, and there wasn't anything we could do about it. In the middle of our first day of hunting, we ran into a ranch hand. He had nothing but bad news to offer us. He hadn't been seeing any turkeys on the property of late, and he knew for a fact that the neighboring rancher had been covering his own place in corn (which is legal in Kansas, mind you) in order to help his kids get their first birds this spring. Why wouldn't the turkeys be on the property that was baited like a zoo? They weren't coming our way off the roost.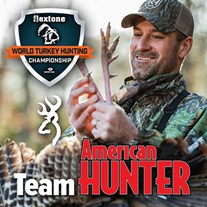 4. Step on a Copperhead snake.
We didn't actually do this, but we came darn close. As we were hiking out for lunch on day two, Steve jumped about three feet off the ground and unleashed a series of curses that might make HBO blush. Given that he's not often one to use such language, I was immediately concerned. The cause? He'd nearly tread right over a Copperhead, which was coiled up on the ground in the shade of a tree, perfectly camouflaged. Apparently, he's not into poisonous snakes. Can't imagine why. I'd wager he's still having nightmares about it. Close, close call.
3. Spend a day and a half chasing the same stubborn bird—in a four-bird tournament.
Folks, Adam Heggenstaller doesn't like to give up. He's a man that likes to see things through, and he proved to be an endless beacon of optimism amidst my pessimistic personality and Steve's cautious realism. These are admirable traits. But we will forever label doggedly chasing a lone gobbler around public land for a day and a half as "Pulling a Heggenstaller." To win the World Turkey Hunting Championship, you've got to kill four birds. To put in a respectable performance, you'll want to shoot two or three. So it made absolutely no sense for us to chase the same gobbler around for as long as we did. We just got caught up in the wake of Adam's sheer determination and grit. Should you ever find yourself at the WTHC, don't pull a Heggenstaller.
2. Fall asleep on the job.
I swear this only happened once, and within the last hour of competition. I was gassed, and we hadn't heard a turkey in hours. At least those Browning Hell's Canyon duds look great, though! Check out how well they blend in with my surroundings. You'd be hard-pressed to see me if I weren't the size of an ogre.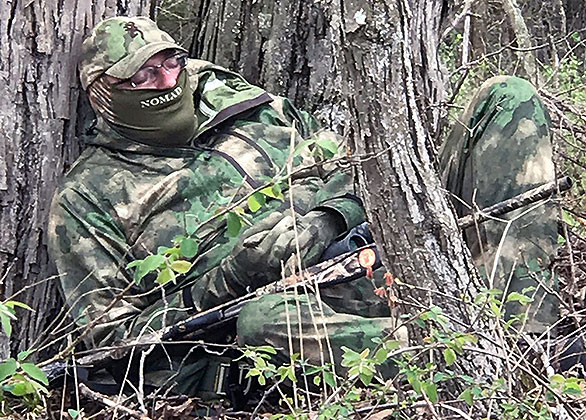 1. Rely on skill, and skill alone.
OK, so there were plenty of guys there that probably made "skill, and skill alone" work. We weren't those guys. Our best (and also only) caller was Adam, and "C-" was how he graded his own ability to bring birds to the gun. We were hopelessly outgunned. But I'd bet no one else had a teammate finish that pork tenderloin sandwich.