Support NRA American Hunter
DONATE
For Fall 2020,
TenPoint
has released the
Vapor RS470 Xero
. Shooting, as its name implies, to speeds of 470 FPS, 
the Vapor RS470 Xero is equipped with ACUslide Cocking and De-cocking System, and features the new Garmin Xero X1i Rangefinding Scope, which provides exact aiming at any distance for long-range accuracy.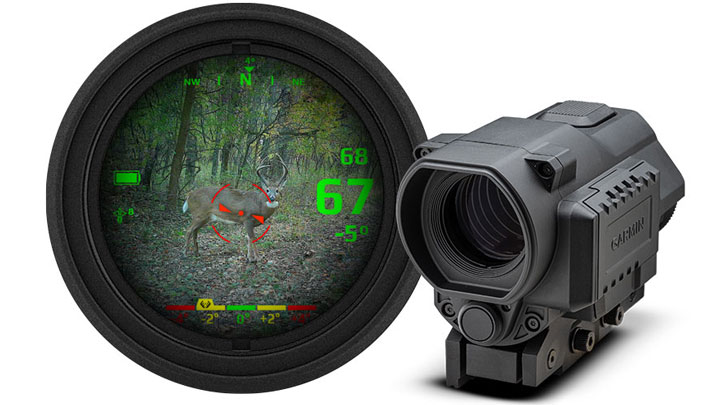 "Garmin is proud to pioneer the best crossbow aiming solution available to hunters today. Xero X1i Crossbow Scope isn't a step forward; it is a leap forward for crossbow hunters who demand the most out of their hunting systems," said Dan Bartel, TenPoint's vice president of global consumer sales. "For those wanting the ultimate in crossbow performance, we are excited to work with TenPoint, the leader in crossbow technology, to provide an integrated Vapor RS470 Xero package."



The Garmin Xero X1i Rangefinding Scope is designed to automatically range game up to 250-yards away, made easier with its 3X magnification, with the press of a single button. Precise illuminated aim points automatically adjust for both distance and brightness, allowing a view of the target unobstructed by reticle patterns. Unlike a multiple-aim-point system, the Garmin will automatically account for arrow drop at the ranged distance, and present a single, precise aiming point. 

Further still, its Laser Locate waypoint projection feature works with compatible Garmin devices to show exactly where the target was located when the shot or range was taken—helpful when tracking game after the shot. Finally, Steady Aim and Aim Point level displays how motion or canting may affect the shot's point of impact.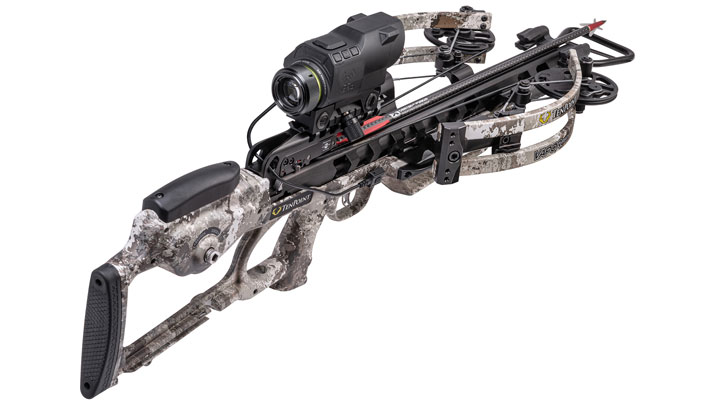 The aforementioned ACUslide Cocking and Decocking System is similarly designed for ease of use. To decock, simply backwind the handle, able to stop at *any* point without worry of damage or injury. The ACUslide accomplishes this with a heavy-duty, 1800-pound test nylon strap that requires no special maintenance, and is durable enough for thousands of shots. TenPoint's engineers specifically designed the ACUslide to eliminate the potential of losing control during the de-cocking process. While de-cocking with the ACUslide, the user can remove their hand from the handle at any point, with no other action required, and the handle will stop in place.

Further, the ACUslide boasts a Trigger Lock-Latch that locks the trigger box in place after each time the string is cocked, removing tension from the cocking strap and ensuring the trigger box is locked in the same position before each shot. This promises to translate to far tighter groups downrange. The ACUslide also works without the use of a locking pawl, allowing for totally silent cocking and de-cocking functionality.

When shooting, TenPoint's two-stage S1 trigger breaks at 3.5 pounds for easy shot-placement, while  RX-7 Cams, Sling-Shot technology and Dual-Flex limbs push your bolt to the previously mentioned 470 FPS. A reverse-draw assembly eliminates the front-heavy feeling common to crossbows, and increases the bow's power-stoke length by four inches. This final bit means the bow can be rigged for a lower draw weight, yielding less vibration, yet still send bolts at a higher speed than a forward-mounted crossbow of the same weight. 

TenPoint Vapor RS470 Xero is made from CNC-machined aircraft-grade aluminum anodized parts, which come double-dip fluid-imaged in Veil Alpine camouflage. Made in America, the  crossbow ships completely assembled and is offered in an extensive, Ready-To-Hunt package. Want to learn more? Check out tenpointcrossbows.com, and the Vapor RS470 Xero, for still more on this latest offering from TenPoint. MSRP: $3,999.99