by
posted on March 27, 2019
Support NRA American Hunter
DONATE
If you woke up one day and learned you could no longer hunt deer, would you shrug and hunt rabbits or turkeys instead; or spend more time knitting, watching football or turning wooden bowls on your lathe? In other words, just how important is deer hunting in your life? Can anything take its place in your heart and soul?
Those questions might be worth asking, given how important deer hunting has become in North America.
Consider: Deer-license sales are the top funding source for most U.S. wildlife agencies, and whitetails rival squirrels and rabbits as the first species most beginners hunt. For instance, a 2008 study by Responsive Management for the National Shooting Sports Foundation—"The Future of Hunting and the Shooting Sports: Research-Based Recruitment and Retention"—found 30 percent of first-time hunters pursued rabbits or hares, 22 percent hunted squirrels and 20 percent hunted whitetails. Furthermore, deer hunting has become even more popular with first-time hunters in the past decade.
What Else is There?
If deer hunting were not an option—whatever the reason—many deer hunters would struggle to replace it. In whitetail country (everything east of a line from the Montana/North Dakota border to the New Mexico/Texas border), deer are it for big-game hunting.
Still, the deer hunting "bug" that infects millions goes far deeper than the deer's big-game designation. At least that's what University of Wisconsin sociologists found during the late 1970s and 1980s when surveying deer hunters and goose hunters. When researchers Tom Heberlein and Bruce Laybourne asked hunters in those groups how much they would miss their specific activity, more than 60 percent of deer hunters said they would miss it as much or more than all other current interests. In contrast, only 21 percent of goose hunters felt that way.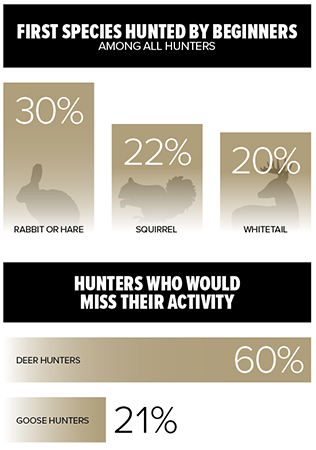 Could deer and goose hunters substitute something else for their activity? Nearly 60 percent of deer hunters said they had no or few substitutes for deer hunting, but only 15 percent of goose hunters felt that way. In fact, 50 percent of goose hunters said they had many substitutes for goose hunting, but only 12 percent of deer hunters shared that flexibility.
When asked what they would substitute for their activity, nearly 75 percent of goose hunters said they would hunt other game if they couldn't hunt geese. Less than half of deer hunters said they would switch to other game.
Why such differences, given that both activities get hunters outdoors, test their hunting and shooting skills, and provide take-home meat for their families? Heberlein and Laybourne said deer hunting's social fabric explains some of the distinctions. More than 65 percent of surveyed deer hunters said most or all of their friends hunt deer, whereas only 26 percent of goose hunters reported similar interest among friends. In fact, one-third of goose hunters said few friends hunt geese, while less than 8 percent of deer hunters gave that answer.
Why is Deer Hunting Unique?
A subsequent study by Heberlein and Robert Baumgartner in 1979 also found 90 percent of deer hunters and 63 percent of goose hunters rated "being with hunting companions" as important. They also found deeper family ties among deer hunters, with 46 percent of deer hunters and 30 percent of goose hunters reporting that parents taught them to hunt their chosen species. Further, 25 percent of deer hunters and 41 percent of goose hunters were introduced to their activities by friends or neighbors, not family.
Deer hunters in that study also reported long-term commitments to their activity, with 88 percent saying they hunted deer every fall. In contrast, less than half of goose hunters said they hunted geese annually.
Heberlein and Baumgartner suggested some hunters simply have no substitutes for their favorite activity. Their 1979 study found 23 percent of Wisconsin's deer hunters would miss it more than any other interest in their life, but only 5 percent of goose hunters felt that strongly. If that figure were the same today, roughly 133,400 of Wisconsin's 580,000 firearm deer hunters would lack a recreational substitute if they couldn't hunt deer.
Heberlein, who's now retired, wouldn't speculate on whether those figures might be even higher today, given deer hunting's raging popularity and year-round interest. Few deer hunters in the late 1970s were planting food plots and managing lands for mature bucks.
And none was monitoring woodlots 24/7 with trail cameras, often forsaking all other hunting activities for deer. Heberlein and his associates conducted their studies just as small-game hunting started its post-1975 decline. Simultaneously, deer hunting was just starting its nationwide boom.
Deep-Running Passions
Factors like those spring from deep passions, which are tough to assess. "The social sides of deer hunting are so powerful, and we're able to measure many of them," Heberlein said. "What we can't measure so easily is why some people would rather hunt deer than do anything else in their life. They don't care if they eat, sleep or get rained on, as long as they can hunt. There might be more deer hunters like that today than 40-50 years ago, but I can't make predictions on their numbers and impacts without up-to-date research."
Still, the implications seem clear: Deer currently dominate the American hunting scene, and a high percentage of deer hunters are laser-focused on their activity. As a result, much rides on deer and deer hunting's long-term health.