by
posted on September 26, 2018
Support NRA American Hunter
DONATE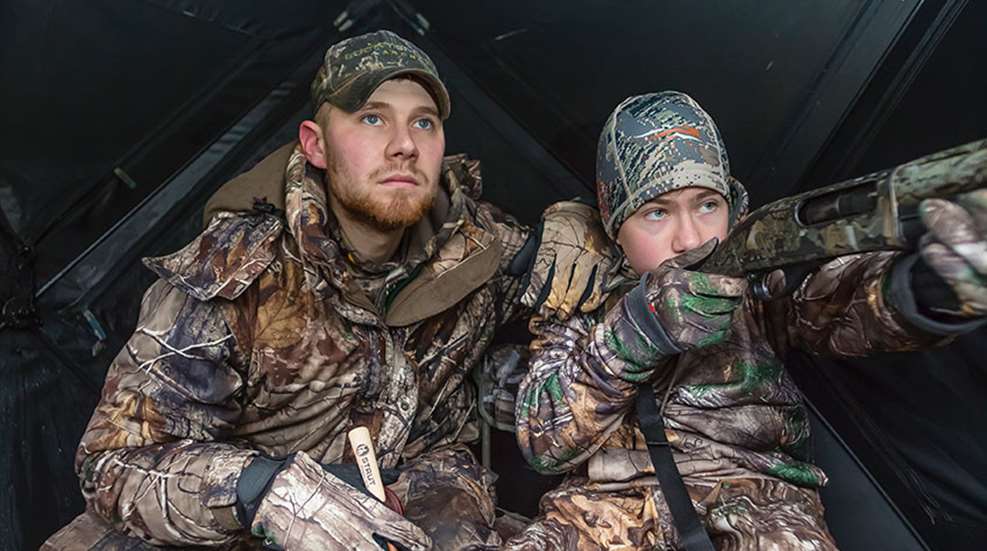 "I see him, Dad!" That my normally boisterous 6-year-old contained his excitement to a whisper both stunned me and filled me with pride. The boy was learning.
As I slowly shifted in my chair to look through "his" blind window, I caught movement above us on the hill. The bird that had been gobbling unseen for the last half-hour was now slinking toward us through the oaks and dogwoods.
"Are you gonna shoot him?" Jacob asked.
"You bet I am, bud," I whispered back. Seconds later my 12-gauge boomed, and then it was okay for both of us to do a little yelling.
A ground blind is the ideal setup for introducing kids (really, any newbie) to hunting. Blinds are comfortable and they mask movement, but they also require careful prep to get the most out of the experience. When you sit a youngster in a blind, it's important to consider the kid's position and perspective.
• Make sure he can see. It's a mistake to assume your 9-year-old nephew, who is a foot-and-a-half shorter than you, has the same view out the blind windows as you do—especially when sitting in a chair. His eyes may be blocked by the wall below the window, and he'll end up staring at the inside of the blind instead of watching the woods. Boooring, as my son would say.
After your young partner gets settled into his seat, pick a bush or rock in an area you expect to spot game and ask if he can see it. If he answers yes, make sure by asking him to describe something next to it. (Kids are so eager to please that they'll often tell you whatever they think you want to hear.) If he can't see the bush you picked out, adjust the blind window or his seat until the object comes into his view. Repeat the process for as many windows and watch areas as practical. He may not be able to see 360 degrees around the blind (who can?), but he should have a good view out the front and at least one side.
• Make sure she can sit quietly. Position your daughter's chair or stool toward the back of the blind, but make sure she can turn, lean and fidget without her legs and arms brushing a wall. Put a couple thick cushions on her chair. They'll make sitting more comfortable and raise her eye level for a better view.
• Make sure she—and you—can shoot. It can get crowded inside a blind, especially with all the extra food, clothing and gear required to keep a youngster in the woods for a few hours. Place this stuff so it's not in the way if either of you have to shift your feet for a shot. Likewise, make sure the position of your chair and body doesn't block her from raising her gun or bow for a shot, and vice-versa. Discuss safe shooting lanes, and rehearse shouldering the gun or drawing the bow so you can clear any obstacles before they become hang-ups.
• Make sure there's time. Getting a youngster to a blind and then situated inside will take longer than if you were hunting alone. Figure on leaving 30 minutes earlier than you would if going solo. Rushing isn't fun, and most kids won't mind the wake-up call or an early departure from their chores.