by
posted on September 10, 2018
Support NRA American Hunter
DONATE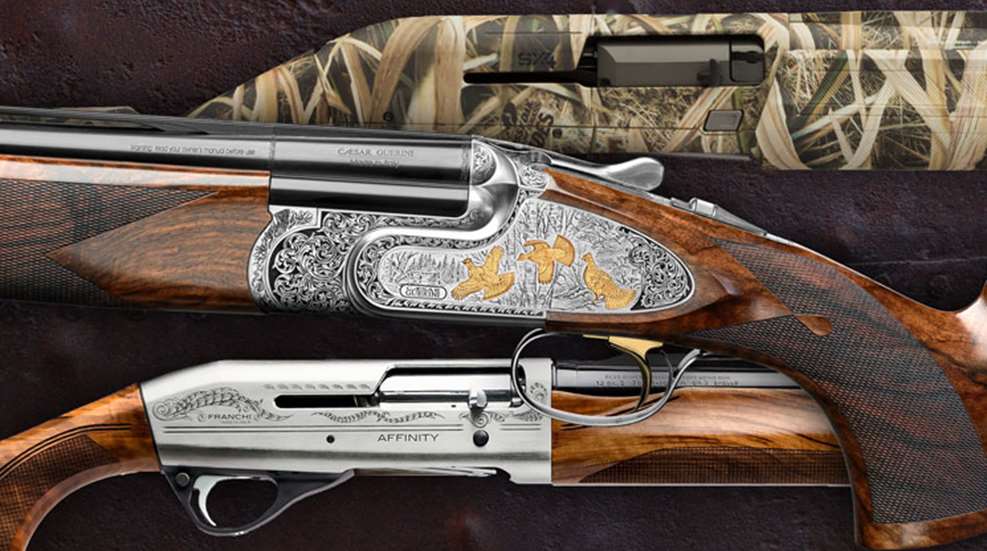 With fall upon us it's time to start making final preparations for the hunting season, and if your budget allows, now is the perfect time to upgrade your shotgun. Regardless of whether you're a die-hard duck hunter, a fan of bobwhites over pointing dogs or you simply spend your weekends at the sporting clays range, there's certain to be a gun here that will catch your eye. We've compiled a list of the top ten bang-for-your-buck shotguns right now; the over/unders, side-by-sides, pumps and semiautos that will make you want to clear some space in your gun safe.

1. Winchester SX4
What It Is: The latest version of Winchester's ever-improving gas-operated Super X shotguns.
Why We Love it: The SX4 utilizes more polymer parts than the SX3, but these new polymers are actually stronger and lighter than the aluminum alloy parts they replace on the previous model. Ergonomic upgrades include a trimmer, more rounded pistol grip and oversized controls for easier use with gloved hands. One thing that has not changed, however, is the superb Active Valve gas system that functions with a wide range of shells, reduces felt recoil and can be easily cleaned. Ducks, doves, quail or clays—the solidly-built SX4 is perfect for all of them. MSRP: $799.99; winchesterguns.com.

2. Fabarm ELOS D2
What It Is: An elegant Italian shotgun that's as well-balanced as a Maserati.
Why We Love It: Blending contemporary styling with classic firearm designs can sometimes result in disaster. The new Fabarm ELOS D2, however, is the perfect combination of contemporary and classic features. These Italian-made stack barrels come equipped with matte, hand-oiled, Turkish walnut stocks, lightweight Ergal 55 aluminum alloy receivers, and TRIBORE HP tapered bore with five INNER HP screw-in choke tubes. The top lever has a low-profile design and the nickel-plated receiver is adorned with a laser-engraved game scene. Aesthetics aside, the ELOS D2 is one of the best-handling field guns on the market, perfect for snap shots on upland birds, and the robust boxlock action is capable of withstanding heavy use. The gun is backed by a 5-year warranty and some of the best customer service in the industry. It's available in 12-, 20- and 28-gauge, and while it isn't exactly cheap, it's very affordably-priced given the level of quality. MSRP: $2,595; fabarmusa.com.

3. CZ-USA CZ 628 Field Select
What It Is: An affordable sub-gauge gun with a stock that must have been swiped from a more expensive model.
Why We Love It: The CZ 628 Field Select is perfect for those who have wanted to try a sub-gauge gun but didn't want to spend a lot of money. 28-gauge guns are growing in popularity because they break clays and drop birds like a 20-gauge with less recoil. If that sounds like something that might be of interest to you, then we suggest you take a look at this sleek pump-action that features a lightweight aluminum receiver, select-grade Turkish walnut stock and weighs-in at just 5.4 pounds. CZ-USA even throws in five choke tubes with this gun (skeet, improved cylinder, light modified, modified and full). With its 28-inch pipe this gun is light without being whippy through the swing, and it's perfect for clay games, upland birds and recoil-sensitive shooters. Your friends at the dove field will be jealous and they'll never imagine that a sub-gauge gun that looks this good can be so affordable. MSRP: $429; cz-usa.com.

4. Benelli Super Black Eagle 3 (SBE 3)
What It Is: The newest member of Benelli's class-leading inertia gun family.
Why We Love It: We've loved every SBE that came before it, for one thing The SBE 3 is more evolutionary than revolutionary; the time-tested Inertia-Driven system remains, and the overall design of the gun looks much the same as that of the previous model. Look more closely, and you'll see some significant upgrades, not the least of which is the Comb Tech insert in the stock that, along with the Progressive Comfort and Comfort Tech 3 stock, make this gun manageable with even the heaviest 3½-inch duck and goose loads. Ergonomics have been improved as well, and the newest SBE comes with an oversized bolt handle, safety, bolt release and an angled drop lever, so you can run this gun while wearing gloves. The new Easy-Loading System incorporates a beveled loading port and a two-piece carrier latch, and there are a number of options available, including new Gore Optifade Timber camo finish and left-handed models. For a full review of the SBE 3, click here. MSRP: $1,899; benelliusa.com.

5. F.A.I.R Iside
What It Is: The classic Italian side-by-side from one of Italy's biggest name in firearms.
Why We Love It: It's a proper Italian-made side-by-side with a reasonable starting price that offers the freedom to upgrade as your tastes and budget allow. Built by the Rizzini Family in Italy's Val Trompia Valley, these guns feature chopper-lump barrels. For those of you unfamiliar with double gun terminology, that means that the left and right barrels and "lumps" are formed from single pieces of steel that are then fused together, a durable design that regulates well and is usually found only on guns costing much more. In its most basic form the Iside comes with good wood, an unembellished receiver and extractors in your choice of 12-, 16-, 20-, 28-gauge or .410-bore. Optional upgrades include receiver finishes and engraving, improved walnut and auto-ejectors. These guns come with interchangeable choke tubes and your choice of double triggers or either an inertia or mechanical single trigger. Starting price is just $1,600, a great value for an Italian double. MSRP: starting at $1,600; italianfirearmsgroup.com.

6. Browning Citori CX/CXS/CXT
What They Are: Basic boxlock over/under for field or sporting use with a long history of quality.
Why We Love Them: The CX line of shotguns offer proven Citori reliability without added embellishments (or additional cost) and these guns work equally well in the field or at the clay range. The CXS version has a flat rib and a 50/50 point of impact, which is ideally suited for sporting clays and hunting. The CX has a 60/40 POI and is versatile enough for most any hunting or clay target application, and the CXT has a 70/30 POI that's geared more for trap shooting, but also makes a great bird gun. And just because these guns aren't as fancy as some of Browning's 725 shotguns, they're still good-looking firearms that you'll be proud to own with excellent grade II walnut, polished blued receivers and barrels, and quality checkering. Plus, they're built on the proven Citori action. If you're looking for an affordable competition and field over/under this is a great buy. The CX and CXT are available in 12-gauge, and the CXS is offered in both 12- and 20-gauge. MSRP: $2,139.99; browning.com.

7. Beretta A300 Outlander Sporting
What It Is: A superb competition semi-auto that works well in the field and doesn't cost a fortune.
Why We Love It: The whole A300 Outlander line is a good bargain, but for anyone who wants a competition semi-auto, the A300 Outlander Sporting is an excellent choice. Like other A300s, the Sporting utilizes a gas operation system with a self-cleaning piston, and it breaks down quickly and easily. Some of the key features that set this gun apart are its 30-inch barrel, upgraded walnut stock, extended Mobilchoke Victory choke tubes (3 included) and its wide rib and mid bead. It's a good-looking gun to be sure, but this sem-auto has a reputation for cycling even light target loads reliably while dampening recoil, so you won't feel like you've been abused after a round of 100 clays. MSRP: $1,100; beretta.com.

8. TriStar Viper G2 Bronze
What It Is: A gas-operated semi-auto that's reliable and looks like it costs twice what it does.
Why We Love It: These head-turning shotguns come with a premium select Turkish walnut stock, a Cerakote bronze receiver and are available in 12-, 20-, 28-gauge and .410-bore. They utilize a gas system that works with a range of loads. The top rib has a matte finish, the front sight is fiber optic and there's a simple-to-operate magazine cut-off that allows you to quickly unload the magazine without unloading the magazine tube by elevating the lifter. Additionally, these guns are backed by a 5-year warranty. MSRP: $759; tristararms.com.

9. Caesar Guerini Invictus VII Sporting
What It Is: The Ferrari of Italian over/unders.
Why We Love It: Have you seen it? Invictus VII Sporting shotguns are outfitted with stunning high-grade, hand-oiled walnut stocks and hand-polished coin finish receivers adorned with intricate engraving, and are protected by Guerini's Invisalloy coating. The fit and finish on these guns is spectacular, but as good as it looks, perhaps the most impressive components of the Caesar Guerini are on the inside. These guns come with the ingenious Invictus Cam system that eliminates hinge pins and trunions which can wear and break. The Invictus Cam modular system can move the relationship of the barrels to the action, so even if you shoot a lot (and by lot we mean hundreds of thousands of rounds a year), you can expect the Invictus to outlast even high-end competing models. Is this a gun for every shooter and hunter? No, but if you do decide to buy an Invictus, you may as well take your children along to select one they like—they'll be shooting your gun someday. MSRP: $9,350; gueriniusa.com.

10. Franchi Affinity 150thAnniversary
What It Is: A sesquicentennial special edition that's perfect for ducks, birds and clay targets.
Why We Love It: To be clear, we love all Affinity shotguns because they all offer Inertia-Driven reliability, a wide range of model options and intelligent design features. The 150thAnniversary Affinity just happens to be the best-looking member of the family, with its AA-grade satin walnut stock and engraved silver receiver. Dressed in basic black, the standard Affinity has a starting price of $789, so if you don't care about the anniversary edition's bells and whistles, you can purchase a less ornate (but no less reliable version) of this superb semi-auto. MSRP: $1,469; franchiusa.com.