by
posted on March 21, 2018
Support NRA American Hunter
DONATE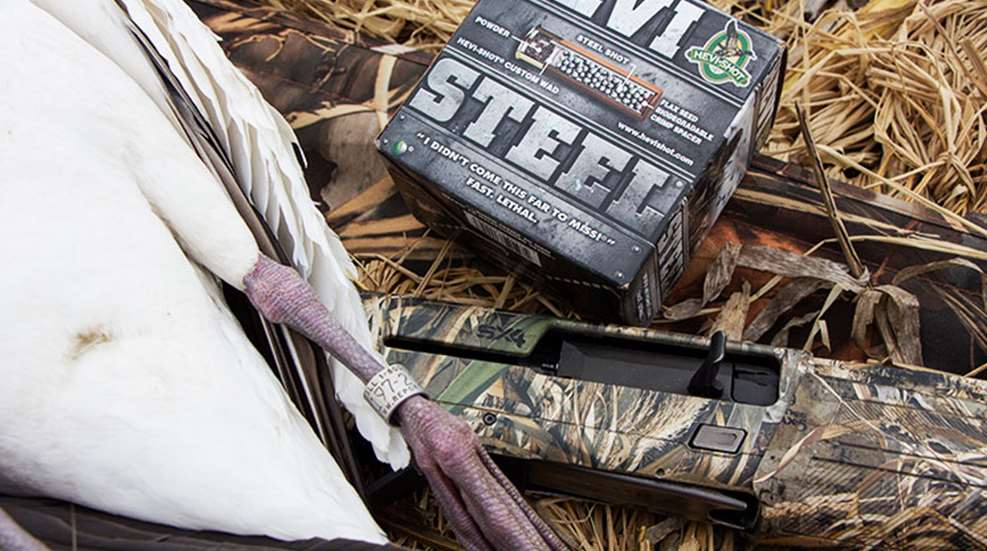 Editor's Note: Contributor Shawn Skipper recently had the chance to put the following gear to use on snow goose hunt in South Dakota. You can catch up on that story here.
Here are a few things to put into a snow goose rig to make it worthy of protecting the tundra.

Winchester SX4 & Benelli Super Black Eagle 3
For starters, truth be told, there's not really a bad choice: whatever gun you're comfortable using on a waterfowl hunt will suffice. Being comfortable is key. That said, let me impart some advice: Go with a 12-gauge semi-auto. If you catch the reverse migration right, the shooting can be fast and furious. Further, no matter how fast you can run a pump gun, you'll do your shoulder a favor if you opt for a semi-auto. For the 2017 conservation season, Managing Editor Jon Draper and I tricked out a Winchester SX4 and Benelli Super Black Eagle 3 to excellent results.
During the spring conservation season, light geese are treated akin to nuisance animals. There's rarely a limit (though some states do impose 20- to 25-bird limits per man, which is still generous). State fish-and-game departments typically throw out the rule book on things like keeping a plug in your gun, immediately allowing you an extra shell or two. Take advantage of this and install a magazine extension tube; many are readily available for most of the industry's popular shotguns. With extension tubes installed, Draper and I were each able to load more than a half-dozen additional rounds to back up the shells in the chambers of our Winchester and Benelli. MSRP: Winchester SX4; $799.99-$1,069.99; Benelli Super Black Eagle 3; $ $1,899-$1,999 | winchesterguns.com; benelliusa.com.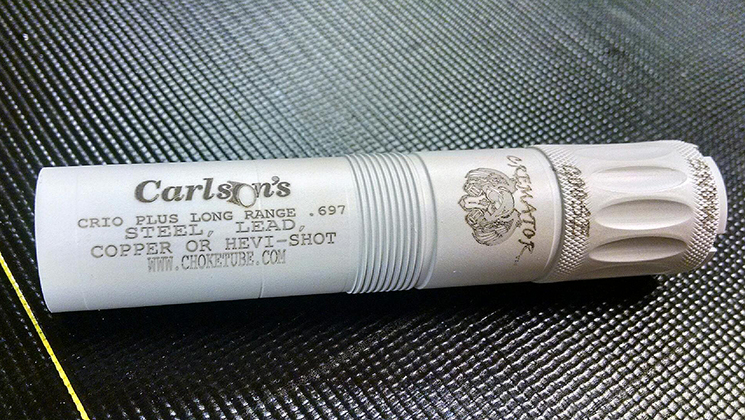 Carlson's Cremator Snow Goose Choke
Carlson's offers a wide selection of choke tubes. It can equip nearly every popular shotgun on the market; in fact it offers a special edition "Snow Goose" variant of its popular Cremator choke. All of its chokes are made of corrosion-resistant 17-4 PH stainless steel, which is key because many factory chokes are made of lesser steel. MSRP: $59.95; choketube.com.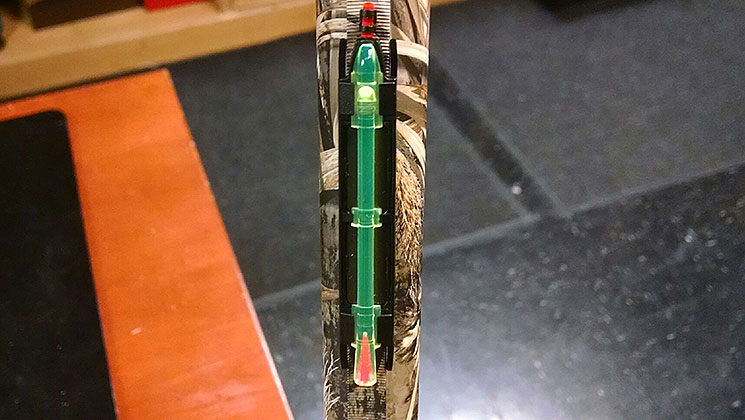 HiViz Shooting Systems
Though it's true you don't necessarily need so much as the bead at the end of your barrel to hit a duck or goose—so long as your hand-eye coordination is on point—some folks still like the added presence of a sight, and I'm one of them. If you're looking for an aftermarket option for your snow goose rig, I recommend looking into HiViz Shooting Systems, which offers a variety of magnetic front sights that easily fit on a shotgun's rib. The company also offers more permanent options, such as bead replacements. The fiber-optic sights are easy to see and identify upon bringing your gun to shoulder. HiViz products are not one-size-fits-all, but the company does have sights to fit most popular scatterguns. For more information, go to hivizsights.com.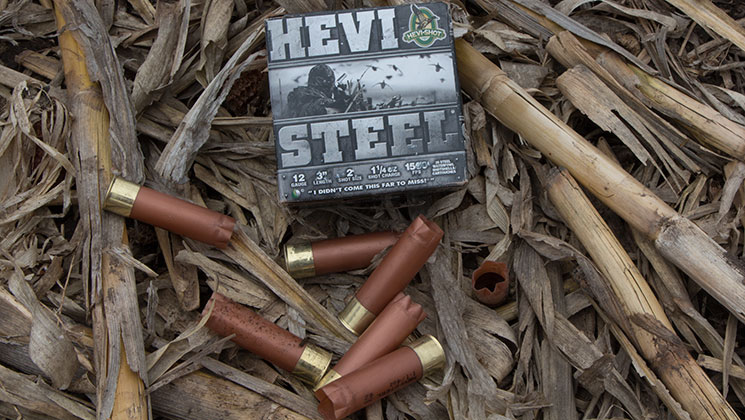 Hevi-Shot Hevi-Steel Ammo
What you feed your snow goose slayer is, much like the gun itself, entirely up to you. There are a few things worth keeping in mind, though. Like I said, shots on snows—especially shots on mature birds—can come at extended range. If you hunt in the prairie states, you could deal with heavy winds. Settling on a faster, heavier payload is your safest bet. In South Dakota we were equipped with a variety of offerings from Hevi-Shot's Hevi-Steel line. I packed a case each of No. 1, No. 2 and BB, allowing me to change my load to fit conditions upon arrival. Versatility is good, because it's impossible to say what conditions—and what combinations of birds—you'll see. For more information, go to hevishot.com.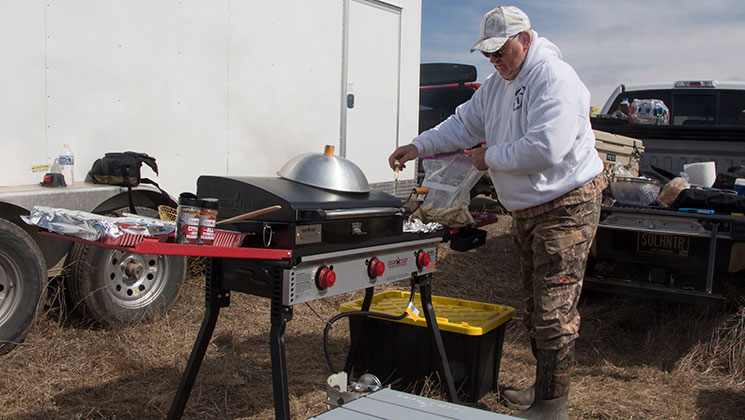 Roadside Eats: Camp Chef Cooking Gear
Hunting the conservation season on the prairie usually means staying afield all day—the birds are constantly moving, and you want to be there when they decide it's time to feed. Thing is, hunters need to feed, too. Sure, that could mean packing a bunch of snacks and maybe a staple like a peanut butter-and-jelly sandwich, but nothing helps you weather a cold day like a hot meal. And hot meals we had, thanks to some fine cooking gear from Camp Chef.
The heart of our impromptu kitchen was the Pro 90X three-burner stove. Featuring three, 30,000-BTU burners and the capability to support multiple accessories at once, it offers maximum utility. A three-sided windscreen and matchless ignition make it easy to operate no matter where you might find yourself, such as on the side of the road on a breezy South Dakota day. Folding side shelves, built-in leg levelers and folding legs bring it all home and make it a near necessity for your hunting camp.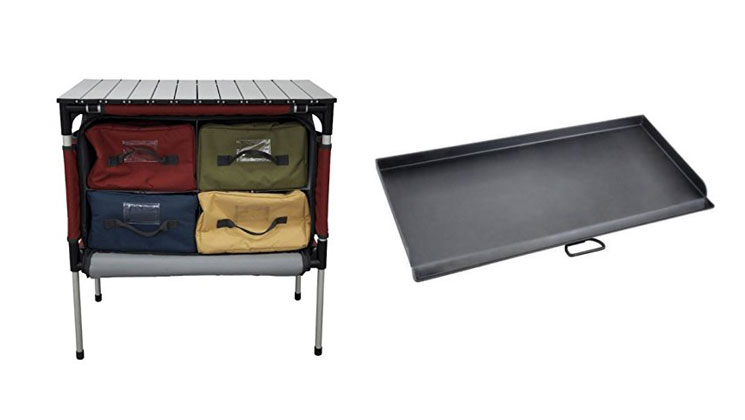 Among the accessories that play well with the Pro 90X stove are Camp Chef's griddles and BBQ boxes. The Professional Flat Top Griddle is designed restaurant-style and sports high sides and a grease drain. Heat diffuser plates evenly distribute heat and minimize hotspots. The Stainless Steel BBQ Grill Box uses a patented heat-diffuser plate and cast-iron grill grates to help turn the stove into a barbecue grill. A temperature gauge is built into the lid.
We kept our utensils, seasonings and other small items organized using the Sherpa Camp Table and Organizer. The unit features a tabletop that can be removed and stowed, as well as four miniature organizers that fit securely within the cubed body. It's very mobile and makes the most of its 12x11x6.5-inch space. The telescoping aluminum legs and tabletop are easy to remove, and can be stowed in the side pouch. What you're left with is a compact, soft-sided rectangular cube that's tough, but made of lightweight parts—your load is only as heavy as you choose to make it. Whether you're leaving for a weeklong camp or just planning a day at the lake, it's an ideal partner. For more information, go to campchef.com.