by
posted on May 20, 2016
Support NRA American Hunter
DONATE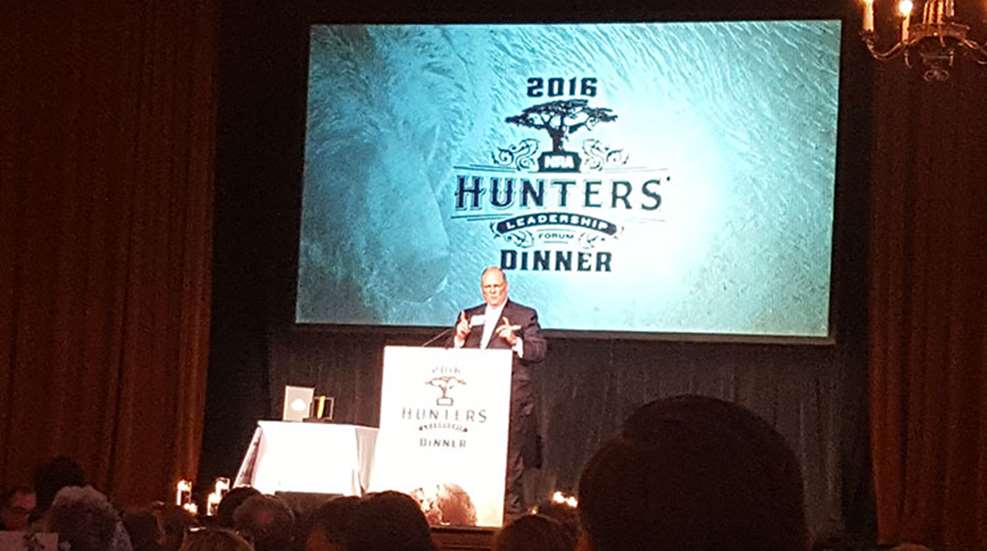 With millions of hunters in its ranks, it's only fitting that the NRA got a jump-start on the 145th NRA Annual Meetings and Exhibits in Louisville, Ky., May 20-22, last night with the 2016 NRA Hunters' Leadership Forum (HLF) Dinner at the city's Henry Clay Grand Ballroom. The annual event brings together influential leaders with a passion for hunting and protecting its future at a time when anti-hunting extremists are ramping up their culture war on hunting and its vital role in wildlife conservation. From NRA executives to national and international businessmen—including Donald Trump Jr., whose father, presumptive Republican presidential nominee Donald Trump, is addressing the NRA-ILA Leadership Forum here this afternoon—the evening reaffirmed the NRA's investment in the fight and set the course for the coming months. Step one: going on offense by launching the HLF Network--a corps of industry companies and like-minded organizations partnering to share HLF Web and social media content showcasing the facts on hunting and conservation issues across their social media platforms.
"Whether on social media or through legislative bodies, the HLF Network is mobilizing and leveraging communication through industry partners—delivering the same content to everyone from the three million followers at Cabela's to those of the Dallas and Houston Safari Clubs." In explaining how going after animal rights extremists is a long overdue effort, Porter included a quote from Winston Churchill: "A lie gets halfway around the world before the truth ever gets its britches on."
Porter updated the energized crowd on the HLF's growth over the past year, including touting an expanding NRA HLF President's Founders Club now in excess of 70 members. In addition to using the HLF Network to fight the antis' exploitation of social media to obfuscate the facts, Porter explained three more phases to come this year, including: focus groups and surveys on animal rights and the anti-hunting agenda to protect hunting in the legislative arena and court of public opinion; one-day workshops to train HLF members to be advocates for hunting and for freedom in their daily lives; and the development of scholarly source materials as the NRA prepared in the 1980s and 1990s on the gun issue--materials that later were used by the late Supreme Court Justice Antonin Scalia in writing the majority opinion in the critical Heller case in Washington, D.C.
"Now more than 99 million people believe like we do: that we have the right to keep a gun in the home for personal protection. And we will do the same in the animal rights, wildlife conservation and animal law arena," Porter said.
NRA EVP Wayne LaPierre reminded the crowd how in the 1970s and 80s anti-gunners were doing everything possible to demonize gun owners. "We're going to change the dialogue with new branding initiatives as we've done for the gun issue," he said, referring to campaigns such as "NRA—Freedom's safest place." He emphasized, "We've got to stop hunters from being ashamed, and we have to infuse this generation of young people under 35. They're leaning our way. We just have to connect with them. Come September a thematic platform will be the foundation of everything we do as we fight and win this battle to save hunting. I promise we will not let you down."
Event highlights included the presentation of the 2016 NRA Distinguished Leadership Award to Mark Damian Duda, executive director of Response Management, the internationally noted public-opinion-and-attitude survey research firm specializing in natural resources and outdoor recreation issues. Duda was recognized as a leader in defending and fostering hunting and wildlife conservation, conducting more than 1,000 studies across the nation and writing four books en route to helping natural resource and outdoor recreation agencies and organizations better understand and work with their constituents, customers and the public.
"To receive this award from the most well known hunter advocacy group is humbling," said Duda, citing a quote from U.S. President Theodore Roosevelt: "In a civilized and cultivated. country, wild animals only continue to exist at all when preserved by sportsmen." A hundred years later the quote holds true with Duda's modern-day examples including the $800 million hunters spend in licenses each year, the $824 million they spent on excise taxes alone in 2015, the $1.6 billion hunters pay annually toward wildlife management, and the fact hunters voluntarily donate four times more than non-hunters to wildlife conservation.
History shows what happens when lawful hunting comes under attack: Wildlife suffers as funding for habitat restoration and wildlife management disappears. With hunting being challenged as never before, NRA President Alan Cors explained, "We have a collective responsibility to reverse that. If we let it go to the next generation it will be too late." That message resonated loud and clear as the event was topped off with a check presentation to The NRA Foundation from the Shikar Safari Club for a whopping $1 million. Now that's some icing on the evening's cake.