by
posted on April 28, 2016
Support NRA American Hunter
DONATE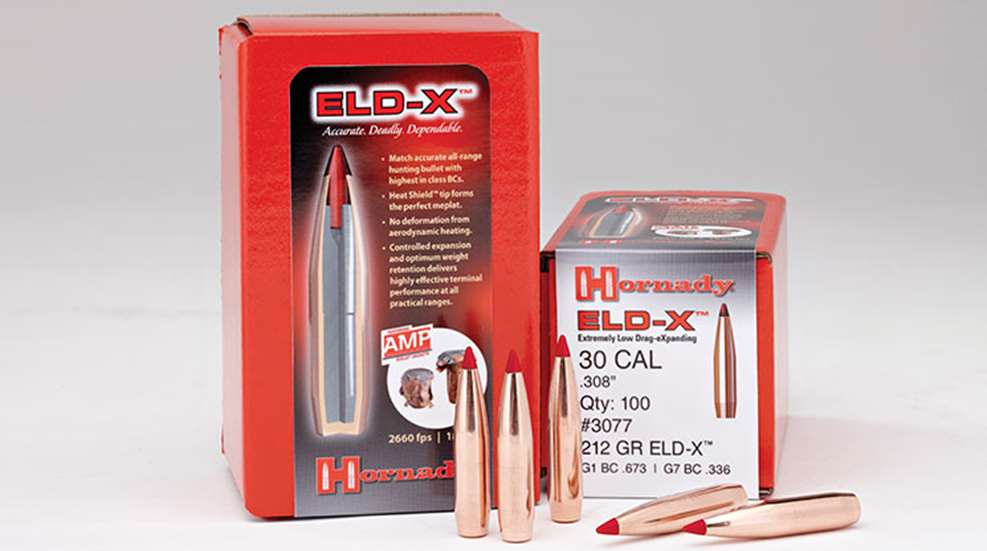 Hornady is known for its uber-accurate match bullets and tough hunting projectiles, but now it has produced one do-it-all bullet in the new ELD-X (Extremely Low Drag-Expanding) bullet. Whether or not the average shooter will appreciate the R&D that went into the making of this bullet is questionable, but that didn't stop Hornady's chief ballistician, Dave Emery, from using every resource to push the bullet envelope. You see, Emery had long suspected bullets—especially those with polymer-tips—of doing something strange while in flight because their pre-shot mathematics didn't always equal their actual results. So, using Doppler radar, he proved that most polymer tips actually melt or severely deform while in flight, thereby changing the bullet's BC—and therefore its path—after it's fired.
Inside 400 yards, it's no big deal, but for those long-range hunters and competitors who demand the ultimate in accuracy, it's a huge find. Hornady's resulting ELD-X bullet is a target/hunting hybrid bullet that's at home both at Camp Perry and at deer camp. Here are five things you need to know.
1. Meet the Heat Shield Tip
The polymer tip does what polymer tips have always done—increase BC, initiate expansion and look good on retail shelves—but this one is made of a special heat-resistant resin that resists melting and deforming when fired at high velocity. Therefore, the bullet's BC stays consistent through its flight path. That equals enhanced consistency (accuracy) and more downrange velocity and energy.
2. We're talking about the highest hunting bullet BC.
Using an optimized boattail design, a streamlined secant ogive, and the aforementioned non-deforming pointed polymer meplat (tip), the ELD-X forms incredible ballistic coefficients of up to .675 in some calibers. That equals flatter shooting and more game-killing energy downrange.
3. ELD-X features heavy-for-caliber bullets.
By using longer, heavy-for-caliber bullets, the ELD-X increases its BC while providing added energy on game.
4. You'll get match-grade accuracy and controlled expansion.
All of the ELD-X's aerodynamic traits combined with an Interlock lead core and its AMP jacket that's supremely uniform make for one of the world's most accurate hunting bullets.
5. ELD-X offers excellent terminal performance at all ranges.
Inside 400 yards when velocity is high, the ELD-X's tip is designed to peel back rapidly, revealing its solid shank that drives through the target. At longer ranges, however, the polymer tip initiates expansion and creates a more typical mushroom shape.