We asked a few hunting guides what they wish hunters would bring along that's not on their lists.
Hank Anstine
Get into shape before an out-West big-game hunt.
Hank Anstine has been guiding since 1996 in southwest Colorado for elk, mule deer, black bear and Merriam's turkeys. He guides in New Mexico for elk. He and his wife, Mia, own Wolf Creek Outfitters, and part of their booking routine with clients is to send a recommended gear list along with the contract. Anstine said, "I would say it is about 50/50 as to who reads the recommended gear list. That is why I try to discuss it with them over the phone."
Upon arrival, Anstine likes to visit the range with his client. "If at all possible, I like to take clients to sight in their firearms and bows before we hunt. I like to do this with new clients especially to see their safe handling, operation and what kind of gun, or bow, they use. It is an icebreaker and it develops trust with the client. I know right away what they are capable of. With long-term clients, I already know the quality and type of firearms they are bringing. Most will want to sight in before they shoot anyhow," said Anstine.
Actually, he thinks mechanical failures are easy to deal with, and is prepared for more difficult scenarios. "I always recommend my clients be in shape before the hunt. The worst situation I've had to deal with was a client who was not in shape and had a heart attack while hunting," recalled Anstine.
In the past, Anstine has covered the delay or loss of a client's firearm with lending his own gun. That all changed when Colorado's legislature convened recently. "This year will be different in Colorado because of new gun laws. I will not be able to have a back-up gun for a client unless they first pay for a background check," said Anstine.
Il Ling New
Practice with your firearm or bow before you bring it on a hunt.
Il Ling New, now an acclaimed firearms instructor at Gunsite Academy, actually grew up guiding and working for her father's outfitting service in her teens and 20s—for deer, elk, pig and waterfowl in California, Oregon, Idaho and Texas. She also has apprenticed as a guide in the Northern Territories of Australia, of which she says, "They hunt like we do–the guide is pretty much on his (her) own, that is, no 'tracker' or 'skinner' team."
"Most people read the lists, but interestingly, few bring everything they need." New says she keeps a "living list," a work in progress for her role as either a hunter or a guide.
"I wish everyone could bring good firearms safety habits, and of course, practiced marksmanship skills," she added. "Most people 'think' they're just fine, but too many simply don't know what they don't know." About those guns, New said it's imperative to check the sighting or patterning of those guns after they've been jostled during travel, and to check to make sure all screws are on tight.
Her worst moments, while either guiding or being guided, occurred in this order: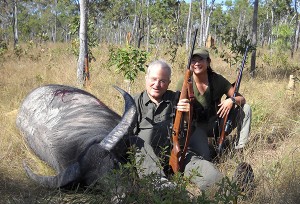 1. Having to put together a client's gun out of the box.2. Having to use her own snakebite extractor on her guide.3. Having to use her own first aid kit on a guide who stabbed himself with a knife. New said not to expect your guide to carry everything you need, including a first aid kit.4. Having to air evacuate a client out of the Australian bush because of a medical problem, and then, having to accompany the man back to the U.S. "This really drives home the importance of having communication, and emergency evacuation insurance coverage," said New.
New reminds hunters to bring at least one change of clothing and/or an entire hunting outfit and as much of your hunting gear as you can in your carry-on luggage. She said it's relatively easy to borrow firearm and ammunition, but not as easy to fit into a petite woman's hunting clothes.
Tom Walker
Check your attitude at the door.
You may have seen him on A&E's popular TV show American Hoggers. Tom Walker claims he has killed more hogs than any other American—ever. He runs Tom Walker's Outdoor Adventures, located in southern and central Florida and on more than 20,000 acres of hunting property. He began guiding at the age of 14, for cottontail rabbits and ducks in his home state of Michigan. Tom migrated south to Florida because he felt the state needed to have a professional archery-based outfitter, along with running a dog and rifle operation. Featured at the Outdoor Channel and The Sportsman Channel, Walker guides when he's not needed on a set somewhere.
"If someone brings the wrong attitude, nothing goes right," said Walker. In fact, he has asked a client or two to leave because of poor attitudes, and issues a full refund. "The most important thing is to have a good time in the wilderness. If you come wanting to kill something, you might go home disappointed."
Walker recommends packing extra gear, including your underwear, in your bow or gun case. "There's usually extra room in there." He also reminds his clients to bring coolers, and to pack them with gear for the trip out.
Dwaine Starr
Don't forget your sense of adventure.
As owner of Starr & Bodill African Safaris and a licensed professional hunter in the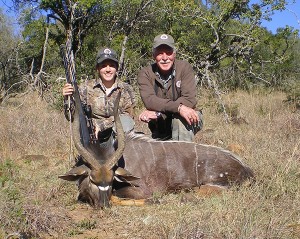 Eastern Cape of South Africa for 9 years, Dwaine Starr accompanies his clients to hunt more than 40 species of plains game.
"We supply each client with an in-depth information document, as well as South African Police gun applications and a detailed step-by-step process on how to take rifles into South Africa. If our clients follow those guidelines, they will not have the feeling of being 'lost' in the process," said Starr.
Unfortunately not every client reads the information. That fact stands out when a client shows up with summer clothes in June, July, or August, which are Africa's winter months.
Starr and staff try to get their clients on task and with all the paperwork, but "have had clients arrive on safari with shorts and without jackets in mid winter, and also have had clients improperly fill out or not bring the correct paperwork required to acquire gun permits for their hunting rifles in South Africa."
Like the other guides, he insists on seeing his clients sight in their firearms. "During the sighting-in process, we see many rifles that will not group well, this can be due to the scope, bases and rings not being 'lock-tighted' before departure. There is something about flying at 40,000 feet for long distances that wreaks havoc on scopes and rifles."
Starr said time sighting in the rifle also clues in the guides as to the competence of the hunter with that firearm. "Asking someone to shoot an animal that is 300 yards away when his or her skill level may be only used to shooting 100 yards is something we don't want to do. We also watch the client to see if they flinch when shooting and also if he or she is comfortable shooting off of shooting sticks."
Starr said that booking a hunt can often be intimidating. "The right outfitter can make or break your adventure. We recommend asking as many questions as possible before laying down your hard earned dollars. If an outfitter is not willing to answer any and all of your questions, then I recommend looking elsewhere. The key to a successful safari is all in the planning."
3 Things that Describe the Perfect Client
• Il Ling New – Open-minded, respectful, optimistic
• Tom Walker – Optimistic, alert, excited
• Hank Anstine – Enthusiastic, Fit, Adventurous• Dwaine Starr –Practiced, practiced, practiced