by
posted on March 21, 2017
Support NRA American Hunter
DONATE
Obsession Hemorrhage DE
Obsession Bows is an up-and-comer based out of Georgia. Although I haven't hunted with its bows yet, I came away from the 2017 Archery Trade Association show very impressed with them. I especially like the Hemorrhage DE for its 7-inch brace height and 30-inch axle-to-axle (a2a) length because I'm more of a hunting bow guy rather than a speed freak. Still, the Hemorrhage is touted to produce 340 FPS. And it does it with style.
Frankly, the company's messaging says the bow is vibration free (that's impossible), and like most bows I'd bet a bill that it's not as fast as the company claims. But that doesn't mean the Hemorrhage isn't a sweet shooter that has very low recoil, minimal noise and is easy to shoot despite its compact frame. Obsession's machining prowess is evident in this bow, as well as its strive for innovative engineering with its smooth but aggressive DE cam, sickle-shaped cable guard and highly effective limb dampening technology that's sandwiched between its split limbs. I like the Kryptek camo finish option. And if you're worried about spending a bunch of cash on a relatively new company, rest assured it comes with a lifetime guarantee. All in all, the big players should be concerned because Obsession is making great high-end bows with performance on par with the best. MSRP: $999.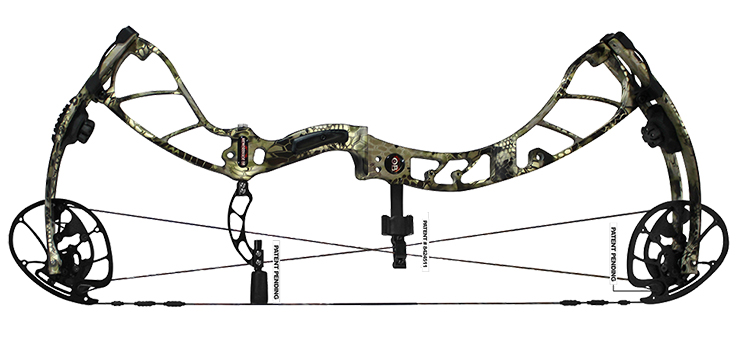 Elite Option 7
Elite has built a cult following for producing what some say are the best bows available. The Option 7 is a very compact bow that measures just over 32 inches a2a and weighs 4.3 pounds. It's tough to say why these bows are notoriously quiet and accurate, but I suspect it's due to their double laminated split limbs and a riser that is more rigid than most thanks to 3D "riser cage" that mitigates horizontal flexing. I like that the company acknowledges that people, indeed shooters, are different, and so it offers the Option 7 in various sizes (via simple, numbered cam mods) and options, and also lists matter-of-factly what you can expect from it with your draw weight. The Option 7's speed ranges from 300 to 342, even with its forgiving 7-inch brace height. Perhaps the neatest thing about Elite, however, is the company's commitment to your hunt. If your Elite goes down on a hunt for whatever reason, company staff will rush you a tuned bow to your specs ready to go. MSRP: $1,199.

Prime Centergy
G5 built its reputation as a precision CNC machining company for all sorts of parts, and a fine job it does. But its innovative Prime bows may be the most advanced on the market. I've been in several hunting camps recently where the biggest bow nerds there agreed that Prime bows—thanks mostly to its dual parallel cam system—are the most tunable, closest-to-perfect eccentric system on the market. That's because the double, dual cams almost entirely eliminate cam lean, and therefore nock travel during the powerstroke. To go along with this technology, its new Centergy models feature a button Berger that's more centered in the bow instead of lower on the riser like most bows—something that causes them to feel top heavy. Personally, I like the feeling of a bow with the center of balance on the grip, as is the Centergy's. Prime's website fairly objectively makes its case for why it thinks the Centergy is over 40 percent more stable in the hand and therefore easier to aim accurately. (The website is worth a look, because as G5's Matt Grace explains, the company attempts to address problems and find solutions rather than just reciting how wonderful its bows are.) But what I like most about the Centergy are the features that are non-gimmicky but rather help to make the bow shoot better such as: A no-nonsense grip that places the hand in direct contract with the riser; G5's use of a lighter yet higher strength aluminum—82x—that reduces horizontal riser flex and vibration; and likely the firmest back wall in the business. The Centergy has a mid-range 6.5-inch brace height, is 33.25 a2a and is billed to shoot 333 fps. It's available in First Light Fusion camo. Plus, the company vows to give the owner a new string every two years, so you can expect this bow to last you more than a few years. MSRP: $1,199.

PSE Evolve
Year in and year out, PSE's latest model often turns out to be my favorite because it is always among the fastest, quietest and most accurate, but I admit this is based on subjective opinion and feel. To me, PSE's new Evolve feels awesome, and that's thanks mainly to the Evolve cam that features 80 and 90 percent let-off. Extreme let-off bows are nothing new, and in fact, are sometimes difficult to shoot well due to the unwillingness of the cams to actually roll over when the string is released. (Think of lock-time for a bow.) But PSE solved this by perfectly timing the cam and creating a short valley so when you squeeze the release, the cams roll and the arrow goes bye-bye.. So hunters get the luxury of holding 10-percent of the total draw weight, so you can hold it all day, or at least until that buck finally turns broadside. The bow is ultra-light at 4.1 pounds, features a hand-on riser grip that promotes accuracy, but yet it is still smoking fast at a claimed 346 fps. In my hands the 31-inch Evolve is compact, accurate, and as quiet as the swish of a cat's tail at midnight. MSRP: $949.

Mathews Halon 32
Typically if a beginning bowhunter asks me what bow to buy, I tell them they can't go wrong with Mathews. That's because the Wisconsin archery giant typically has bows that have a great balance of speed, quietness, accuracy and shootability. It's likely that none are smoother to draw. That said, in the last several years most Mathews bows have been fairly big and boxy with their long parallel limbs and top-heavy feel. The Halon, however, uses stubby, past-parallel limbs and a mere 5-inch brace height (if chosen) to produce a bow that's not only easier to carry but different from its previous offerings in that it's designed more for speed—Mathews touts up to 350 fps. However, thanks to its innovative CrossCentric cam system that mitigates nock travel and the original Roller Guard system from Mathews, it remains inherently accurate and very smooth. Last year's 30-inch a2a Halon is now available in a 32-inch model—the Halon 32—for those who prefer a less acute string angle. At a mere 4.83 pounds, amazingly it's one of the heavier bows listed here, but then again, like rifles, heavier bows are generally easier to shoot well. I love the fact that Mathews now gives its customers the ability to choose their brace height—from 5, 6 or 7 inches. Plus, the bow remains extremely quiet thanks to Mathews' vibration reduction technology, which has influenced the entire industry. If you are choosing a new bow, shoot the Halon 32. Most likely you will love it. MSRP: $1,099.

Bear BR 33
Thirty years ago Bear Archery was the leading bow maker, and now it's back with bows that compete with the best. Its BR 33 model is for those who prefer a little bit longer bow so string angle isn't so acute; it's likely that longer bows are inherently steadier, much like a longer barrel on a rifle. I like this bow's balance of speed and forgivingness, and since I can't phrase it any better than Bear's website did, I'll just quote it: "330 fps of dual-cam authority, but with a brace height of 7" gives you a level of forgiveness normally reserved for Sunday church." Amen. That the BR only weighs 4.2 pounds considering its slightly longer frame and dual aluminum string stoppers is notable. I like that its dual cams are extremely adjustable. In sum, this bow has it all, and buying it will come down to how it feels in your hand when you pull it and shoot it. MSRP: $899.

Hoyt Pro Defiant
Hoyt traditionally produces bows that aren't the fastest but are normally among the quietest and most accurate. In fact, pro shooters using Hoyts racked up piles of wins in 2016 like most years. Its Pro Defiant is a fairly wild looking bow with its elaborately machined riser. And, at 4.2 pounds and 30 inches a2a, it's lighter than many past models. But like all Hoyts that traditionally have longer brace heights and rather conservative cams, this baby just seems to shoot where you aim every time. And even with its 7-inch brace height, the bow is touted to reach speeds of 325 fps, which is plenty fast. (A 6-inch brace height model is touted to sizzle at 350.) One thing Hoyt did with its new DFX cam found on the Pro Defiant was to alter its rotational path at full draw so that the string rolls off the top of the cam at its peak height (or lowest height for the bottom cam) so that the string angle is more similar to those found on longer bows. This allows the shooter to stand more comfortably erect without having to crane the head forward to anchor properly. And, having a bow that fits perfectly and is comfortable to shoot is a key to ultra-accurate shooting. In my opinion, the Pro Defiant is one of the best all-around bows of 2017. MSRP: $999.

Xpedition Xception
Xpedition is a new company that has put its focus on building quality bows from precision machined parts. Then it applies them with lots of hand fitting, testing and attention to detail in order to produce bows that feel semi-custom. I like its philosophy in not trying to win the speed war, but rather the quality and consistency battle which translates to accuracy and customer satisfaction. Its Xception bow has the look of a Bowtech but the single cam concept that made Mathews what it is. In a nutshell, single cams have less parts to break and no timing issues to come out of whack thanks to an idler wheel that simply rotates as the powering lower cam does the work. The downside, of course, is that single cam bows are not quite as fast—the Xpedition is touted at 328 fps, and some people say they can exhibit nock travel that hampers a bow's accuracy potential. But we are talking minutia engineering stuff here, and I highly doubt that fractions of millimeters matter unless you are a shooting machine. In essence, the Xpedition is an incredibly light, 3.9 pound bow that's 32.3 inches a2a with a huge 7.25-inch brace height. It has an excellent hand-to-riser grip. But most significantly, each bow's limbs are matched for consistency by hand before being tested. And it's adjustable from 26.5 to 31 inches draw length and from 45 to 70 pounds draw weight, so this bow is good for teenagers to large men. I like the bow's simplicity, clean look, and its performance. While it is rather pricey, the Xception is a wonderful pure hunting bow. MSRP: $1049.
Bowtech Rein 7
Likely the most impressive bow in terms of eccentrics engineering this year, Bowtech addresses a couple of problems inherent with cam timing in its new Overdrive Binary cam system found on its flagship hunting bows, the Rein 6 and Rein 7. Overall, I am a big fan of Bowtech, and these models with 6 and 7-inch brace heights, respectively, are impressive all the way around. While the Rein 7 is known for its speed, it now features something Bowtech calls its Flip Disk cam module that gives the bow's powerstroke two different profiles—one that's more aggressive for speed and one that's smoother that's easier to shoot. Best of all, you can flip the disk without pressing the bow. It's genius. Secondly, the cam system also has what the company calls its Micro Sync Dial that allows the bow to be tuned without a press as the strings stretch. Simply turn the dial with an Allen wrench to tighten or loosen it so the cams rotate again in perfect unison and forget rushing to the bow shop where you'll spend more money. Finally, I like the Rein's grip, it's look and its performance. There's no way you could buy this bow and not love it. MSRP: $999.

BONUS: Crossman Pioneer Airbow
OK, so it's not a compound bow—but I felt it deserved a mention. Crossman has been making airguns since before your pappy first tip-toed through the forest, so was it really a big deal that the company finally figured out how to send an arrow, rather than a pellet, downrange in a hurry? I'm a fan of shotguns, rifles, bow and arrows, throwing stars and incendiaries, so of course I think the Pioneer Airbow is awesome. It's a pneumatic airgun that pushes a 375-grain arrow out its barrel at a touted 450 fps. It's compact at 33.5 inches long and weighs 7 pounds before you put an optic on its full-length rail. One fill of its reservoir via a bicycle-type foot pump lasts for 8 shots. To reload, just cock the gun and insert an arrow. The company reports 2" groups at 50 yards, but I haven't had the chance to confirm this yet. All told, the Pioneer Airbow is certainly one the most different hunting tools to be produced in the last few years. While only legal for hunting in about 28 states at this story's publication date, that does doesn't change the fact that it's one cool tool. MSRP: $999.